Big: Episode 14
Just when you think you've gotten through all the major revelations, more twists and turns come barreling through everyone's lives like a tornado. The twists are cool, but the way everyone's acting has me climbing the walls and losing my patience. Must everyone be on the path to noble idiocy? And if you get found out and keep going down that road anyway, doesn't that just make you… an idiot? Thankfully Kyung-joon's heartbreaking reactions keep me grounded in the moments, otherwise I'd just be throwing things.

EPISODE 14 RECAP
In a dream, Da-ran walks down a hall, where Kyung-joon is standing at the end, bathed in light. Or is it Yoon-jae? She asks, and he answers cryptically, "The one Gil Da-ran wants it to be."
Then they're suddenly in a dark hospital room, with a body covered by a sheet. It's Kyung-joon's body, and she asks who this one is. "The one Gil Da-ran let go."
She looks back over in alarm, and then they switch places – Yoon-jae in the bed, and Kyung-joon standing next to her. And then back again, as Yoon-jae says, "The one you let go will disappear forever."
Crap. That's pretty much worst-case scenario, as far as omens go. She looks back, and then they both disappear, and she's left standing there alone.
She wakes up with a start and finds Kyung-joon awake too. She asks if he's sick and tries to drag him to the hospital, but he pulls away coldly, saying that if she pushes, he'll just run away.
He looks down at his watch and scoffs, thinking now that she cuffed him to her because of this, and not because she wanted him by her side. Ow, that hurts my heart. Stop letting him think these horrible things!
In the morning, he ignores breakfast and the note to go to the hospital from Da-ran, and Mari comes by with a see-didn't-I-tell-you-so, to confirm that Da-ran followed through with the lie. Now you're gloating? Can we put her on a plane already?
Kyung-joon asks her point-blank if she asked Da-ran to lie to him, and Mari stammers a no. But he says it doesn't matter – regardless of the reason, he can never forgive the fact that Da-ran let him go.
He says he doesn't need anybody and doesn't care. He'll just give them what they want and then disappear forever. Aw. See what happens when you lie?
Da-ran goes to see the boys' mom and asks what'll happen to Kyung-joon after the transplant. Mom says Dad will take care of him.
Da-ran insists that Kyung-joon will wake up, and demands that Mom beg that child for forgiveness, and even if he says he's fine and pushes her away, to grab hold of him and spend the rest of her life making it up to him. "Don't ever leave him alone."
Mom: "Don't concern yourself with that child. Yoon-jae comes first." Da-ran: "No. Kyung-joon-ie comes first." Hell yeah. Finally she does something I can cheer for. She asks for Mom to promise to put Kyung-joon first. And you trust this woman to keep her word?
Da-ran asks her to swear that she'll say that she's sorry and grateful to Kyung-joon in front of Yoon-jae, otherwise she won't convince Yoon-jae to undergo treatment. Mom agrees.
She drags Kyung-joon out to dinner with the parents, and he goes with revengey thoughts, wondering how traumatized they'd be if he told them it's Kyung-joon in their precious Yoon-jae's body.
But he doesn't go through with it, and Mom does what Da-ran asked. She tells Yoon-jae that they're always really sorry and grateful for Kyung-joon and want to keep him close and make it up to him when he wakes up.
That gives Kyung-joon pause, but he says that that isn't necessary. Mom says she's going to hold onto him and spend the rest of her life making it up to him, and adds that it's what Da-ran asked of her.
Da-ran says that Kyung-joon is kind and smart, and notes that Mom picks the beans out of her rice just like Kyung-joon does. She says that if she nags him enough, he'll eat the beans when she's not looking because he's a good kid who listens to your requests when you ask sincerely.
Mom marvels that a child she's never met could take after her in some way. And then she admits that it could very easily have been the other way around—Kyung-joon could have been her son and Yoon-jae born to save him. What?
She explains that Yoon-jae and Kyung-joon aren't just brothers… they're fraternal twins, separated on purpose by the parents. One to be born right away through in vitro, the other saved for later. Saved for later?! Like a frickin' cookie?!
She says that the order could just as easily have been reversed. Kyung-joon gapes, "That's when it was decided? That Yoon-jae would be first and Kyung-joon would wait… and then wake up when he was needed? That was it?"
Da-ran takes his hand, but he throws her off and storms out, "This time it's Seo Yoon-jae's turn to wait, so go ahead and wait with desperation."
Damn. They're TWINS? Separated by twelve years? Well it's far more interesting than a pair of brothers, I'll give you that.
Da-ran chases him out and he throws his hand up, "You said Seo Yoon-jae's hand is warm but mine is cold. Now we know why. I had to wait so long it froze." Ouuuuch. He goes to the hospital and sits with his body, wondering aloud why they keep telling him things he never wanted to know.
Da-ran sits at home with the Miracle book, wondering, "If all this is a miracle, then Kyung-joon-ie has to have a happy ending."
Choong-shik gets grilled about noona's marital status, and Mom asks if he's figured out who KKJ is. He says he searched all the teachers and Da-ran's friends, but came up empty. He wonders, "Maybe it's not a person, but a code… like… Kiss Kiss Jagi-ya." Pfft.
What's ever funnier is that Mom calls him smart, and asks him to keep searching. Choong-shik IS smart enough to know that the only KKJ in noona's life is Kang Kyung-joon, but of course wouldn't suspect that connection in a million years.
Kyung-joon goes to see Aunt and Uncle to tell them that he's going to be taking over care of Kyung-joon and his estate. They kick up a fuss, but "Yoon-jae" has his bases covered—he has legal consent from Kyung-joon and he's his hyung.
Uncle's jaw drops to realize that they share a dad, and he says that when Dad came by, he sang a different tune. He said he didn't care about the money, but just wanted to take care of Kyung-joon, because he was the son of the woman he loved.
That in turn confuses Kyung-joon, who says Hee-soo would never have done that for love. It must have been money. But this time it's Uncle who knows his sister better than anyone, and says she grew up wealthy to begin with—it was for love that she had Kyung-joon and raised him in the States all alone.
That just gets Kyung-joon's blood pressure rising yet again, as he says with fire in his eyes that those people used his mother's love for their gain. He confronts the parents, demanding to know if Dad loved Hee-soo.
He says he did, but has no right to. With tears and a quivering lip that just breaks my heart, Kyung-joon searches Dad's face, "If you loved her, you should've stopped her! How could you just leave her be? You used her!"
Mom admits that it was all her doing—she asked Hee-soo, because there was nothing she wouldn't do to save Yoon-jae. Kyung-joon turns her words around and says there's nothing he can't do now then, and walks out.
Mom is hateful, there's no doubt about that, but she's willing to take all the blame, even for Dad's part in everything, which makes me think she feels a lot guiltier than she lets on.
Mari has followed him back and forth this whole time, and now as he walks past her dejectedly, her heart sinks.
Da-ran waits and waits and calls and calls, with no answer. Kyung-joon sits at a bar nursing a drink, and I guess it says something about the portrayal of the character that it looks wrong to me. You're barely legal!
He thinks back to Mom's words about Hee-soo being kind and willing to listen to their request, the same words Da-ran had used to describe him. He balls up his fist in anger.
Mari tries to follow him in but gets denied at the door, so she has to turn back. Kyung-joon finally answers a call from Da-ran and says that he's drinking. "Stop me if you can. Because I'm a good kid who listens to your requests when you ask sincerely."
She comes running in to find him lining up shots of whiskey. He tells her to ask him sincerely to stop, and if her sincerity gets through, he will. He picks up the first glass, "Do you really think those people are my parents?" She says yes. He downs the shot.
He picks up the second, "Do you think that I have to accept and listen to those people, who aren't even parents?" She answers yes. He downs another.
She begs him to stop acting like a child. He says it's not working and gulps down another one. He asks if she thinks it's a given that he should give up everything for Yoon-jae. She sighs and answers yes again, because that's how Yoon-jae will live. He grumbles that it's killing him, and drinks.
She tries to stop him, and he whirls around and yells at her to tell him the truth then. "Tell me to do whatever I want! That no matter what I do, that I come first! That because I'm first, you can let go of everything else!"
Oof. It's everything she's feeling, but she doesn't admit it, and says that she can't. "You won't do that. Because you're a good kid."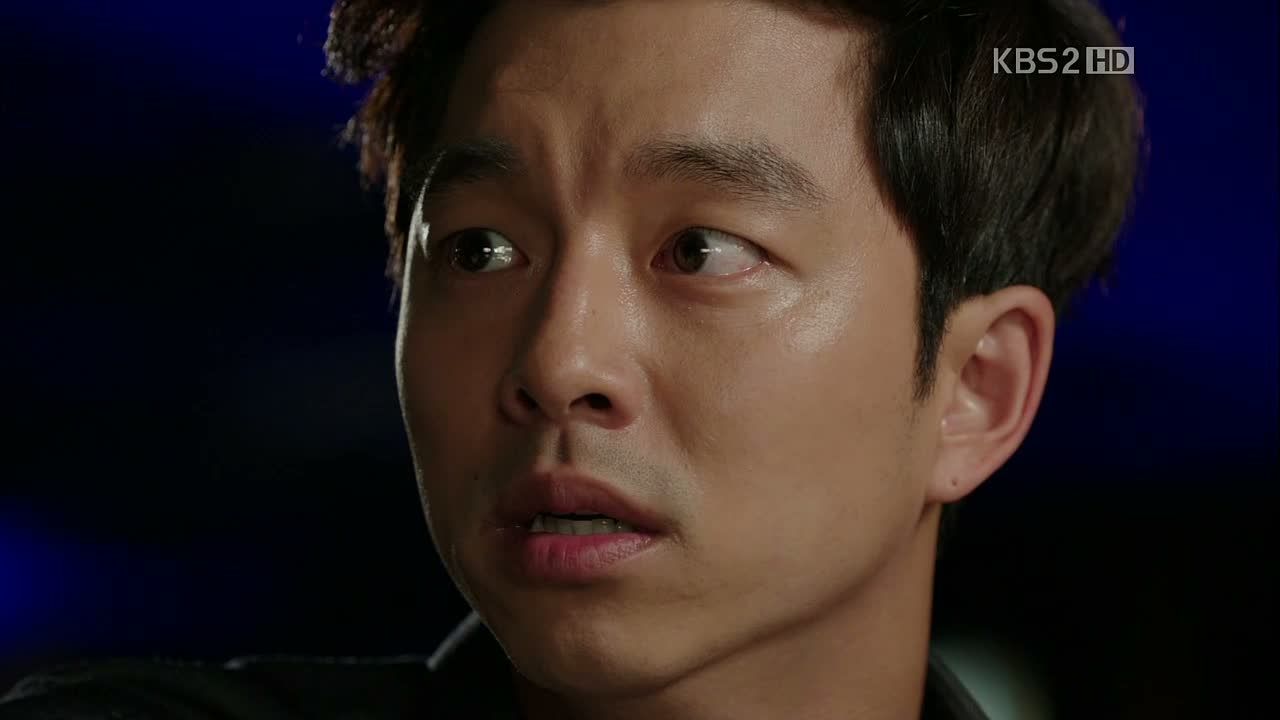 He looks at her with heartbroken eyes, "You sincerely believe that. That because I like you, I'll do whatever you ask." She says yes, "Because I trust you."
He finally stops with the drinks and gets up, refusing to let her touch him. He washes his face in the bathroom and says aloud to himself, "I won't be used so easily, like my mother was." He turns to go, and leaves his watch on the sink. Sadness.
Mari comes running in with a guardian in tow, but Kyung-joon is long gone. The manger says her friend left his watch behind though, and she takes it.
At home, Kyung-joon picks up the Miracle book with a smirk, fueled by drunken anger. "Miracle? You mean a miracle for Seo Yoon-jae, and misfortune for me." He throws it to the ground and stalks off.
Da-ran picks it up and reads it, thinking that Kyung-joon saved Yoon-jae when he was born, then Yoon-jae saved Kyung-joon in the accident. And now it's Kyung-joon's turn to save Yoon-jae… only if this is the end, how will it be a happy one?
Se-young meets Mom for coffee and says that Yoon-jae needs the transfusion soon. Mom says that Da-ran is trying to convince him, but she's curiously more concerned about Kyung-joon. Se-young thinks that's weird, since she assumed Yoon-jae would be her priority.
Da-ran makes breakfast and tells Kyung-joon to go the hospital. Today he says he will, replying numbly that he'll do as she asks and get it all over with.
It's then that they both notice his watchless wrist, and he searches his room for it. Well at least you didn't know—I thought you left it at the bar on purpose. Da-ran asks him about it, but he pretends not to notice or care.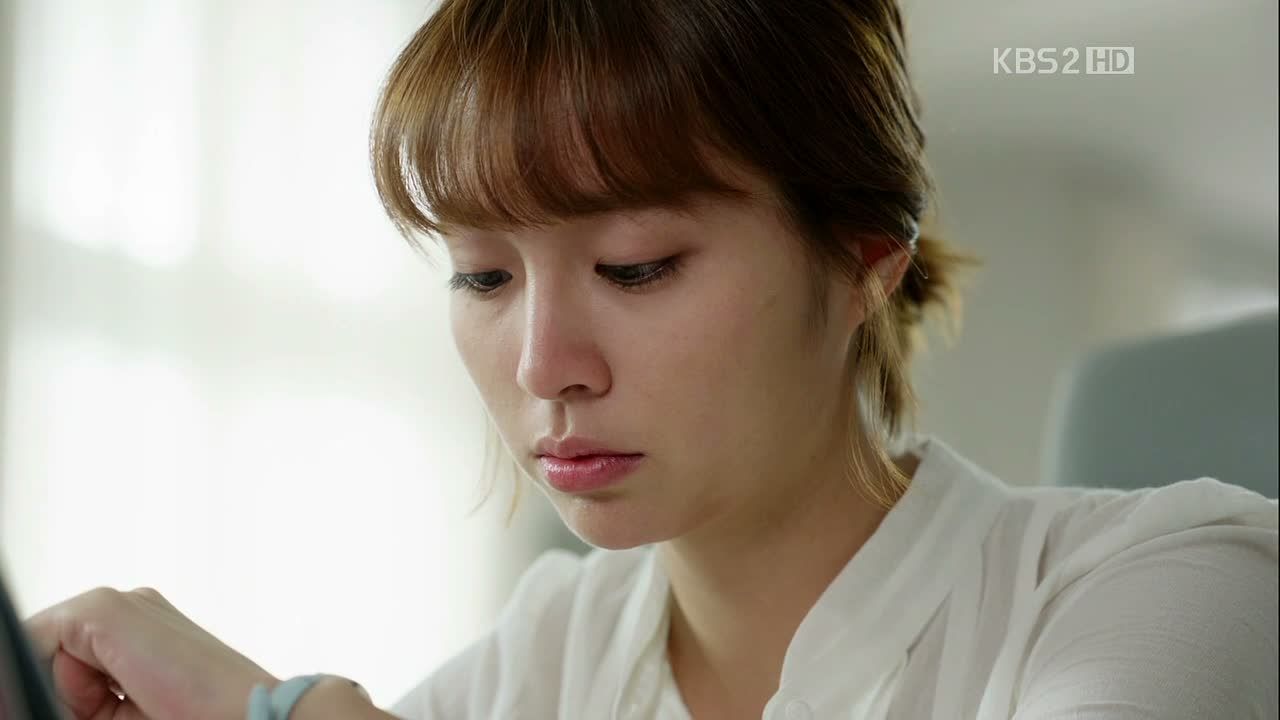 He wonders to himself what the point of finding it is, when he's going to leave it all behind. At school Da-ran sighs thinking that if she had just given it to him as a regular ol' birthday gift, he could've just kept wearing it.
Ae-kyung absently asks what time it is, and Da-ran looks down at her own watch. It's actually 10:10, and Da-ran breaks down in tears, "It's 10:10. Ae-kyung-ah… I think it's going to be 10:10 for the rest of my life!"
At the hospital, Kyung-joon administers the drug to his comatose body, and Se-young marvels that when Yoon-jae does it, Kyung-joon stays calm. He mutters if this is what he studied medicine for, feeling bitter about its use now.
He says that Seo Yoon-jae is pathetic, and Se-young says that Kyung-joon wouldn't think that way about saving his big brother, but Kyung-joon says he would very much, actually. Heh. Can't argue with that.
He then takes Da-ran to see his parents, and agrees to be treated—but at Dad's hospital in Germany, and by himself. He asks if they love him to stay by Kyung-joon's side.
Da-ran runs after him to say she'll go with him, but he asks her to keep her one promise, to be there when he wakes up in his own body. She promises that she will.
Da-ran tells her family that Yoon-jae will be in Germany for a while because of work, and that she'll be back home. They worry, and she doesn't tell them anything, but does indicate that she and Yoon-jae are not planning their futures together.
Choong-shik is already depressed at that news, when Mari says she's planning to leave to chase after someone else. She tells him to erase her from his brain.
He points to his head and says it won't matter. She's not in there, but in here, and taps his heart. So cute. How could you not love him?
Da-ran gives Kyung-joon a plane ticket from his dad and says they'll all come to the airport. She asks if he's going because of her, and offers to move out of the house if that'll get him to stay.
He says he's selling the house anyway, and tells her to throw everything they gave each other out, and he'll do the same. He adds coldly that the only thing she ever did for him was give him that watch, and since he already lost it, there won't be much cleaning up for him to do.
But once she's gone he heads to the bar to retrieve it, and finds that Mari has her grubby paws on it. He finds her at the hospital and demands she give it back. She swears she doesn't have it and he calls her a liar, but she says she's going to stick to her lie until he lets it go. He tells her to lie to the end then.
Da-ran shows up at the bar to look for the watch, only to hear that Kyung-joon came to do the same. She lights up at that, but when she gets home, she sees him throwing out the watch box.
She asks if he's really going to throw it away, and he says he's not like someone who picks up something she threw away to wear it again. He glances at her ring, and she instinctively hides it.
Her heart sinks all over again, thinking he found the watch just to throw it away.
He visits his body in the hospital, staring at the Miracle picture from his wallet. This time he drops it on the ground without looking back. But the wind picks it up and it floats away…
Kyung-joon goes to say goodbye to the parents, saying cryptic things like, "It's the last time, so give your son a hug," and "Keep waiting for your son to return," like he's on a suicide mission. I have a bad feeling about this.
Downstairs he says goodbye to Da-ran and tells her to hug Yoon-jae too, but she tells him to stop acting this way. She takes out the Miracle book and says she's thought long and hard about the miracle that swapped their souls.
"Isn't it possible that your body grew so that your heart could grow and you could deal with these things like an adult?" He argues that his body may have grown overnight, but his heart didn't, and he's not an adult.
She believes firmly that all this happened so that he can be happy—so that he could have a family. All he needs to do is open his heart to accept them. But he says curtly that there's no such thing as a miracle to rapid-grow a heart.
She wants him to wake up and be happy, but he says this story is about Yoon-jae being happy, so she can wait for Yoon-jae to return and be happy with him and his family, while Kyung-joon disappears from the picture.
With that, he heads to the airport alone.
Da-ran and the parents wait by Kyung-joon's bedside, and Mom wonders how she'll face him when he wakes up. Da-ran just asks her to be sincere, and Mom admits now that she couldn't accept him because of Dad's love for Hee-soo. But Dad had the hardest time of all, because he loved her and spent his whole life being unhappy.
Kyung-joon arrives at the airport, where Mari is already packed and waiting. She tells him she's going to Germany with him, and he tells her she can go, since he never planned on going there in the first place. I knew it! You had all the signs of a teenage runaway.
He says he's going to disappear in this body, and leave them all waiting and wondering. He tells Mari to go back and tell them about the body swap too—that way they'll be in even bigger pain.
Mari tries to stop him—it's dangerous. What if something happens and he dies? But Kyung-joon scoffs that when it becomes dangerous for this body, he's sure that Yoon-jae will figure it out and re-swap, since this is all about him. He stalks off, leaving Mari panicked.
He won't listen to her, so she calls Da-ran in tears. Da-ran runs to the airport, thinking back to what he said at the bar, that the only way to stop him was to be sincere and tell him the truth.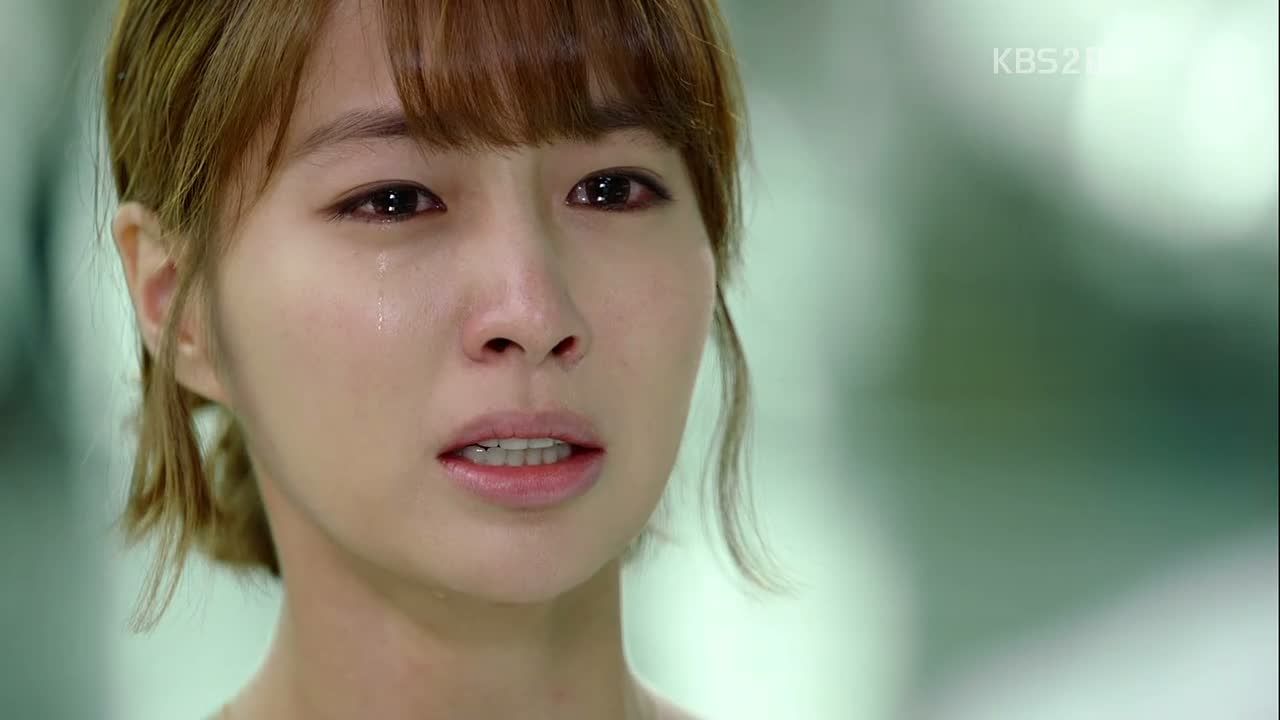 She catches up to him just before he enters the gate, and he stops in his tracks at the sound of her voice, but doesn't turn around. She says through tears:
"I'll tell you the truth. Will you listen? Your father loved your mother sincerely. But to save his sick son, it was the only thing he could do. So he spent his whole life unhappy. Kyung-joon-ah, don't go. Save Yoon-jae-sshi, even if it's difficult. In exchange I'll live the rest of my life being unhappy. I probably will anyway… because I love you."
OR… you could just be happy with each other?? Sigh. Anyway…
A tear falls as she says the words, and he turns to face her. He wonders how things could be this way, because now Gil Da-ran will end up unhappy too.
Mari walks up to see them facing each other in tears.
At the hospital, Teddy finds the Miracle picture that Kyung-joon dropped, and gives it to Rabbit to make her feel better. These two are so cute. She recognizes it right away as the angel picture that Doctor Seo showed her a while back, from his book.
At home, Da-ran says as much to Kyung-joon, that Yoon-jae had the book too, and that he must've been searching for Kyung-joon intending to make things better for him, not worse. Kyung-joon complains that he should've woken up in the other body then, if he was so concerned, instead of leaving him alone to deal with all this.
He picks up the book and decides to go find out the story from Dad. Dad says he drew the pictures, but didn't write the story. That was Hee-soo.
Kyung-joon goes to ask the art professor about it, since she first gave it to him asking for him to pass it along to Yoon-jae on his eighteenth birthday. The professor recalls now that she had made the book in hopes that when the two brothers would meet someday, that they would help each other find happiness.
She had always thought of Yoon-jae with a thankful heart, because he's the reason she had Kyung-joon in her life. She had planned that when Kyung-joon grew to be Yoon-jae's age, she'd tell him about his parents and his brother, so he wouldn't be lonely.
Kyung-joon argues that it's not exactly going according to plan—nothing he's discovered will help make Kyung-joon's life any happier. But the professor argues just the opposite. Kyung-joon knows nothing of what happened while he was sleeping. So when he wakes up, he will have a brother and parents waiting for him.
Then a new truth dawns on Kyung-joon, and he sits a while with the book to suss it out. "To be the happy miracle that Mom wanted, my memory has to disappear from that moment [of the accident]. The reason that Seo Yoon-jae isn't waking up in my body and has stopped time… Is that to save me, to make me happy? If that's another miracle… when I return to my body, I lose the memory of everything that happened here."
Ruh-roh.
Mari asks Da-ran why she said those things to Kyung-joon at the airport. Da-ran replies that nothing but the sincere truth would've stopped him. Mari asks nervously: Then is she going to hold onto Kyung-joon?
Da-ran says no, "Because I like him so much, I said I wouldn't hold onto him." BUH. If the theme in this drama is that adults do everything ass-backwards, then I guess kudos for sticking to your guns. I'll just go be annoyed in the corner.
She sighs that she wanted to hide it and let Kyung-joon return to his place, and Mari tells her to erase it all from her brain. Da-ran wishes she could.
At the same time, Kyung-joon sits at home, thinking of all his happy memories with Da-ran, as if watching them replay in front of him. He repeats her words, "It's strange. Why am I so happy you came?" He smiles and reaches out to her, but she disappears.
He starts to cry, and this is an angst that I understand and agree with—the fear that going back will be giving up the fact that he loved her… I mean, what higher price could there be?
He makes her his famous chicken dish for dinner that night, and says that tomorrow is the big day. He tells her to be by Yoon-jae's side instead, and not to be there when he wakes up. He makes her promise. Oh god, this is killing me.
He says that he's going to pretend like none of this ever happened, so not to feel too bad. She agrees that if he acts like it never happened, she will too. No! Don't do it!
She's on the verge of tears so she goes to the fridge, and muffles her cries. At the table Kyung-joon starts to cry too, and covers his mouth. They each cry silently, not wanting to be heard by the other.
It's D-Day, and Kyung-joon braces himself, as Da-ran and Mari wait outside. Se-young finishes prep and he says he'll do it himself, and the machine starts to pump the blood from Kyung-joon's veins.
He holds his own hand. At the same time, Teddy and Rabbit hold the Miracle picture and argue over which angel is prettier, while spinning the card back and forth.
The room starts to spin and Kyung-joon falls to the ground.
Se-young comes to tell the girls that Yoon-jae collapsed. Mari takes off running toward Kyung-joon. He's still asleep.
Da-ran goes to Yoon-jae. He stirs awake and she calls out to him nervously, "Kyung-joon-ah."
He looks back at her without saying anything, and gets up. He looks around, confused, slowly taking it all in.
She asks again, "You're Kyung-joon-ie, right?"

COMMENTS
Ooh, you WOULD cut there. If they're going to swap back at all, they'd better have swapped there, otherwise yet another fakeout would just make me kick something. I want enough time in the final week for Da-ran to show us that she loves Kyung-joon the same in his own body, and if they don't switch back now, there's not a lot of screentime left to convince me. I'm not worried that she won't, but I need to see it in drama time to be left satisfied at the pairing, because we've spent ninety percent of the drama getting attached to the hero in the wrong body.
While I understand each character's motivation for perpetuating a lie, it's stupid and frustrating when you consider the alternative, which involves trusting the other person to be mature and just do the right thing. At least Kyung-joon's big rebellion made Da-ran confess her feelings, though it packs less of a punch than the first time, because you've spent the entire last episode going, but you guys already know that you love each other! This whole noble sacrifice trope is such a staple of dramaland that when I encounter characters who just take the other face value with no new twist, it leaves me frustrated.
I think the memory dilemma is far more interesting as far as big final arcs go, because then you're setting up something massive for Kyung-joon to lose in saving Yoon-jae. I wish this had been the focus of the will-he-or-won't-he-save-him, rather than the family strife and just wanting to make them feel bad. They certainly deserve that and worse, but ultimately I don't care about that nearly as much as I do about the soul-body-teacher love triangle.
I like the idea that Yoon-jae might not be waking up in Kyung-joon's body to somehow facilitate his waking up with a clean slate, to give his little brother a second chance at life. And on the flipside is Kyung-joon's price, in forgetting that he ever loved Da-ran, and that she loved him back. It's a great conflict, and I think one that should've been given more weight instead of the parental drama.
The twin twist is a great one, since it makes the age question even stranger. It's so much crueler to know that the order could have been reversed, and that Kyung-joon could have been the older one who was the right age for Da-ran, and that it was just a luck of the draw, weird twist of fate that he ended up the twin born twelve years later. In that sense the age gap is artificial, and Kyung-joon should technically be twelve years older than he is right now. How strange to think of the body swap as Fate course-correcting. I still hold out hope that the real solution for a happy ending to the so-called miracle is to return to their own bodies, souls intact. Even if Kyung-joon wakes up with no memory of the events of the past year and he has to fall in love with Da-ran all over again from the beginning, I'd rather he do that than be stuck in his brother's body for the rest of his life, twin or not.

RELATED POSTS
Tags: Baek Sung-hyun, Big, featured, Gong Yoo, Lee Min-jung, Shin, Suzy