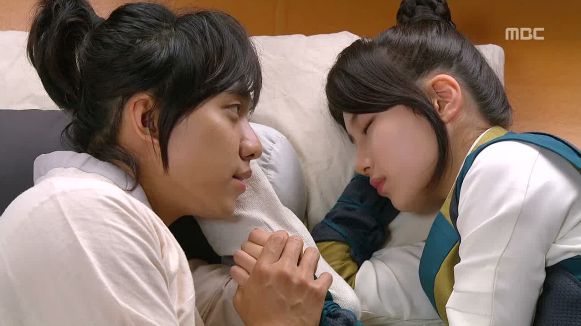 Kang-chi finally gets ready to go on his quest to become a real boy, and Yeo-wool prepares to say goodbye, not realizing that he's doing the same. It's an episode of fallouts and setups, so there is a bit of an epilogue feel to some of the proceedings as we close a few chapters and head into finale week. Thankfully there's a lot of cute to counter the angst to come.

SONG OF THE DAY
Shin Jae – "Will You Be My Love Rain" from the OST [ Download ]
Audio clip: Adobe Flash Player (version 9 or above) is required to play this audio clip. Download the latest version here. You also need to have JavaScript enabled in your browser.

EPISODE 22 RECAP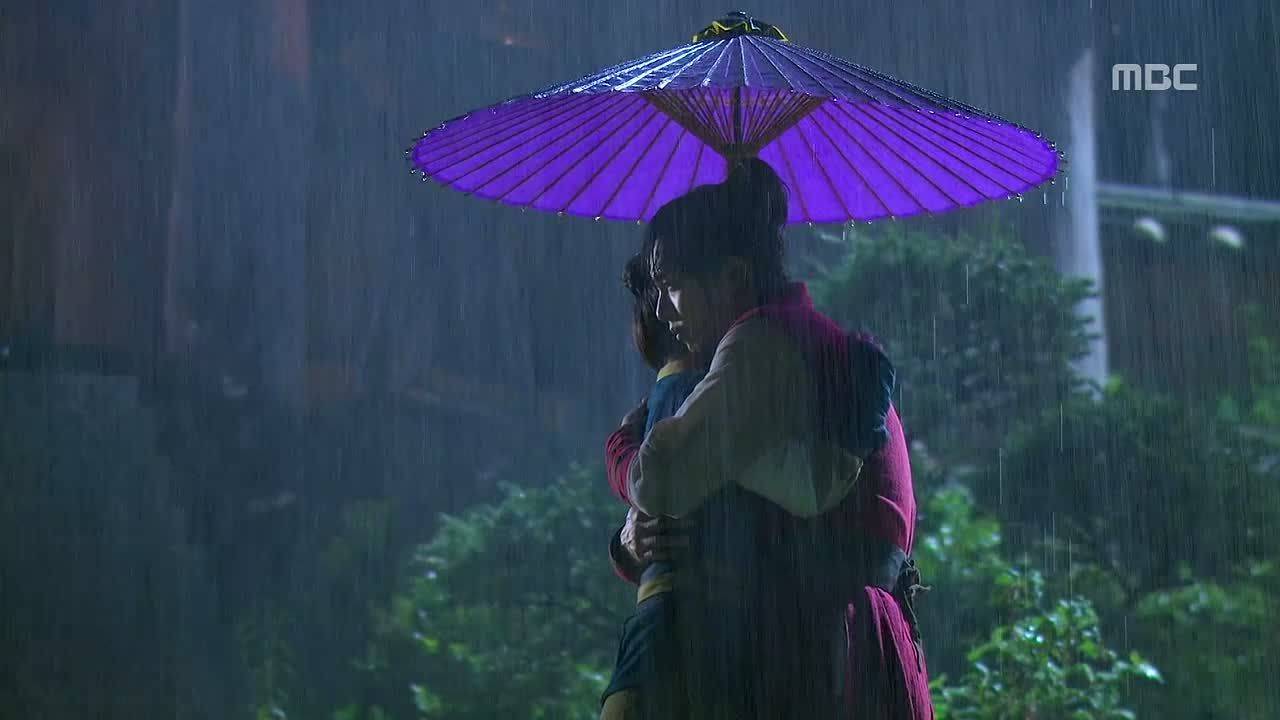 As Kang-chi cries on Yeo-wool's shoulder after his traumatic day, she starts to cry thinking of the conversation she just had with Dad. He said it was time for Kang-chi to go on his quest to find the Gu Family Book, and that she'd have to let him go.
She worries that things might go wrong and Kang-chi could turn into a demon just like Wol-ryung, but Dad asks, "Aren't you the one who wants Kang-chi to become human, more than anyone?" You can't argue with that.
He offers to tell Kang-chi himself, but she says she'll do it, and asks for three days. She hugs him now, thinking to herself: "The time we have left… three days. Can I let you go in that time, Kang-chi-ya?"
He opens his eyes the next morning, and finds Yeo-wool sleeping next to him. He holds her hand and gently wakes her, asking why she's here. She murmurs half-asleep that he cried so much she couldn't leave his side. Aw.
He tells her that it's morning and then counts down on his fingers for her to respond. Three seconds later her eyes dart open and she pops up. "What?" She flails about wondering what she's going to do, while he laments sleeping through their first night together. Heh.
Her thoughts return to their three days left, and she asks him for three wishes. His first is food, which she finds trite, until he clarifies that he wants food she makes for him… and then her eyes glaze over.
Before he can say the second, Gon comes by to wake Kang-chi. Gasp. He opens the door and is about to turn back when he sees Kang-chi sleeping, but then notices a familiar-looking umbrella in the corner.
He slams the door shut, and Yeo-wool peeks out from under the covers and they sigh in relief… which is of course right when Gon opens the door again to catch them red-handed. Ruh-roh.
They can't even get a word in before Gon rushes Kang-chi and lands on top of him. I know they're fighting, but he's half choking him and half stripping him. It's getting saucy in here. And THEN, Yeo-wool's teacher comes by, and this is what she sees:
Hahahahaha. Also, rawr. Guess what my new screensaver's gonna be?
Teacher averts her gaze, and then asks what Yeo-wool is doing there. She quickly says she's here to stop the boys. Teacher: "From doing what…?" Yeo-wool: "Things they shouldn't be doing." Pfffft. Scandalous!
Gon asks why Yeo-wool would say such a thing, and she just grins back and retorts snidely that fighting is a thing they shouldn't be doing.
He freaks out that her teacher might misunderstand and spread rumors, and she says pointedly that that's how misunderstandings can be—so he should stop assuming the worst about her and Kang-chi too. Nicely played.
Kang-chi sees Gon's reaction to Yeo-wool's teacher and laughs out loud. He thinks to himself: "It passes. Because of these people by my side, I laugh again."
Wol-ryung comes down from the mountain to see So-jung, who nearly bursts into tears at the sight of him. "Is it really you? Is it my friend Wol-ryung?" He grabs Wol-ryung in the biggest bear hug. It's so sweet.
So-jung comes to the school to see Kang-chi, and tells him someone really wants to see him. Aw, does Kang-chi finally get to meet his father without the death and mayhem and thousand-year curses?
Meanwhile, Yeo-wool asks her teacher to move on to cooking lessons, declaring that needlepoint isn't enough for her anymore. This ought to be good.
Kang-chi approaches Wol-ryung cautiously and asks if this is his real face. He asks about Mom, and Wol-ryung says wistfully that she'll be with him forever now.
When Kang-chi asks about Seo-hwa betraying him, Wol-ryung says it was perhaps his own fear that she'd betray him that started all of it in the first place. "Perhaps it was my own heart, my fear, that made me into a demon."
Kang-chi says he wants to hate someone, but doesn't know where to put the blame. Instead Wol-ryung tells him not to keep hate or thoughts of revenge in his heart at all.
Kang-chi confirms that he still wants to be human, and Wol-ryung advises him not to give into fear once he's decided his path. "The moment you give into fear, you lose everything. The opposite of trust is not faithlessness. It's fear."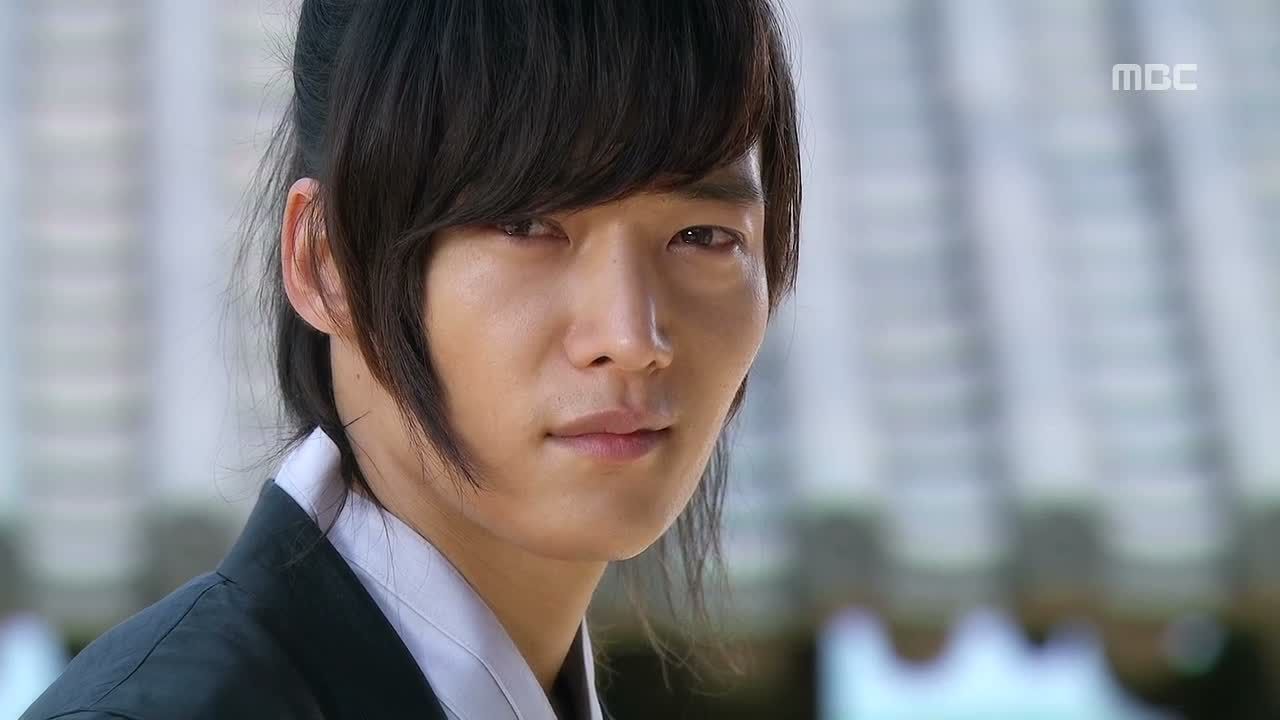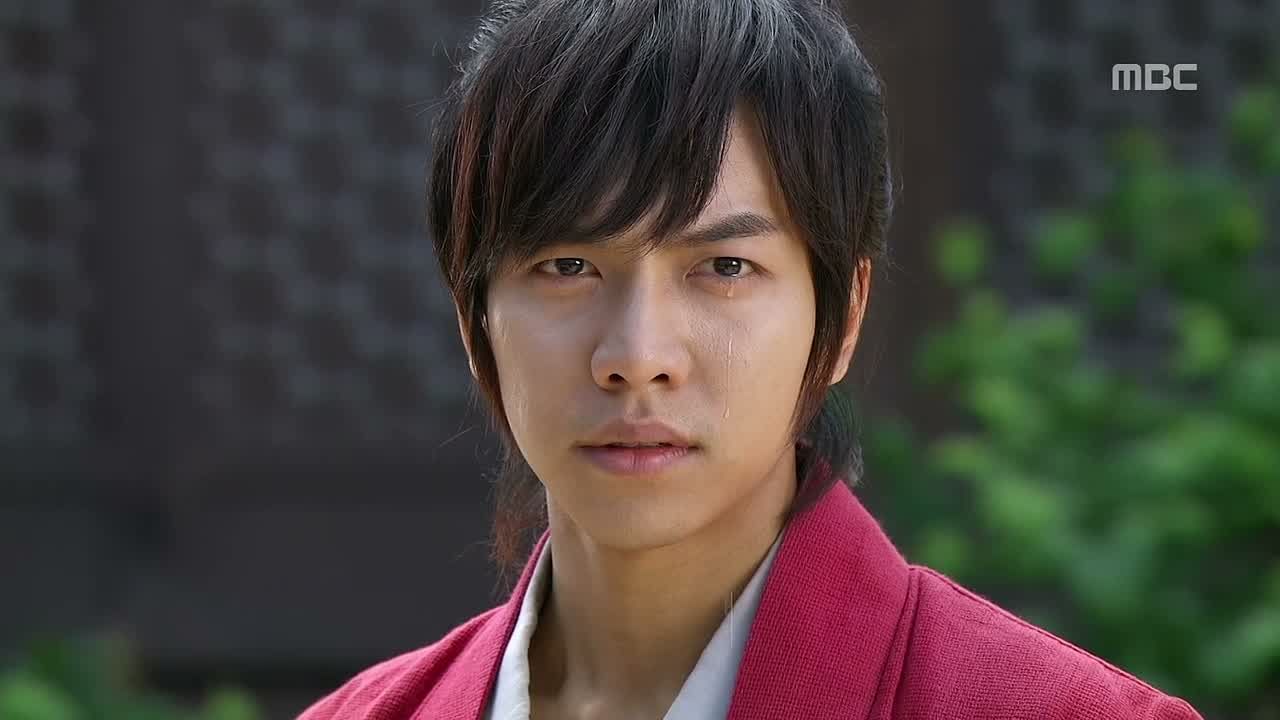 He walks over to put a hand on Kang-chi's shoulder, which is just a nice beat, and an echo of all the father figures Kang-chi has had over the years. They exchange one small bittersweet smile, and Wol-ryung turns to go.
Kang-chi calls out after him: "This is the last time, isn't it?" Wol-ryung says it probably is, and Kang-chi says hesitantly with tears pooling in his eyes, "Still, once in a while, once in a while… I'll miss you." *whimper*
Wol-ryung smiles back at him gratefully, and then walks away. Only when his back is turned does Kang-chi finally let one tear fall.
So-jung stands by Kang-chi's side as they watch him go, and Kang-chi thinks to himself: "It passes. Another farewell passes by."
Wol-ryung returns to the Moonlight Garden, where he's surrounded Seo-hwa's body with flowers. He takes her hand and lies down next to her, and closes his eyes.
The blue lights surround them and lay them to rest in each other's arms, and seal up the cave and the Moonlight Garden forever. That was beautiful. I…I have something in my eye.
Jo Gwan-woong is still a listless zombie after losing Seo-hwa, and then we finally pick up that thread of Tae-seo being caught spying on the bad guys, which I had already forgotten about. He's brought to Jo Gwan-woong to decide his fate.
Kang-chi goes to see So-jung, eager to find the Gu Family Book now. So-jung tells him he has to control his gumiho form on his own first, and Kang-chi yanks the bracelet off to show him proudly. So-jung is totally taken aback at how quickly he mastered that.
He reluctantly hands over a book (the book on how to get the Gu Family Book, because The Book is a big ol' tease), and tells him the cliff's notes version. For one hundred days: he can't kill (including animals), he can't refuse any human's request for help, and he can't show his beast side to any human in those hundred days.
Kang-chi asks what he's supposed to do about the people who have already seen his gumiho face, and So-jung says he has to leave them. Kang-chi figures he can leave and then just return to them, which doesn't sound so hard.
He reminds Kang-chi that he could end up a demon just like Wol-ryung, but Kang-chi says he can't imagine a life without Yeo-wool, and wants to grow old with her, end of story.
So-jung asks if he really doesn't know, and that's when he tells him the fate he saw—that he or Yeo-wool could die. Kang-chi is stunned speechless at that, and puts the book back down.
Yeo-wool's cooking lessons go about as well as you'd expect. It sort of looks like she attacked the kitchen with her sword. Teacher Gong finds them standing in there with his kitchen turned upside-down and practically has an aneurysm.
I love that Yeo-wool and her teacher are trying to play it off like it's no big deal. Be cool. Be cool.
Back to the monk's library, where So-jung says between Yeo-wool who's human and Kang-chi who isn't, who will probably be the one to die? Kang-chi argues that if something happens to her, he can just heal her with his blood.
So-jung tells him that only works once per person—once you save one life that way, that person can't be saved again. What? These rules, I swear. It might've been nice to know this earlier, buddy.
Kang-chi says that if he becomes human, it'll change his fate. But So-jung says the death warning isn't his fate—it's hers. When she met him under the crescent moon hanging from a peach blossom tree, that became her fate.
Kang-chi thinks back to the moment and wonders, "Was that Yeo-wool?" Wait, I thought he already remembered that. So-jung tells him that her fate is not something he can change by his will, and urges him to let her go. Augh, great. Now we have BOTH of them getting ready to compete for Noblest Idiot of the Year.
He sits on the front stoop for a while lost in thought, and Yeo-wool comes out to get him, having prepared his first wish. She excitedly brings him to the kitchen and makes a great deal of fanfare about the first meal she's ever cooked… and then reveals a bowl of rice with kimchi on the side. HA.
He's like, I asked for rice so you literally made just rice? And she pouts that this took forever, so he should appreciate it. He eagerly takes a giant bite and crunches on what sounds like a rock, but pretends it's delicious and swallows it anyway. How cute.
As he eats, she stares at him and thinks, "Just three days… Will I be able to let you go?" while he thinks, "One of us will die… What am I supposed to do?"
They're interrupted with urgent news that Tae-seo's been captured, so the good guys head out to see Lee Soon-shin to discuss their next move.
Tae-seo seems to be handling himself okay though, because he uses the opportunity to tell Jo Gwan-woong that he's been spying on everyone, and he could be persuaded to give up some crucial intelligence that would save Jo Gwan-woong's life… IF he's willing to deal.
Pil-mok and Co. think they have a leg up after raiding Lee Soon-shin's camp and stealing the maps back, but they worry about the strange looking ships they saw being built.
Meanwhile Lee Soon-shin shows Master Dam and the kids the real map, and says the one they stole was a fake. I wish I could say I cared about this plot, but I don't. It was tangential before, but now that we're getting down to the wire, it feels even more so.
Kang-chi takes a moment to gape at the badass model ship in the room, and Lee Soon-shin introduces it as a turtle ship for the first time, which is cool.
Jo Gwan-woong mulls it over and asks Tae-seo what he wants in exchange for state secrets. Tae-seo wants the inn, of course, and his father's name cleared. Jo Gwan-woong is skeptical that the information would be worth that much, but Tae-seo says that Lee Soon-shin has a list of names given to him by Seo-hwa… Whaaaat. Is Tae-seo seriously switching sides right now? It's another fake-out, right?
But the list he gives Jo Gwan-woong is the same as the one that Lee Soon-shin has, because as his men arrive to arrest the traitors one by one, they're all found dead. Jo Gwan-woong's men are hurriedly trying to do a clean sweep before Lee Soon-shin can get to them, and before they can name him as an accomplice.
Pil-mok demands to know why Jo Gwan-woong is murdering their allies, but he says this is their fault for not getting rid of Seo-hwa properly. He says that power and status can be reacquired later, but right now they have to kill the others to survive.
Both sides get word that the last three men on the list have come to the gisaeng house to meet Jo Gwan-woong, with threats that if he doesn't come, they'll go straight to Lee Soon-shin. Both men race to beat the other there.
Kang-chi, Yeo-wool, and Gon set out on a separate mission ordered by Lee Soon-shin, and just before they sneak into the Hundred Year Inn, Kang-chi tells Yeo-wool to wait outside. She refuses to sit out, so he pulls out one of his remaining wishes and says his second wish is for her to wait right here. Dude, you can't do that. That's no fair!
Yeo-wool argues that he can't go mixing orders with wishes, but he insists and they go in without her. Lame.
Jo Gwan-woong arrives at the gisaeng house first, and Chung-jo tries to remain in the room to eavesdrop, but it doesn't work, and as soon as he gets them alone, they're slaughtered just like the rest.
Lee Soon-shin arrives just as Jo Gwan-woong is leaving, and says he's here to arrest traitors who are selling state secrets. Just then a girl runs out screaming, and they find all three men dead.
Jo Gwan-woong looks totally self-satisfied at having beaten Lee Soon-shin to the punch, but the admiral doesn't look very perturbed. He asks if he knows the proverb that to fight two tigers, you needn't get your hands dirty at all.
He thanks Jo Gwan-woong for taking care of eleven traitors so swiftly, and then Tae-seo steps out from behind him with a smile. He fumes that they're going to have to do more than this to frame him as a traitor, and Lee Soon-shin just calmly agrees that that's probably true, and lets him go. Tae-seo smirks at him as he passes by, and Lee Soon-shin tells him he did a good job.
Kang-chi and Gon sneak into the inn where ninjas are waiting to attack them, because that's just standard inn procedure now. Yeo-wool waits outside, but she gets attacked anyway by a ninja who happens to be checking the perimeter.
He manages to slice her in the stomach, so she takes off running. I'm not sure why she brings that ninja to the bigger fight, but anyway she joins the boys, maybe to get their help.
Kang-chi is so busy fighting that he doesn't notice that she's there, and turns around claws-first, swinging at the person who's coming at him. Only it's Yeo-wool, and he's just sliced her arm. OH NOES.
They're both stunned, and she starts to cry from the pain. Kang-chi just stands there frozen, his worst nightmare happening right before his eyes.
She collapses into Gon's arms, and Kang-chi just looks down at his own hand in horror. The man who was Seo-hwa's bodyguard comes outside and tells his minions to stop attacking, and Gon hands him a letter from Lee Soon-shin. Huh. Is everyone in this universe a double agent?
Kang-chi becomes frantic and grabs a rock to cut his hand and pour his blood into Yeo-wool's wound. But nothing happens, per the rule we just learned.
But Kang-chi just keeps cutting into his hand over and over because his wound keeps healing over, while hers doesn't. Augh, this is terrible.
He screams like he's going to rip his own hand off, and Gon has to stop him before he slashes it to shreds with that rock.
Jo Gwan-woong throws a tantrum for being outsmarted for once, and asks for ten of Pil-mok's ninjas so he can kill Lee Soon-shin. History says: nice try.
Once the kids get back home, Teacher Gong bandages Yeo-wool up and she's back to her smiling self. Dad runs in after hearing that she was hurt because of Kang-chi, but she swears it was just a scrape, and Kang-chi was busy fighting ninjas the whole time.
She says it was her fault for joining the fight when he told her to wait outside, and it looks like Master Dam buys the story for now.
The bigger problem is Kang-chi, of course, who's busy beating himself up for the mistake. She finds him sitting outside and he noticeably keeps his distance from her and gets up to go inside when she sits down next to him.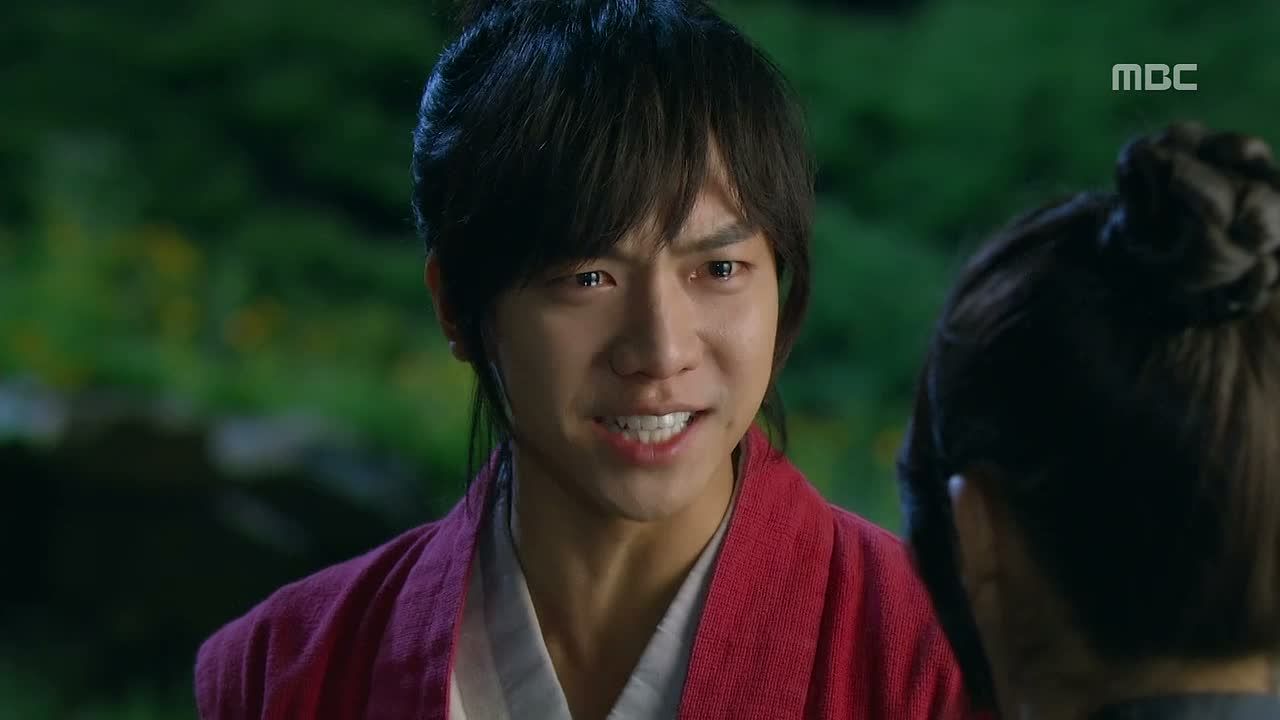 She knew he'd be this way, and says it wasn't his fault. But he says he wasn't himself—he was crazed with the smell of blood, and next time he could hurt her even more, or even kill her.
Now she knows why he's extra-freaked out, and asks what he heard. He admits to knowing about her fate if she stays with the one she met under the crescent moon, and that it's him. He asks how she could let things get this far knowing that she could die.
Yeo-wool: "I didn't want to lose you now, just because of a future I don't know."
As he looks into her eyes, he thinks of Wol-ryung's final words: "The moment you give into fear, you will lose everything." He answers back in his thoughts: "But I'm scared. Yeo-wool could die."
And aloud he answers: "Our fate ends here. That is my third wish, Dam Yeo-wool."
Noooooooooooooo.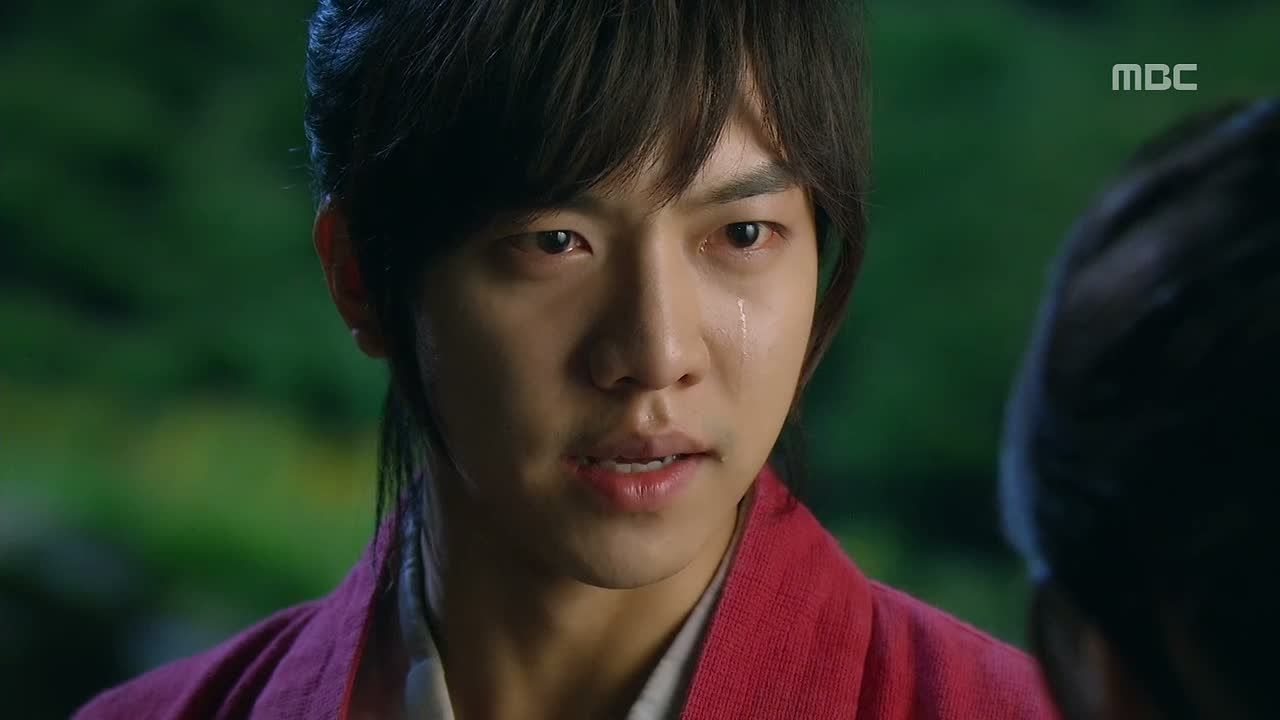 COMMENTS
Why. We all knew it was coming, but still. I mean, your thousand-year-old father even told you not to cave to your worst fears but you did it anyway. Bah. The thing about noble idiocy is, being nobler doesn't make you any less of an idiot. It's not a reciprocal thing. You can still be just as idiotic, or cowardly, or both, no matter how noble your intentions. The girl you love is standing there telling you she chose you over some unknown future that has yet to be, and STILL you choose the other thing. Urg. Drives me batty, that move.
Even though this writer's setups are clunky—you can see the puzzle pieces being carved to fit just so and then slotted into place just before you need them to be there, which lacks finesse and subtlety—they are arranged to make everyone's motivations crystal clear. I thought the accidental claw swipe at Yeo-wool was a good setup to push Kang-chi over the edge, but I wanted it to be… bigger somehow. More dangerous, and more deadly. I actually wanted her to be hurt so badly that she could die. It's horrible to say, since I don't want her to be hurt, but for the purposes of making us feel Kang-chi's angst so that we're with him when he chooses to leave her, it should've been that scary and that dire.
They keep talking about death because it's part of her so-called destiny (And really, I blame So-jung for telling them this in the first place. I mean, why isn't there a Fortunetelling Monks Association rule that you shouldn't tell human beings their futures?) but that's never going to be as high-impact as an actual near-death experience. The fear that he might actually hurt the one person he loves most is a fantastic thing to explore in this genre, but it felt underutilized here. Kang-chi was feeling every bit of the guilt and fear, but she got clawed in the arm and bandaged up in a jiffy, before we had a chance to concede that he might be justified in leaving her. It lacked the visceral impact of seeing him as a bloodthirsty beast (c'mon, where was the green-eyed monster when you really needed him for narrative oomph?) and fearing for her life instead of thinking she might need a tetanus shot. The ingredients were totally there, but just served undercooked.
It was sad to say goodbye to Wol-ryung, but his story felt closed, so it seemed fitting that he'd lay at rest with Seo-hwa instead of lingering in this world for eternity as a shadow of his former self without the love of his life. As a person, you just feel terrible for Kang-chi because the poor kid just gets abandoned in like every other episode, but as a character, it seems better that he has to forge ahead on his own. Hopefully he'll come up with some answers that he's learned by being a part of something bigger than himself, and not forget why he wanted to be human in the first place.

RELATED POSTS
featured
,
Gu Family Book
,
Lee Seung-gi
,
Suzy