Mystery Drama Theater 3000: K-pop Ultimate Survival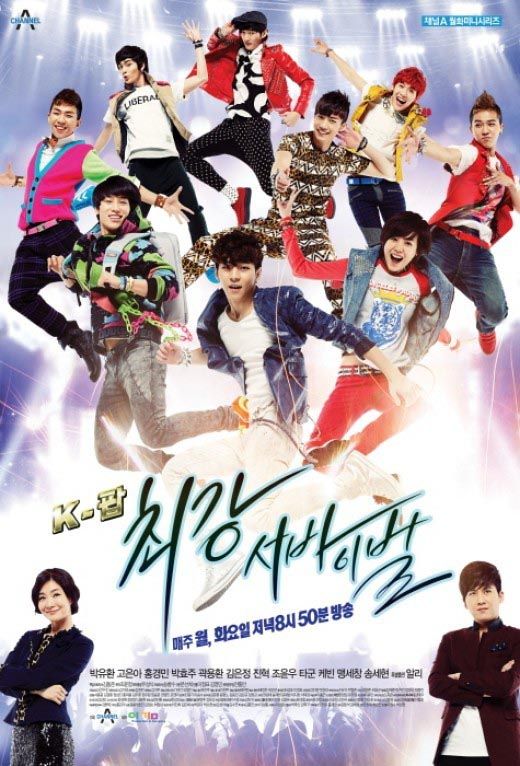 Experiment!
We've had this feature suggested to us a few times, and thought it sounded like an intriguing idea to watch a show for the first time and record our reactions in real time, MST3K-style. Sort of like a DVD commentary track, where you can watch and listen along at the same time.
Our approach was to take show we really didn't know much about, which we hadn't recapped, and therefore would be going into the experiment fairly blind. We decided on K-pop Ultimate Survival, a cable show that isn't, despite its title, a survival reality show but a drama about the formation of an idol band, with a tomboyish girl who somehow gets involved. Sound familiar?
The Channel A drama had a small but devoted fanbase, helped by its regular roster of idol cast members and guest stars, and was headlined by Park Yoo-hwan, aka Yoobro, aka Yoochun's little brother. Go Eun-ah (A Million) was the love interest and other lead, playing the part of of the Go Mi-nam-esque heroine who dresses like a boy, gets roped into being part of an idol boy band, and falls for its haughty leader. Romance and hijinks ensue.
(The show didn't perform well, however, following the trajectory of most of Channel A's dramas, and got cut down from 16 episodes to 14, ending abruptly, to the ire of its fans.)

To watch:
Download episode. Here's the link to the torrent for Episode 1: Get file
Download audio commentary file: Get Commentary
Get both files ready to play in whatever programs you use to watch dramas and listen to mp3s. Go ahead and start the audio track first; we tell you when to press play so you can be in sync with us.
Audio clip: Adobe Flash Player (version 9 or above) is required to play this audio clip. Download the latest version here. You also need to have JavaScript enabled in your browser.
And voila. Happy listening!
We have no idea if this is a good idea or a dismal one, but you can tell us what you think:

RELATED POSTS
Tags: cable programs, featured, Go Eun-ah, K-pop Ultimate Survival, Mystery Drama Theater 3000, Park Yoo-hwan