You're the Best, Lee Soon-shin: Episodes 33-34 [Open Thread]
Wow. It took the show 34 episodes to figure out that if you cast a singer (or two) in the lead role of a drama, maybe we'd want to see them sing. Give the writer a cookie. Although… it might be a little moldy and stale from WAITING SO LONG. Just sayin'.

The gist:
Soon-shin moves in with Mi-ryung. However, she's not happy about it, and doesn't hide it. Mi-ryung tries to win her over a few times before she gets petulant too. It's a lot of petulance.
Mi-ryung continues to try to dictate Soon-shin's career, but Soon-shin puts her foot down and only works with Jun-ho, who prepares her for auditions. A tiny background role for a drama comes up for an aspiring singer character and he remembers her stage performance and gears her toward that. This gives a few moments of cuteness in each episode, worth a watch with a finger on the fast-forward button.
Yeon-ah feels pushed aside and threatened now that Mi-ryung is ignoring her. So she gets extra-bitchy with Soon-shin, especially when Jun-ho's obvious interest keeps growing. She has tried to keep out of Soon-shin's casting issues, telling Mi-ryung that nepotism never gets an actor very far, but finally she snaps and (1) signs on to the drama Soon-shin is auditioning for, (2) tags along to auditions, (3) gets all set up to make Soon-shin miserable.

Highlights: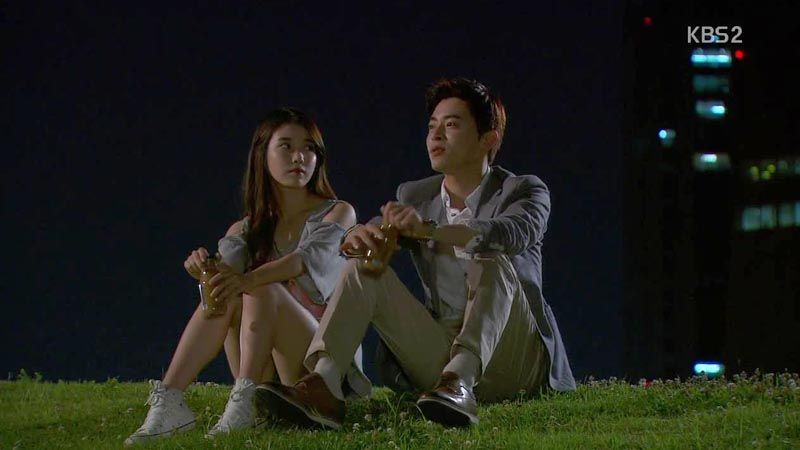 There are a number of Jun-ho and Soon-shin scenes in these two episodes, which is a good thing and long overdue. Sadly they no longer get me as excited as they used to, but it helps since the other sisters are getting less interesting.
So Soon-shin hears that she's not her father's daughter and this is crushing. For anybody else to care I would be frustrated at the "bloodline rules all" implications, but it makes sense for Soon-shin because she yells at Mi-ryung that she stole away her mother, and now also her father.
Jun-ho insists on accompanying Soon-shin following her confrontation with Mi-ryung, insisting that he can't let her go because she'll worry him too much. He at one point pats her on the shoulder, but when she shoots him a look, he's all, Oh look, a mosquito. I love how much he is the opposite of smooth.
Then when they're eating over drinks, he misinterprets her reaction to the soup and thinks it's too hot, and starts fanning her bowl with his hands. Gah, I love him when he's being all dorky. It's why he's a great romantic interest (when he's not being stalkery) because he cares about her feelings more than anything else.
Jun-ho also advises her that nothing about her family discoveries matters with how she should actually feel about them, and adds philosophically that everybody lives for themselves in the end. That sounds selfish, but it helps and she later parrots that back to Mi-ryung.
The morning-after scene is worth it just for assistant In-sung's hilarious reaction to seeing Soon-shin sleeping in Jun-ho's office. Jun-ho looks super pleased with himself to watch her sleep (um, it's sweet, I swear, not vampire-creepy) and goes out to buy her toiletries and breakfast.
Soon-shin goes on her first audition, which gives Jun-ho the opportunity to give her my favorite of his many facial expressions:
She bombs that and he tells her encouragingly that they've only begun. Also, he shares that you can want something too much and it can stress you out and ruin how you perform, which is why he ended his singing career before it began.
Soon they pick a new audition which requires her to sing. She can play a little guitar so they go with that, while Jun-ho advises that she not pick a dance song since she can't dance. This leads to some cute flirting with him insisting he can dance, which just leads to him tripping. HA. And it turns out, when he's not falling on top of her, he's dragging her to fall on top of him. I'm not complaining.
A conversation with Mom reminds Soon-shin of her Dad's favorite song, and that inspires her to change her song choice. When she struggles to play it on guitar, Jun-ho takes over, which gives us about five seconds of a duet. I guess I'll take it.
Jun-ho ignores Yeon-ah's lunch invitation in favor of that practice, and when she tells him he can go, he says, "Right now, this is most important. [looks away] You're the most important."
When Yeon-ah gets pissy about Jun-ho liking Soon-shin now, Young-hoon actually tells her she should've treated him well while she had him. Ha. He says it in his nice way since he's a nice guy, but the words are kinda satisfying.
Yeon-ah sits in on Soon-shin's audition and is prepared to be a huge raging bitch about it, but in an underhanded way—after insinuating that she'll get Soon-shin cut, she asks the director to cast her. Keep your enemies close, I suppose?
But then Soon-shin starts singing and Yeon-ah looks gratifyingly threatened because she's actually good.
(Song: "잊혀진 계절" / "Forgotten Season")

Lowlights:
So sad, but Bread Man makes the lowlights list this time. He tells Bread Boy that he has to stop lessons now, because he likes Hye-shin so much and he can't bear to face her anymore. (She's such a good person for not holding his past against him… but that makes him feel even more like he doesn't have the right to like her. Or something. I'm not sure.)
Hye-shin overhears his tearful confession and then starts acting really weird around Bread Man. This makes me sad for him and a little angry at her. I get that she feels weird about him liking her, not because he's an ex-con, but still. It's like abandoning someone right after they've been the most vulnerable.
Chicken Ajumma continues to be a pain in the ass about Yoo-shin. Chicken Ajusshi points out that the reason she doesn't like Yoo-shin is because she wants a daughter-in-law she can control.
The two ajummas have another fight, but this time Chicken Ajumma brings up ancient grievances like how Mom was always so uppity and superior about her wonderful awesome life and her wonderful awesome husband/kids and how she looked down on Chicken Ajumma all her life. I've gotta say, it's hard to side with anyone in this because they're both kind of terrible, but yeah, I can see Ajumma's point since Mom does have that insufferable martyr complex.
But later I guess it smooths the path for more understanding (or whatever) because Mom apologizes if she ever treated Ajumma badly and they make up, sort of.
Yoo-shin tries to win over Ajumma by cooking and cleaning for her, and Ajumma kicks her out of the house. But it gives her the idea to use Yoo-shin's own tactics against her, and she sets her to cleaning the toilets and doing all the housework. Chan-woo is sweet and insists on taking over the work and gives Yoo-shin a foot rub, which is really very cute until Ajumma sees them.
Jun-ho's mother starts to suspect weirdness about her husband's closeness with Mi-ryung. Thus far it's all been aboveboard, though I do think Dr. Shin likes Mi-ryung more than he likes his wife at this point, but I don't blame Mom for worrying. Still, I find her very wearying and smug so I can't really care.
Soon-shin's family drives me NUTS. Once she's gone, they complain that she actually left, like they weren't screaming at her that she wasn't family just an episode ago. So Grandma gets mad at Soon-shin's "betrayal." Then Soon-shin comes home and Grandma gets mad that she's back. Then Soon-shin packs a bag to leave and Grandma gets mad that she's leaving for real. This all happens in the span of about three minutes. Basically, Grandma needs no excuse to be mad.
Mi-ryung forgets Yeon-ah's birthday and keeps asking her for advice on what to do about Soon-shin, because she has no shame and no tact. Yeon-ah is hurt and asks whether Mi-ryung ever thought of her as daughter.
I would feel sorry for Yeon-ah, only then she turns right around and is a terrible sniping bitch to Soon-shin, insinuating that she's an ungrateful coattail-rider who would abandon her adoptive family in a flash just so she can be famous. Ugh, Yeon-ah.
The only consolation is that it's actually really satisfying to watch her face when Jun-ho turns down her birthday lunch, then walks into The Only Restaurant In the Universe with Soon-shin. Then Soon-shin excuses herself (because it's the most awkward gathering ever with Jun-ho's mother and sister making bitchy comments to her face—gossiping harpies, I swear) and Jun-ho excuses himself to leave with Soon-shin.
Yeon-ah smirks as Soon-shin blunders her way through the audition reading, only to look unsettled when she rocks the song.
RELATED POSTS
Tags: featured, IU, Jo Jung-seok, Lee Mi-sook, Sohn Tae-young, Yoo Inna, You're the Best Lee Soon-shin