You're the Best, Lee Soon-shin: Episodes 39-40 [Open Thread]
I'm sick today, so I make no promises that this weecap will make an entire lot of sense. Not that this show has a history of lots of sense.
But you know, it's not a bad set of episodes this weekend. I kinda finished the episodes thinking that it was much of the same — some cute, some tedious, some up and down, back and forth — but upon second thought there's actually quite a lot of advancement. You might even squeal at some of them. Get your squeeing hats on! On second thought, don't — who needs a hat that squees? You'll be doing enough of that yourself.

Highlights
I don't actually remember what happened for the majority of Episode 39, which I would chalk up to the sicky but for the fact that this is a pattern for this show.
Anyway. Yeon-ah pulls her PR stunt about dating Jun-ho (it's one of those really thinly veiled announcements where his face is blurred out and no names are given, but everybody totally knows it's him). He is NOT having it and orders her to issue a denial in the news, only she totally doesn't and everyone congratulates them. Soon-shin is disheartened, sees this as a wake-up call to let go of her delusions, and pulls away from Jun-ho.
She sees the two of them at the One Restaurant To Rule the World, which hasn't been featured a lot lately, too bad for Young-hoon who is totally getting shafted on screentime. Then she hurries out before she's seen but I'm not nervous for her, because she and Jun-ho are totally wearing couple outfits so I know this is going to end in a good place.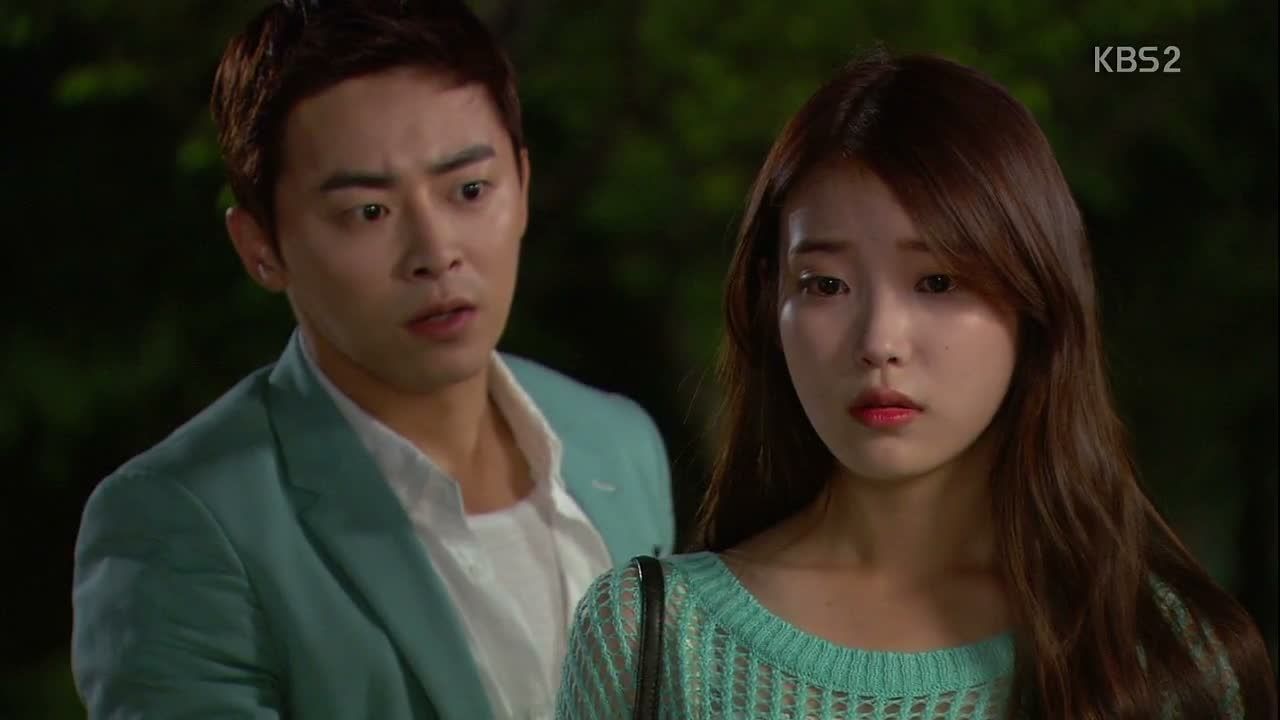 But! I honestly had no idea it would get this good, this fast — not that Episode 39 of a 50-episode drama is fast, but still it feels sudden given their usual plodding speed — because Jun-ho totally follows her out and KISSES HER! O! M! G!
I had actually had visions of this show ending with Episode 50 with maybe a hug. A peck on the forehead if we were lucky. A chaste agreement between Soon-shin and Jun-ho to be boyfriend-girlfriend. I hadn't even bothered to hope for a kiss, so already this show has gone above and beyond. (Well, first it went below and behind, but it's back up from those lowered expectations.)
The setup is thus: Jun-ho sees her hurrying off and follows. She asks him not to be so nice to him because it confuses her feelings. He's all, Omg what are you saying, and she blurts that she likes him and it hurts so stop it. Then he says in his emotionally shaky voice (love that voice), How much more of my heart do I have to show you?, hugs her, then kisses her. Then they are cute and happy and all is right with the world.
(Granted, Jun-ho hasn't exactly been subtle about his emotions, but you do have to feel bad for Soon-shin, who is in love with the CEO of her company, who seems to be dating a top actress, who must feel it's futile to harbor the crush.)
They spend the rest of Episode 40 shooting each other adorable looks and being both cutesy and awkward.
Soon-shin continues to impress at her drama, where she earns praise from the director and even the grudging sunbaes, who recognize that she has "it" and is doing really well for her first gig. Yeon-ah seethes. That's a highlight, right?
Chan-woo and Yoo-shin get married. Chicken Ajumma spends the day with her insides twisted in knots. Everyone else is thrilled.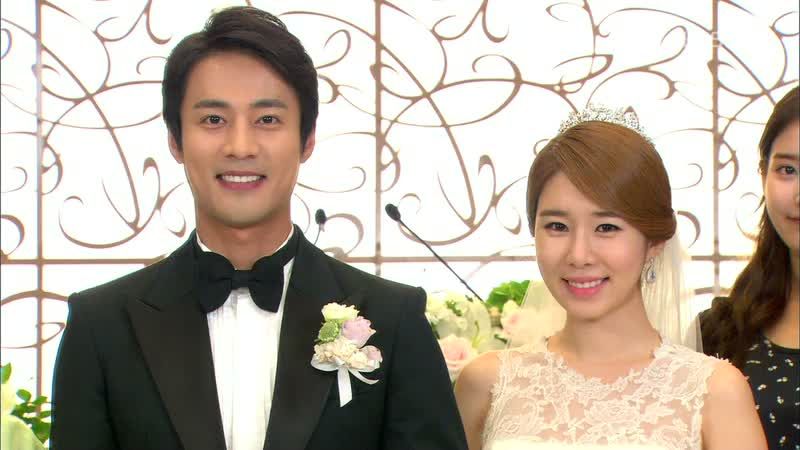 Chan-woo gets a new haircut and looks like a different person. A really hot person. Then he showers and it goes away and I am sad.
There's a cute bit at the wedding where our men — no, boys, by which I mean Jun-ho and Bread Man — are standing together watching the family take photos. They overhear ajummas calling the sisters beautiful, and when Hye-shin is praised, Bread Man puffs up adorably. Then Soon-shin is praised and Jun-ho just beams with pride. It's hilarious because they barely even have any claim to feel secondhand pride, but they do and it's cute.
Soon-shin goes home and Grandma is the least hateful she's been in months, although that means she's still kind of hateful. But she says this confusing convoluted speech about how Mi-ryung had a terrible childhood and never grew up right because she didn't have parents teaching her, and how she was full of ambition to better her life and now is this hotshot star. Grandma says this like it's an insult. I think it's kind of awesome, actually.
Then Grandma guesses that Soon-shin is having a hard time living with Mi-ryung, and sniffs, I told you so, and then adds that she can come home and live with them if she really needs to. It's the weirdest passive-aggressive reasoning that makes me want to bark, "What do you want, Grandma? WHAT?"
But when all's said and done, it's the thing to bring Soon-shin around and finally open up the pathways of communication with Mi-ryung. All this while, Mi-ryung has been trying to play the part of the loving mom, but she has been doing the delusional thing of forcing the relationship, determined to have what the movies and fairy tales and books all describe. She is her own worst enemy, isn't she?
And while I don't blame Soon-shin for rebuffing Mi-ryung's overbearing ways, she has been kind of teetering on the brink of brat-dom. It's just got the potential to end really sadly all around if nobody changes something. So it's a relief when Soon-shin lets up a little, and makes Mi-ryung breakfast, and agrees to do this mother-daughter CF with her.
I do think Soon-shin had to get her sulks out, because now Mi-ryung actually appreciates this and doesn't take it for granted, and I almost feel heart-warmed by it. Okay, I am heart-warmed. Things are lookin' up.

Lowlights
Hye-shin's ex-husband comes back to Korea, and he's a primo douchebag. He's both immature and dictatorial, all, Are you still mad about the cheating thing? I only did it a little! and You should take better care of yourself. On one hand, Hye-shin barely gives him the time of day and orders him to leave every time he shows up, but on the other hand he's so persistent and annoying that he won't bother to consider her feelings.
He gets off on the wrong foot with Bread Man, who respectfully keeps his distance, and it's a little satisfying to see that Hye-shin is still nice to Bread Man while ignoring her ex. I do hope that the ex's appearance will be the thing to push her to realize how she feels about Bread Man, because they're sweet and all but SO SLOW. Even slower than Jun-ho and Soon-shin, and left to their own devices it would take them for-e-vah to do anything about their feelings. If ever.
Jun-ho's mother kicks Dr. Shin out of the house, accusing him of cheating with Mi-ryung. What's interesting about this is that Dr. Shin feels completely aboveboard about his interactions with her, and I almost believe that he has no interest in stepping out on the marriage. I do think he shows glimmers of interest NOW, but that's after his wife puts that idea in his head.
Then Jun-ho's mother goes to Mi-ryung, who is equally startled to be accused of going after her man. There's no cheating going on, so Jun-ho's mother is the only one who's frantic and upset about it all. She relents and tells Dr. Shin to move back home because she'll give him one chance, but he's no longer interested in coming back home — he wants to live alone in his one-bedroom for a while, unencumbered by her histrionic reactions to everything. It's a little harsh but not totally untrue.
All the while, Yeon-ah is fanning the flames of discord, WHO KNOWS WHY, whispering into Mom's ear and pushing her toward confrontation. Don't you have enough problems of your own to attend to? Ugh. She's so terrible. I assume it's because she's miffed at both Soon-shin and Mi-ryung and wants to ruin them, but it's all so juvenile and irrational.
Young-hoon even calls her out for it, but she's all, Hmph! You think that's bad? I can do worse! And both Young-hoon and I are all, Uh, I wouldn't brag about that.
But that's what second leads do, I suppose.
So Yeon-ah brings Mom to the CF shoot, which is for Dr. Shin's clinic, featuring Mi-ryung and Soon-shin. Yeon-ah is such an evil wench. Imagine what she could accomplish if she used her powers for good, or neutral. Then Mom gets angry at Dr. Shin for being here — even though her husband is at work, at his own CF, and totally not out of line for being here — and slaps him in front of everybody.
I'm sending feeble mental slaps Yeon-ah's way, but this bug is totally inhibiting my telepathic powers. Maybe next week.

RELATED POSTS
Tags: featured, IU, Jo Jung-seok, You're the Best Lee Soon-shin