I Hear Your Voice: Episode 16
It's time for fallout, consequences, and a hefty dose of horrifying omens. What, you didn't think Show would send you into finale week without the ever-living terror ground into your bones, did you? Pssh. As a standalone episode it's the least whole of the series—it's a bit of a prelude episode, to set us up for the finale to come. Ratings hit another high at 24.1% today.

SONG OF THE DAY
Lucia with Epitone Project – "어떤 날도, 어떤 말도 (Any Day, Any Words)"
[ Download ]
Audio clip: Adobe Flash Player (version 9 or above) is required to play this audio clip. Download the latest version here. You also need to have JavaScript enabled in your browser.

EPISODE 16: "Overture to La Gazza Ladra (The Thieving Magpie)"
Su-ha hears Do-yeon's conflicted thoughts about prosecuting her biological father in court, and sends Hye-sung to find her in the bathroom. She finds Do-yeon sobbing uncontrollably, and Do-yeon begs for her help to save her dad.
I know, a hug is asking for too much (and would frankly be jarring) but would it kill you to pat the girl on the back?
By the time Lawyer Shin comes looking for them, they're both crouching behind a row of chairs like co-conspirators, which kind of makes my day. Hye-sung asks if Do-yeon can really go back in there, and I honestly think she's talking about the state of her mascara as much as her dilemma about her two fathers.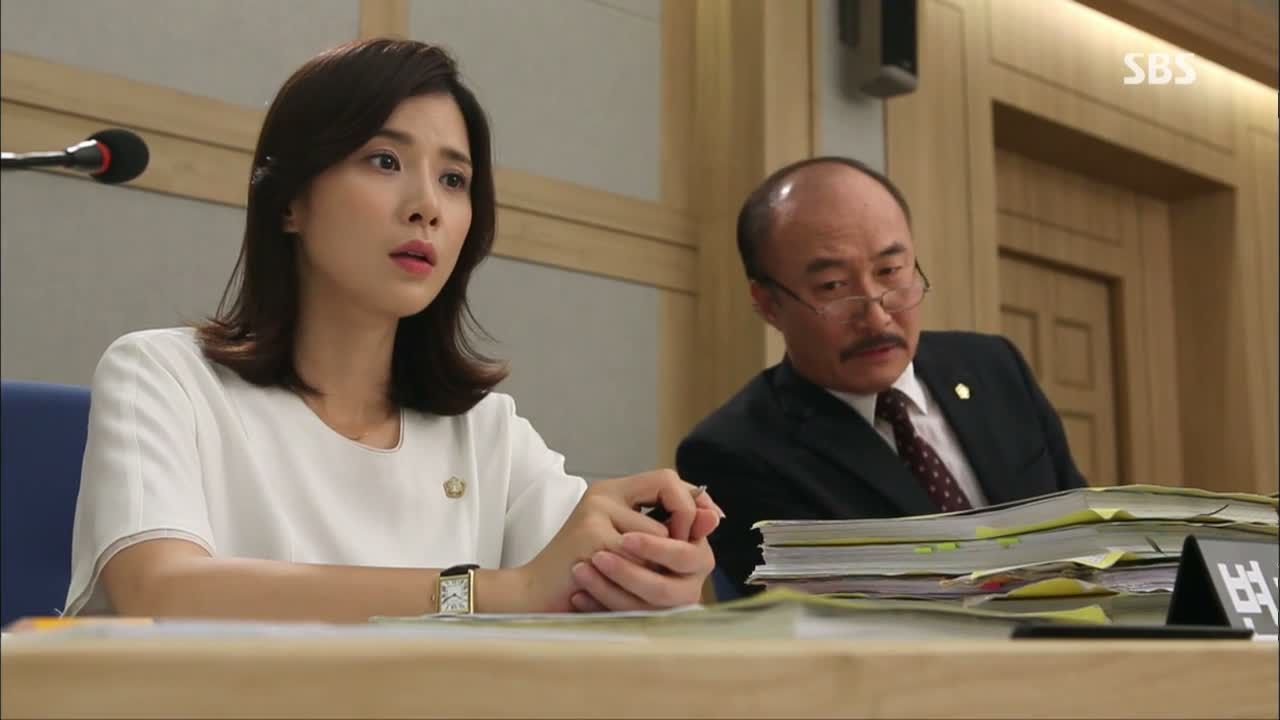 She mimes to Lawyer Shin, as if Do-yeon's tears weren't telling enough, and Do-yeon sincerely asks for their help to get an acquittal for Hwang Dal-joong. Hye-sung assures her that they'll do their best, and Su-ha smiles.
Lawyer Shin even gives her the closing argument, saying that she's their best shot at moving the jury. After the prosecution gives their closing statement, Hye-sung looks over at Su-ha to ask how many jurors are on her side. He says four.
She gets up to speak and scoffs at Lawyer Shin's worry that she's nervous (even throwing in a hair flip for good measure, ha) but gets off to a rocky start. She shuts her eyes and takes a deep breath, and it takes us to a flashback.
She finds Kwan-woo listening to music before a trial, and he says it's a form of mind control, to prepare himself before he enters the room. He shares, and it's the overture to the opera La Gazza Ladra (The Thieving Magpie). She asks why this song, and he says it's based on a true story.
Back in the courtroom, Hye-sung plays the song in her head, and it calms her nerves. It also gives her an idea, and she opens her argument with the story of the opera—a woman is sent to prison for stealing silver, when in fact the real culprit was a magpie.
She asks who's to blame in this circumstance—the bird, or just plain bad luck? She says that it was the law that sent her to the gallows that's to blame, and the people who made that unjust decision. Her argument is for the jury to right the wrongs of the system, and by the time she's done, Su-ha's holding up all ten fingers.
While they break for the jury's decision, Sung-bin and Choong-ki arrive, having gotten so heated in their debate over the case that they wanted to see how it turned out. Su-ha laughs, and then gapes when he sees Choong-ki's nails painted blue. Haha.
The jury is unanimous in their verdict: not guilty. But the problem is the judge, who disagrees, and has the final say. He calls both sides to a conference room to deliberate. As the prosecutor argues, Hye-sung gets a phone call and screams, "Shut up, Grass Hair, I can't hear!" Hahahaha.
It's good news: the victim is awake. It doesn't change the fact that they have to make a decision though, and Grass Hair is pretty much the only vocal dissenter. Finally Do-yeon speaks up and offers to withdraw the prosecution entirely.
Aw, are you throwing yourself under the bus to save your dad? Grass Hair tells her this won't be taken lightly, and she says she's prepared for the consequences.
The trial resumes for the verdict, and the judge sums up the arguments again, just in case we were sleeping the first time. He then announces that the prosecution has withdrawn the case, and that Hwang Dal-joong is a free man.
He breaks down in tears in the middle of the courtroom, as does Lawyer Shin. It's twenty-six years' worth of tears for the both of them. Do-yeon struggles to hold back her tears, and Hye-sung holds Lawyer Shin's hand as he cries.
She exchanges a victorious thumbs-up with Su-ha, while Sung-bin gets to gloat over winning the debate, and hugs Choong-ki. Omo. He goes from sulky to happy in about two seconds flat. Okay, you had nothing to do with the case, but that was worth it.
Long after the courtroom has cleared out, Hye-sung and Do-yeon are the only ones left. Do-yeon is the first to get up, and stops to say in a tiny voice: "I'm sorry." Gasp. Hye-sung wonders if she doesn't mean "Thank you," but no, Do-yeon was talking about the fireworks eleven years ago.
Hye-sung can't believe it, and wonders if Do-yeon finally believes that she may have been wrong. Do-yeon: "I think just like my father, I didn't want to acknowledge that I might be wrong. But I found out today, just how horrible it is not to acknowledge your wrongs."
She turns around to look her in the eye: "I apologize. Sincerely." Wow. And Hye-sung doesn't even gloat about it (I fully expect her to later, but I think it's big of her not to do it in front of her face) and just accepts the apology.
Lawyer Shin and Hwang Dal-joong finally get to smile and laugh after the trial, and Dal-joong sees Do-yeon walking out. He asks if she's really his daughter, and says he pretty much figured out what Judge Seo did.
Lawyer Shin asks if he isn't angry, and Dal-joong says he is, but he already forgave. Hye-sung and Su-ha stop to listen. Lawyer Shin wonders how such a thing can be forgiven, but Dal-joong just smiles, "I don't have much time. I don't want to spend the rest of my days hating someone. I don't want the last things I feel in this life to be so terrible. That's why I forgave."
The words trigger Hye-sung's last memory of Mom, and what she told her in her final moments: "Promise me, that you won't spend your life hating someone else." Su-ha looks over at her and reads her thoughts as she sheds a tear.
He just puts an arm around her and pulls her close without a word, while Lawyer Shin hugs Dal-joong.
Do-yeon comes home and back-hugs Mom, and then asks through her tears: "No matter what I say, I'm still your daughter, right?" Aw. She asks Mom to brace herself, and starts to tell her what she knows.
Hye-sung plops down on the couch at home, and Su-ha tells her she should rest after expending so much energy today. She sighs that he did all the work, and chastises herself for relying on him again.
She tells herself she has to stop depending on him all the time, and he pouts, "Why can't you keep depending on me?" Hye-sung: "Obviously because…" and she doesn't finish her thought, because the news report of the case comes on.
The verdict gets reported rather succinctly, with no mention of her. She shoots up from the couch, suddenly very energized, and up in arms about how they could leave her out: "ME. I was the star of that case! They call that news?!" Lol.
Su-ha: "I thought you said it was all because of me." She huffs that that's just stuff you say, and he laughs.
Judge Seo finds the breakfast table set for one, and his wife says that Do-yeon told her everything. They plan to stay at Grandma's house for a while, and adds that never in thirty years did she think he could be that cruel a person.
He's left alone at the table muttering aloud to himself, "What did I do wrong? I didn't do anything wrong. I didn't do anything wrong!" Is it wrong that I rather enjoy that he's a bitter hateful man till the end?
Hye-sung tells Kwan-woo all about the trial on the way into the office that morning, and she hilariously gathers the whole office and asks Lawyer Shin to tell everyone how good she was. She cracks me up.
She insists on details, and Lawyer Shin genuinely tells her she did a great job, adding that it made him wonder if he had any right to give advice and act like he knows anything.
Kwan-woo picks up on his existential crisis, but Hye-sung remains blissfully unaware, and keeps prodding for more praise. Kwan-woo plays interference and makes sure that Lawyer Shin is okay, and he swears he's fine.
Do-yeon goes to see Hwang Dal-joong in the hospital, and returns his belongings that he had the day he entered prison. He asks if there wasn't a set of pastels, and she takes them out of her purse: "Didn't you buy these for me?"
She asks him to sit down, and takes out a sketchpad. Aw to draw his portrait? He lights up, and she says nonchalantly, "I'll come by as often as I can from now on to draw for you… Father."
He doesn't even really register it until a moment later, and then asks her to repeat it. He has to prod her to repeat the last part, and she finally says it again: "Father." He breaks down in sobs, and she tells him not to move otherwise it'll ruin the picture, so they both tamp down their tears and smile.
Kwan-woo finds Lawyer Shin deep into his third bottle of soju that night, and joins him. Lawyer Shin asks what might have happened twenty-six years ago if Hwang Dal-joong had met a different lawyer—someone like Kwan-woo or Hye-sung. He figures he might not have wasted half his life away unjustly, blaming himself for all of it.
Kwan-woo knows a pity party when he sees it, and asks if Lawyer Shin remembers someone throwing poop all over his car seven years ago. He does. "That… was me." Haha. What?
He gets chased in circles around the pojangmacha table and Lawyer Shin screams that it took forever to get all that poop off. He asks why, when they didn't even know each other then. Kwan-woo promises to tell him the story if he won't hit him.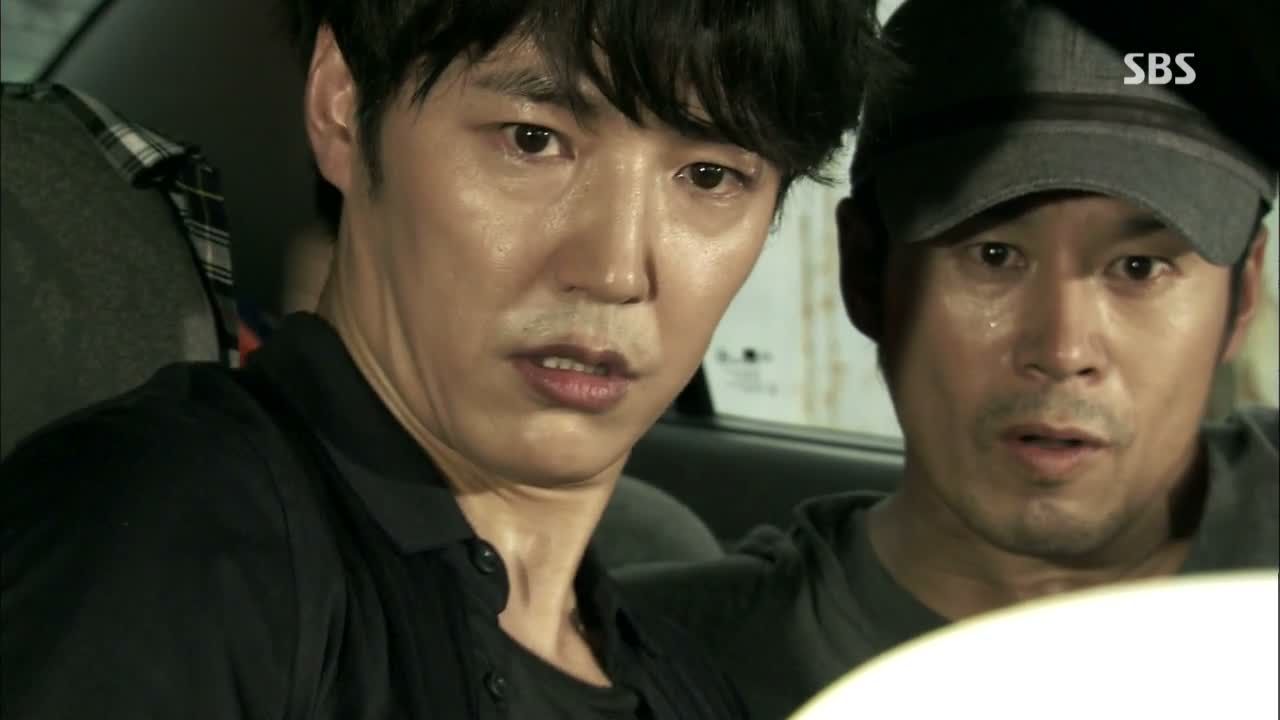 He says that was back when he was a cop (and partners with Hyung Cop currently on Su-ha Watch), after the Red Socks Murder trial. He didn't shower or change his underwear for seven days to catch that bastard (ew, thanks) and worked tirelessly to collect all the incriminating evidence.
But because of one public defender, all his work was for nothing, and Red Socks was proven innocent in court. Lawyer Shin asks if that's a reason to go throwing poop around, and they go for another spin around the table.
Kwan-woo says the real criminal was caught later, and Lawyer Shin saved two people that day in court: Red Socks, who would've spent his life in jail unjustly, and Kwan-woo, who would've been responsible for that man's life.
"And so that day I quit the police force and began to study the law, so that I could become a public defender, just like you." D'awwwww.
And then Lawyer Shin does the best thing ever. He just stands there, arms outstretched, waiting for his big bro-hug. It's so great.
Kwan-woo runs over to hug him, and then Lawyer Shin gets in a good hair pull for the poop thing, before coming back around to the hugging. Heh.
Su-ha sleeps on the couch, and he's lit way too dreamily for this to be real. Hye-sung wakes him up gently, wearing a white dress. He wonders why she's dressed that way at home out of the blue, and takes a look around the room. "Is this a dream?"
Hye-sung: "Of course it's a dream, like this would be real. Could your dreams be more childish?" She futzes with her dress: "What is this concept anyway?" HA, I love that Dream Hye-sung is a smartass.
He says she looks pretty, and she just rolls her eyes, ordering him to hurry and wake up because the dress is uncomfortable. He just grabs her in a hug and says he'll wake up whenever he wants to, and kisses her forehead and cheek and snuggles some more. Gah.
Then suddenly, her hand falls limp. What. He looks down at his own hand, and it's covered in blood. He asks what it is, but she's already dead in his arms, and bleeding through her dress, in the place where he once stabbed her.
He pleads with her to wake up, but she doesn't.
Hye-sung finds him tossing and turning in the middle of his nightmare, and wakes him up. He finally opens his eyes, and grabs her in a hug, so relieved that it was just a dream and she's okay.
She asks what he dreamt, and he says it was nothing, but won't let go of his vice grip on her.
Min Joon-gook looks like he's planning to spring into action—he gathers a rope, duct tape, and his favorite weapon of choice, a wrench.
Kwan-woo gets to the office early and intercepts two more letters from Min Joon-gook, this time a story written by someone else reporting that a man went into a violent rage at a hospital. A flashback shows it was Min Joon-gook. And then another is an article about a grandma with dementia and a little boy, found in the streets. Interesting, this is going further back than just the two wives' deaths.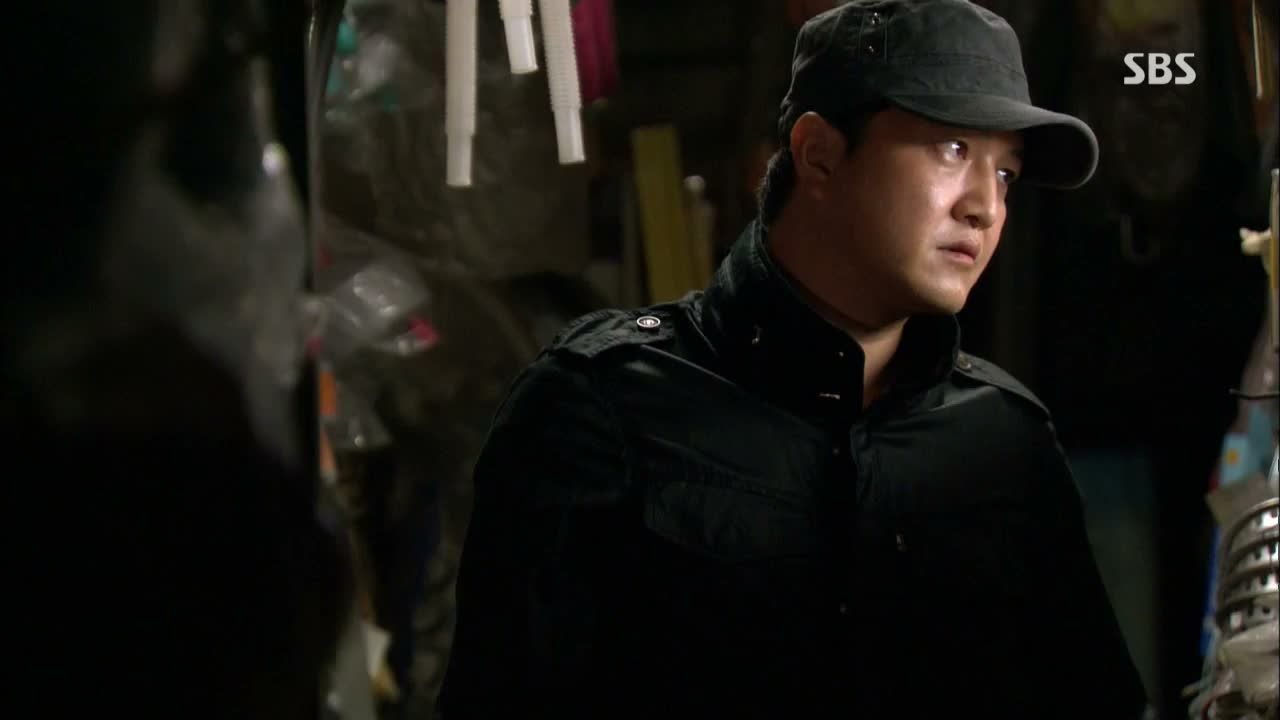 Hye-sung and Su-ha stop by the mall, and she asks what his dream was about. He refuses to tell her, which she calls unfair since he can read her mind, and guesses that maybe it was a naughty dream: "He is a man…"
He hears her thinking it and swears up and down that it wasn't, and she does that patronizing, Oh okay, we'll say it wasn't. He butts heads with her to get her to take it back.
They split up to run errands, and he catches her stopping to look at a pretty necklace and sighing that it's too expensive. It looks conspicuously just like the one in his dream. Uh-oh. Don't buy the thing in the omen! Don't tempt Fate!
Once she's gone he goes over to look at it and sighs at the price, wondering if Uncle deposited his allowance yet. I love the pair of detectives watching from their respectful distance, sucking on lollipops and sighing at the romance. "It makes me want to date." "Does your wife know that?"
A woman shows up eyeing the same necklace, and the jeweler says it's the last one. Suddenly Su-ha bolts, and the detective on Su-ha duty sighs, "He's running again." Lol, I didn't stop to think how annoying his job would be. At least Hye-sung is always in heels.
He chases him all the way to the ATM, and witnesses the adorable little "Yessssss!" when he checks and sees money in his account. He grabs the cash and runs back, annoyed detective in tow. He slams the cash down to buy the necklace, and the shopkeeper happily sells it to him instead of dealing with the crazy lady who keeps trying to haggle (both are comediennes swinging by for a cameo).
Do-yeon sketches her father, and amidst jokes about his better side (she deadpans that he doesn't have one) he wonders if she would've grown up to be this beautiful and smart if he had raised her.
She says (not even slightly kidding), "Of course. No matter who raised me, I'd be pretty and successful." She proudly shows him the finished product, beaming that it's a perfect likeness. He agrees in that way a father would say of an unintelligible finger painting, and then adds that she probably chose well to quit art and go to law school. Ha.
He suggests they take a selca and send it to Hye-sung and Lawyer Shin, and I never would've believed it, but she does it, complete with cutesy faces. Lawyer Shin laughs, and Hye-sung actually jumps in horror.
She picks up her phone like it has cooties and tells Pretty the Paralegal, "No matter what you could possibly imagine, I saw the thing that's worse than that." Pfffft.
She goes rooting through Kwan-woo's desk looking for a new rubber thimble, when she comes upon a stack of letters addressed to her. Uh-oh. Kwan-woo runs in a moment too late, and she asks why he has her mail.
Su-ha is walking down the street grinning from ear to ear, when a pickpocket on a motorcycle whooshes by and nabs his bag. Not the necklace! He was SO happy. The detective runs after him, but gets knocked down. It turns out to be a license plate he's already familiar with, and he calls the precinct to say that the purse-snatcher has shown up again.
Hye-sung sits Kwan-woo down in the conference room, and it's a little like principal and misbehaving kid. He refuses to make eye contact, which she doesn't let go on for very long. He begs her not to make him say anything, because he can't.
She figures that it must be for her own good, because that's the kind of person Kwan-woo is. She guesses that whatever the truth is, she'll be hurt. "If that's the case, then I'm really disappointed in you. Do you think that I'm that pathetic a person that I can't even handle a thing like this?"
THANK YOU. Why do the boys not understand she's a grown-ass woman? I mean, yes, petty and immature, but still. She can handle the truth, people.
He remains tight-lipped, so she says she'll just have to find out for herself. She grabs the articles and gets up, when he finally spills the beans: the reporter is Su-ha's father, the grandma with dementia is Min Joon-gook's mother with his son, and the person who sent the letters is Min Joon-gook.
The detective returns Su-ha's bag and he's relieved to find the necklace untouched. He isn't missing anything else, except for his phone. He doesn't seem worried about it, but I get the sneaking suspicion we ought to worry.
He pops into the office looking for Hye-sung, but they say she's in court. So he goes to the courthouse, but it's empty, and a clerk says the hearing was rescheduled because the defense lawyer never showed. Okay, it's too early to panic, right? She could just be upset.
He finds Kwan-woo out in the hall and he doesn't know where she is either. They came together, and each had trials. He calls, but she hangs up as soon as he says hello. Su-ha reads his mind and realizes that she knows about his father and the letters.
Kwan-woo says he had to tell her the truth because she found them in his desk, and Su-ha asks in a panicked voice if she knows the whole truth—about his father starting this whole chain of events.
Kwan-woo confirms that she knows the whole story, but promises that it has nothing to do with her going off the grid. Su-ha screams, "What do you know?!" His eyes fill with tears, "Why did you tell her?"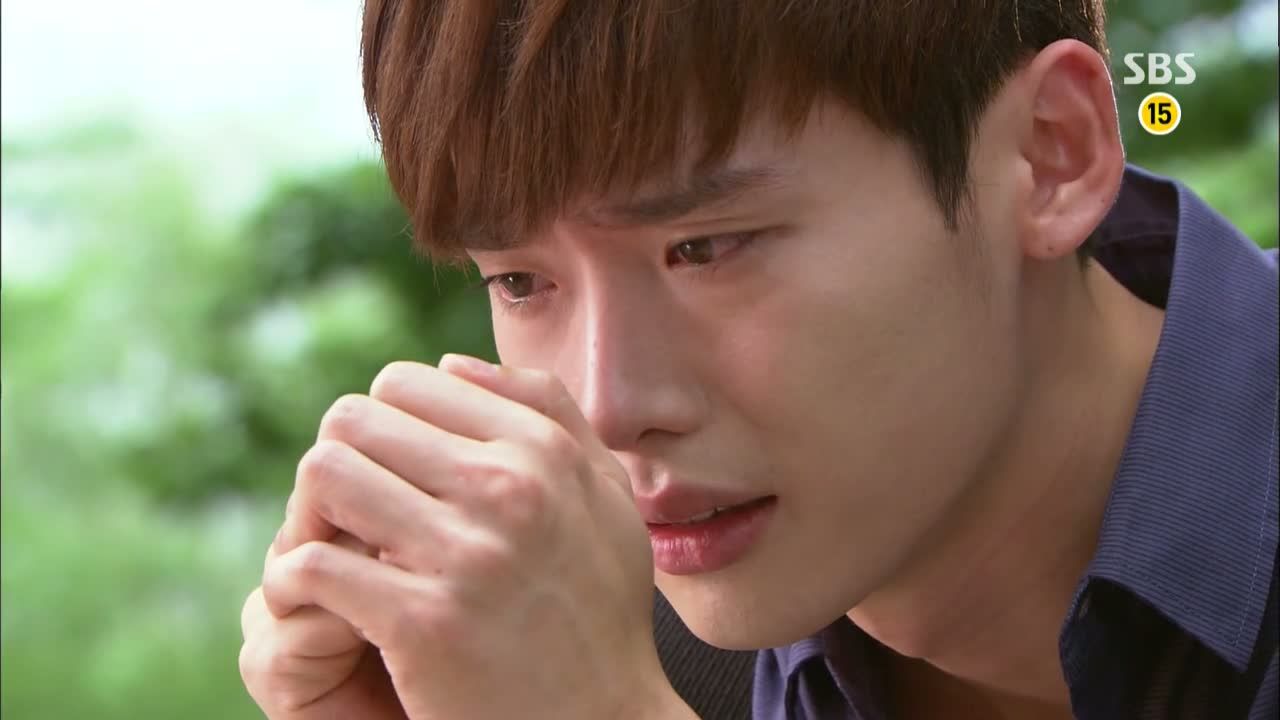 He storms out of the courthouse, and his detective sighs that he should've picked Hye-sung duty. He asks his partner to switch, which of course gets denied.
Kwan-woo runs out and asks Hye-sung's detective if he's seen her. He says he never even took a bathroom break, and swears she never came out. It's official: she's missing. Okay, I'm starting to panic now.
Su-ha sits outside the courthouse and drives himself crazy thinking about how furious Hye-sung must be, and how he lied to her time and again. He walks over to the payphone and thinks to himself: "How do I tell her? No excuse will get through to her. What if she hears my voice and hangs up? If this is the end, will I be able to live?"
His hand trembles as he picks up the receiver and dials her number. She picks up. He races to say it's Su-ha, and begs her to listen and not hang up. But it's Min Joon-gook who answers on the other end of the line. Fuuuuuck. "I've been waiting for your call, Park Su-ha. Are you looking for Jang Hye-sung?"
The receiver drops from his hand, and he lets out this terrifying, wailing scream, over and over as he beats his head against the phone, like he might knock the whole booth over. And then he narrates:
Su-ha: July 26, 2013, 3:10 in the afternoon. She was kidnapped by Min Joon-gook. And two hours and thirty minutes later, our story of eleven years came to an end.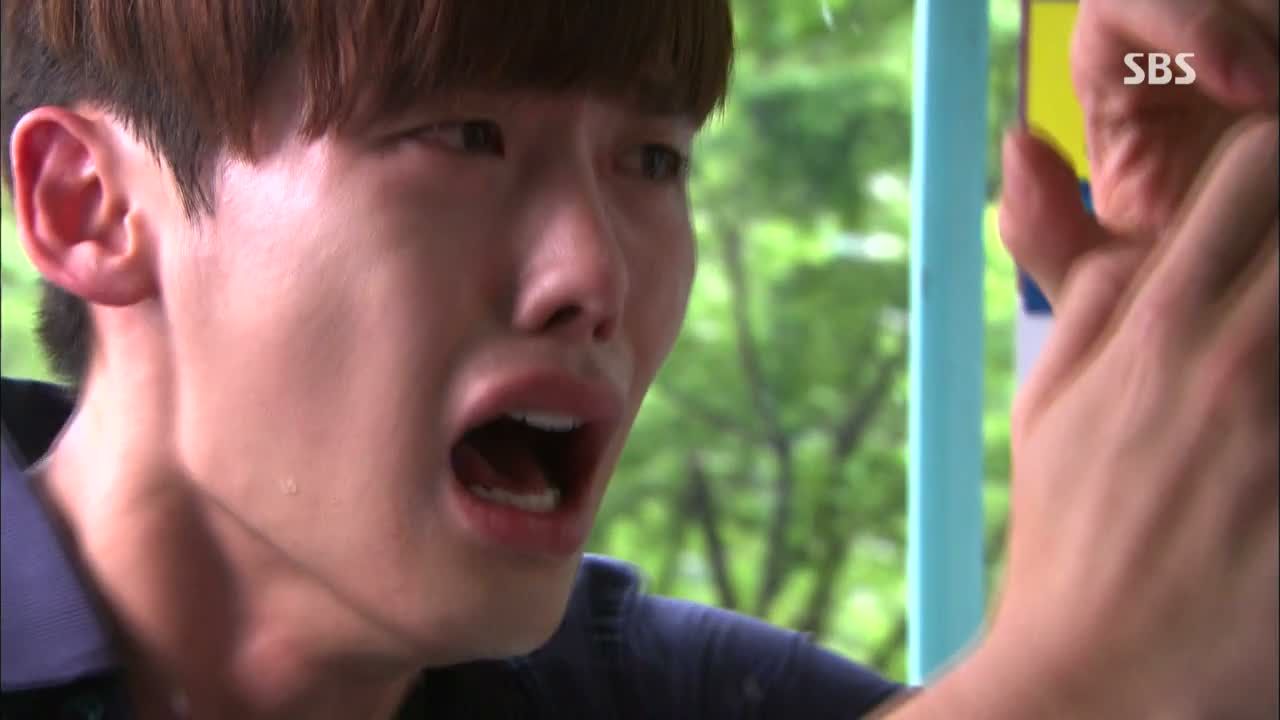 COMMENTS
Oh. Holy. Crap. And he doesn't even have his phone to track her! Aaaaaugh. I knew that pickpocket was bad news. That damned necklace was a diversion. It was the freaking phone we should've cared about, Su-ha-ya! Goddamn omen. Nothing good ever happens after somebody has a dream on this show.
I was thisclose to calling it a slow episode (granted it still was for the most part, and far less cohesive than any other episode of the series) but then that happened, and now I'm back to the way I love to be when watching this show: terrified and clutching my broken heart. We did meander a bit to get here for the past few episodes, which is an unavoidable fact of the late extension. I mean, all that angst about The Secret and Kwan-woo outs it offscreen anyway? Whatever. I guess the fallout with Su-ha is the more important part, which will come later. Well, hopefully later, because if one of them dies in two and a half hours, I'll stop believing there's any good left in this world.
At least Min Joon-gook FIIIIINALLY got his act together. I still don't see the point of having waited so long if all he was going to do was kidnap her, which so far is unimpressive for the guy who cut off his hand so that Su-ha would go to jail for murder. Yunno, on the Evil Scale of Evil. And what was the point of the chain mail when he was just going to kidnap her anyway? Basically we spun our wheels on the central plot to fill extension time, which I don't hate for the extra episodes themselves, but it does take something away from the villain in the grand scheme of things. Thankfully we have a long history of things we've seen him do that are terrifying enough to keep us on edge now, despite the fact that he hasn't done something scary in a while.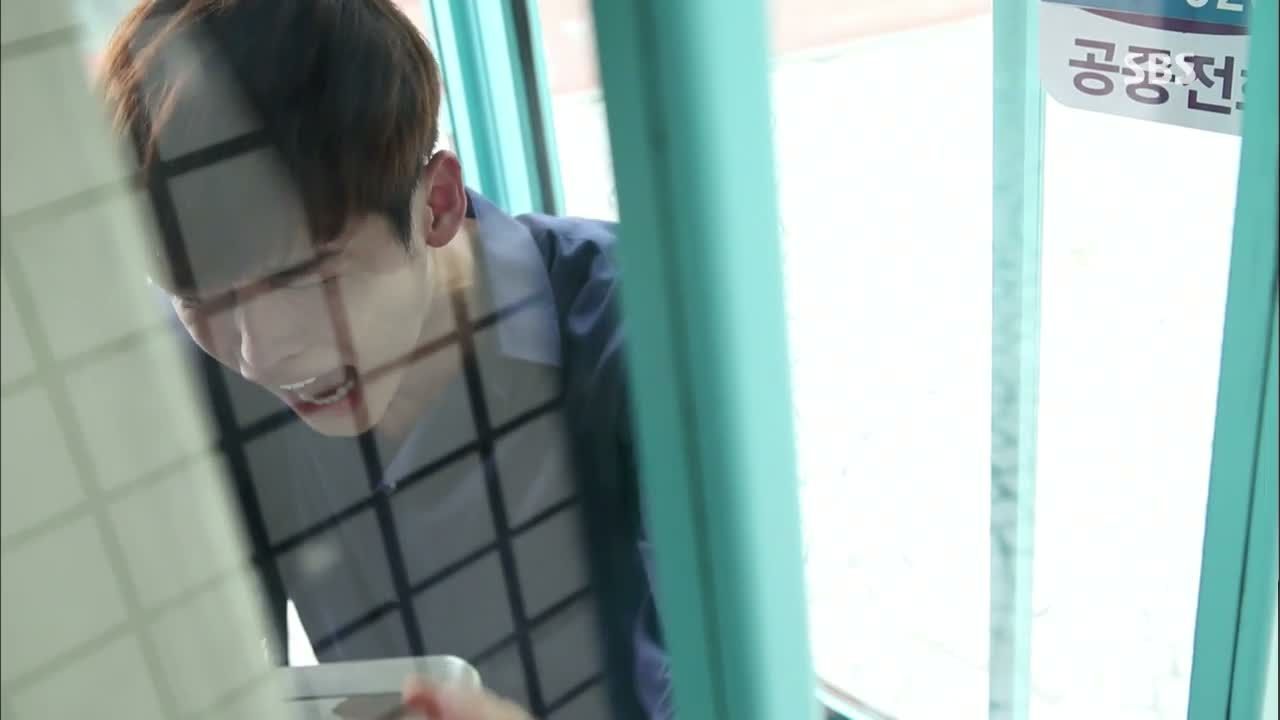 My favorite moments in this episode were the friendship ones, between the two girls and between Kwan-woo and Lawyer Shin. (Also the two detectives, who're cracking me up. Wish we had gotten more running commentary from them in past episodes.) The reconciliation between Do-yeon and Hye-sung felt so earned—despite not being the most prominent conflict, it is one of the longest-running relationships of the series. I feel like we watched them grow up onscreen, and when they shared that quiet apology and acceptance in the courtroom, I was genuinely proud. I do think that the two women gained a lot in terms of character growth from the extra episodes, and I appreciate how far they've come.
Su-ha's growth is at a bit of a standstill, because we've been at this secret for far longer than we needed to be. But now that Hye-sung knows (and more important things are at stake), we can finally get to the good stuff—oh you know, just life and death and whether or not our couple has a future with each other… or at all. See, when the stakes are that high, you can't blame me for wondering why we're wasting our precious time with less important questions. Giddyup, horsie. You've got people to save, and some of us might not be breathing until you do.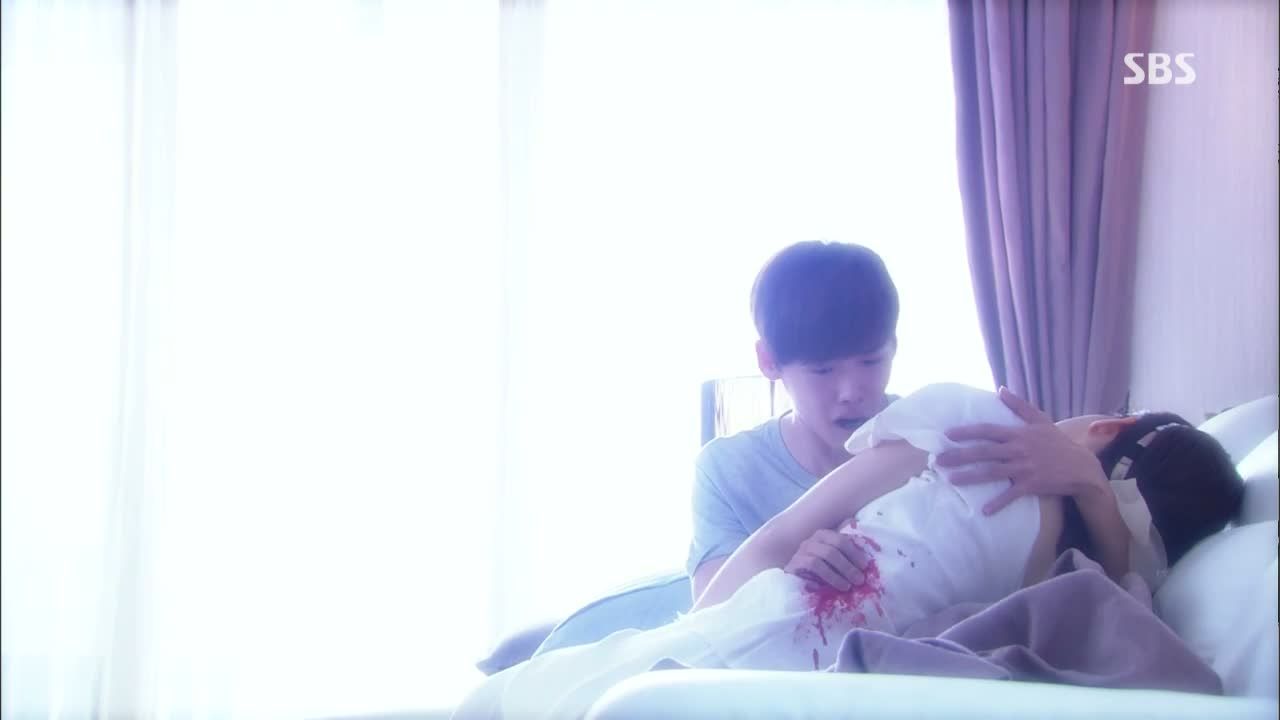 RELATED POSTS
Tags: featured, I Hear Your Voice, Lee Bo-young, Lee Jong-seok, Yoon Sang-hyun