Prime Minister and I: Episode 15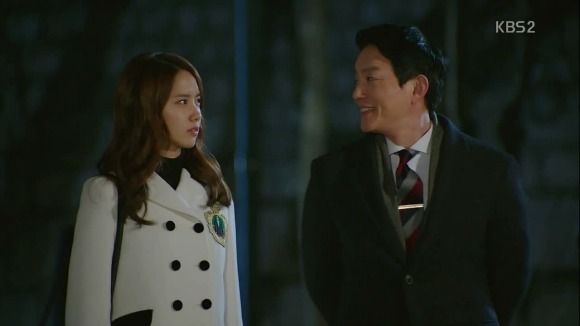 I'm… going to need a minute, and you're going to need a box of tissues because you'll cry tears of joy and sadness. This episode churns us through a rollercoaster of emotions and leaves us with a sense of longing by the hour's end. The truth is never an easy pill to swallow, especially when it's unwanted and brings pain to everyone who comes to know it. At least there's action taken to those words, but whether that's for the good of everyone involved is still up for debate.
SONG OF THE DAY
K. Will – "내곁에" (I'll Be With You) Download ]
Audio clip: Adobe Flash Player (version 9 or above) is required to play this audio clip. Download the latest version here. You also need to have JavaScript enabled in your browser.
EPISODE 15 RECAP
After falling into Yul's arms in tears, Da-jung sits in the church pew with Yul, his voice understanding of the overwhelming idea of her becoming both a wife and mother. So he says they can take their time to make things official, just as long as she doesn't cry on their real wedding day. Aww.
They get up to leave at that, but then Yul suddenly remembers the ring. Yes, find the ring!
Hye-joo is determined to tell Yul the truth about Na-young, despite In-ho's protests. I know you mean well Hye-joo, but if you become the bringer of unhappiness, we will have words. In-ho calls after her: "Even if Park Na-young doesn't want that?"
He points out that Na-young remained hidden because she didn't want to return and for Hye-joo to examine the consequences by telling the prime minister. He understands why Hye-joo switched sides, but has she thought of the repercussions if the truth is leaked to the public?
All they need to do is keep quiet, but Hye-joo doesn't like that idea because In-ho only cares about Da-jung. In-ho doesn't deny that fact, but he also says his concern towards the prime minister aren't just empty words.
Convinced that informing Yul is the right thing to do, Hye-joo waits at the estate and remarks on how much Woo-ri has grown up. She asks if he doesn't miss his mother anymore, to which he answers that he does, but he's old enough not to cry over it now.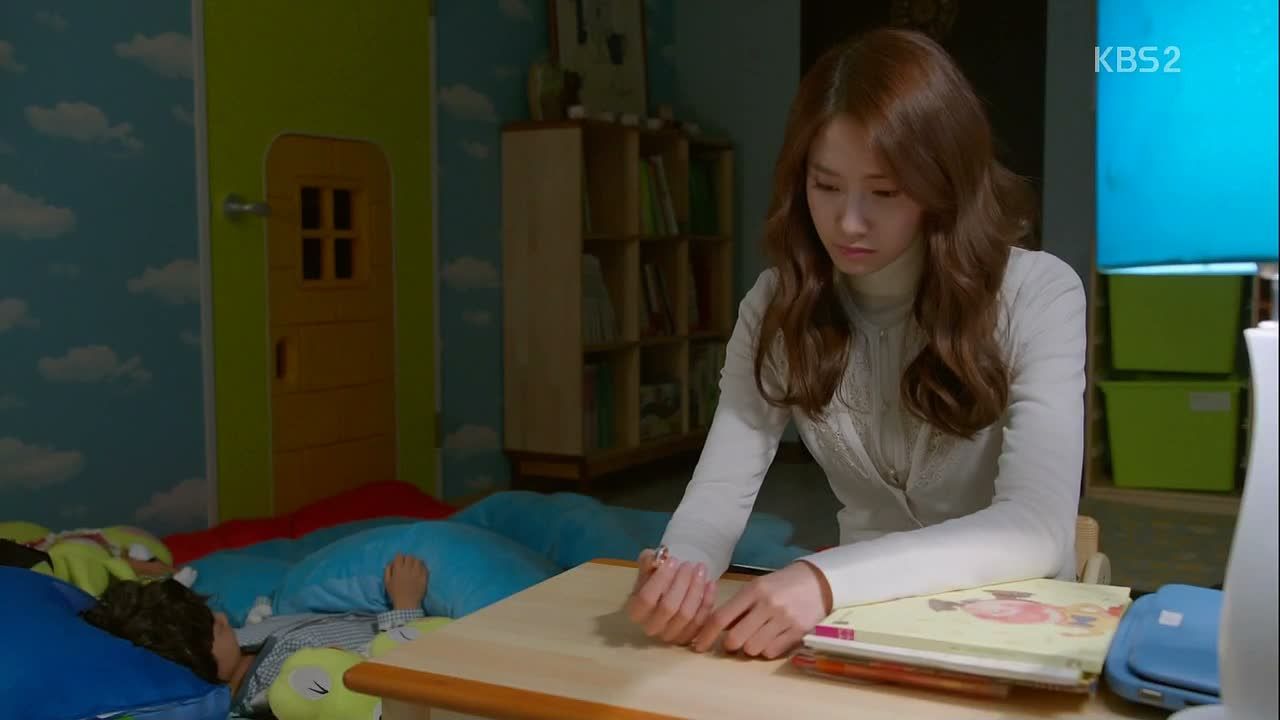 Both Yul and Da-jung search the pews for the missing ring on all fours. It's Da-jung who discovers it, but something about seeing the ring gives her pause, and tucks it in her hand before claiming she didn't find anything.
They return home and the missing ring still weighs on Yul's mind. Da-jung assures him that she'll go look again tomorrow. They're greeted by Hye-joo, who asks to speak with Yul privately.
With the ring in hand, Da-jung wonders to herself why she didn't mention that she found it. She writes in her journal about the surprising revelation that Yul's first wife is alive.
Yul urges the president to take action against Chairman Na, only to be met with disgruntled opposition. Every time I see Yul meet with this cowardly and corrupt president, the more I'm convinced that it should be Yul running this country. In any case, Yul is basically told to back off or else it'll be his job on the line.
Oh phew, Hye-joo didn't drop the truth bomb to Yul, admitting that she realized that In-ho was right about the consequences. She doesn't plan on telling Yul in the future either—that is, not while he's still the prime minister.
The president voices his complaints about Yul to Joon-ki, which is never a good idea, methinks. Joon-ki suggests that they replace the current prime minister then—the only justification they would need would be the president's word.
Na-ra is still crushed over her soon-to-be celibate church oppa, since it means they can never get married. Da-jung cheers her up, saying that it isn't the end of the world. She whips up ramyun for the kids, and Na-ra pretends that it isn't any good, despite eating two bowls. Hee.
Woo-ri says his little sister really likes Da-jung; she only acts petulant because she's actually comfortable and grateful towards her, and he feels the same. Aww. When Da-jung asks whether he misses his mother, Woo-ri notes that he's been getting that question a lot lately.
His voice breaking, Woo-ri says he misses his mother a lot, but he's lucky to be able to remember what she looks like, unlike his siblings. He would give anything for his mother to be alive again, but he knows that can't happen.
Da-jung meets with In-ho at a cafe and simply recounts matter-of-factly everything she knows about Na-young and his revenge against Yul. In-ho confirms it, but he assures her that he knows it was all a misunderstanding and he's come to terms with it now. Da-jung asks, "Because Park Na-young is alive?"
She asks for a chance to meet Na-young in person, but In-ho is firmly against that idea. He warns Da-jung that her heart will waver and that she'll think it's right to return Na-young to the family.
"But she's their mother," Da-jung replies, holding back tears. Having lost her own at a young age, Da-jung knows better than anyone a child's heartache and longing for their own mother, so she can't overlook those feelings she sees in the children.
"What about you?" In-ho asks. "Don't you want to be happy with the prime minister?"
Joon-ki tenses when his secretary implies that Hye-joo isn't to be trusted; however, the mention of how she's been seen near Yul's presence plants a seed of suspicion in his head. Moreover, her words of her whereabouts do little to convince him.
Da-jung spots Yul standing outside his workplace, but turns away to remain unseen. Er, why are you hiding? She picks up his call and makes the excuse that she's out with some friends. She assures him that she'll come home soon, but Yul tells her to take the night off and have fun.
And who should see her in her hiding place moments later but Yul himself. Ha. They head to a pojangmacha and Yul asks why she had lied earlier. He laughs to hear that she didn't want to bother him and wonders if they should have gone somewhere fancier to eat.
Da-jung realizes that it's their first time at a pojangmacha together, which just reinforces the idea that they don't have a lot of memories together. Ooh, I have a simple solution for that! It's called "creating new memories together."
There's a wistfulness in her voice as she remarks on how they never did any of the coupley dating activities like going to the movies, going grocery shopping, or drop her off at home with a sense of longing. Yul has never called her by her name with endearment either and they were married right away. Lucky for you there's another solution for that: dating your wife.
You can tell how sorry Yul is at that realization, but then he says, "Then let's do them all from now on." Am so happy you agree, yay! He won't be able to drop her off at home, but they can do all of the other things together. Da-jung returns a longing smile.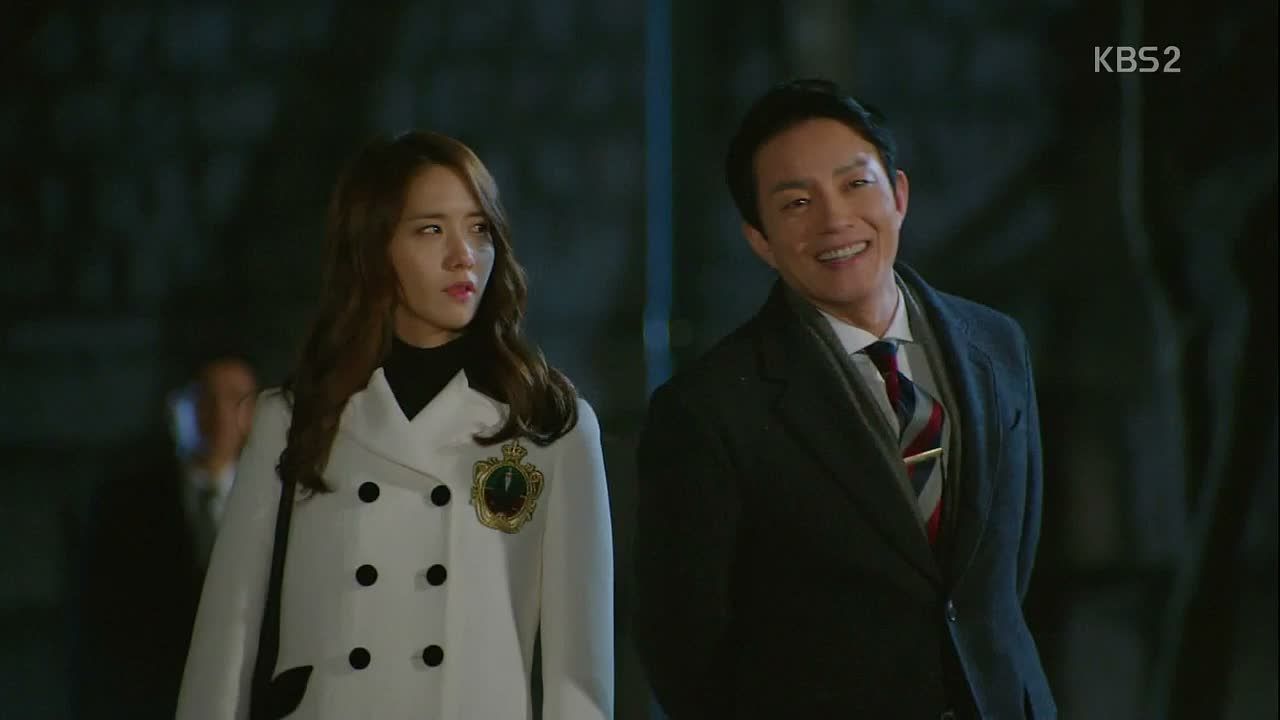 He promises to do all of those activities with her one by one, because they have plenty of time together. Da-jung: "What if we don't? What if we have to part soon?" Uh, I don't like where this conversation is going—stop saying such scary things!
As they walk home, Da-jung insists that it's just a hypothetical: what would he want to do if they had to part tomorrow? Yul asks if he has to answer, and then says he would want to stop time so that day wouldn't come. He adds with a laugh: "Do I have to destroy all the world's clocks to do that?"
She's upset that he takes her question as a joke, and Yul tells her that "what ifs" are only used for good things. Then he assures her that they won't ever part. Sigh, his confidence is so smexy.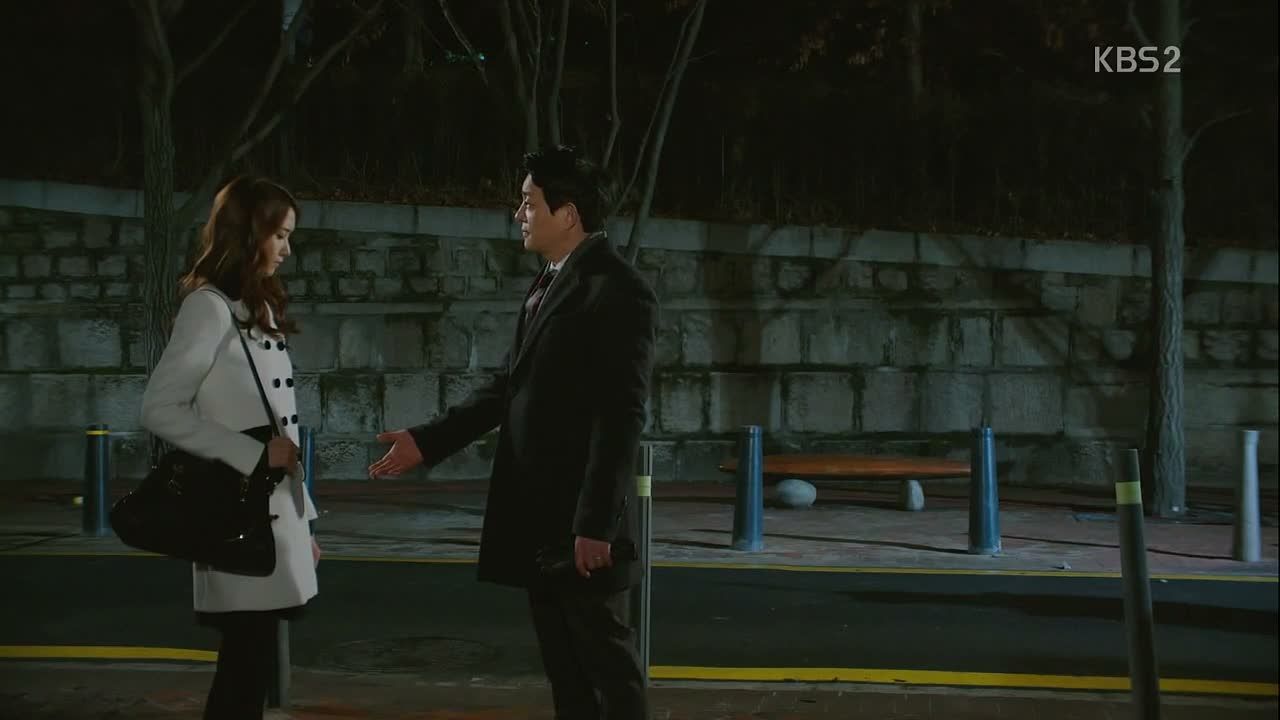 Yul walks ahead of her and Da-jung asks if they can't run away. He smiles that they can't go far anyway, "And no matter how far we run, we'll just come back in the end."
She brushes it off, and Yul tells her to stay where she is—this time he'll come to her. Like a beautiful reflection of her own actions, he walks towards her one step at a time and offers his hand. She takes it.
Joon-ki is careful with his words around Hye-joo, especially when the latter asks after the rumors of removing the prime minister. He pretends to know nothing about the matter, but notes her concern. When his secretary comes in with the documents he asked for (concerning The Accident), Hye-joo takes a mental note.
In-ho invites Hye-joo out for a drink, and she's livid to hear that he agreed to Da-jung's request to meet Na-young, arguing that it was his idea that no one should know the truth but them.
When In-ho says he couldn't change her mind, Hye-joo lashes out at him, asking if he didn't want to change Da-jung's mind. Had he hoped that Da-jung would come to him if she broke up with Yul?
Hye-joo calms down a minute later, but surprised that Da-jung wants to return everything to its original place i.e., reunite the family. But In-ho tells her that there's a more pressing matter—he's been informed that the police have re-opened the case to the car accident, and he thinks it was Joon-ki's doing.
They have to know how much Joon-ki knows, and Hye-joo says she'll look into it. So she sneaks into Joon-ki's office but finds nothing, and then the lights turn on and with an envelope in hand, Joon-ki asks, "Were you looking for this?" Busted.
Hurt, Joon-ki says that he wanted to trusted her despite being told otherwise. Then he offers the envelope and look inside if she's so curious. They're not the accident reports Hye-joo had expected; rather, a proposition to have Yul removed from office.
But that's not all—he also planned to expose Yul as the responsible party for the car accident. Now that he's seen Hye-joo's intentions for himself, Joon-ki revises those plans and says he'll drop both bombs tomorrow. Oh no!
Hye-joo chases after him and protests that they both know Yul would never do such a thing. But Joon-ki is determined to see this through and says the best thing she can do now is to warn Yul of what's coming. And then Hye-joo uses her last card: "Na-young… is alive."
Da-jung visits Dad at the hospital (looking a little worse for wear) and finds it odd when he declines his favorite food. He says it's because he lost a game against another patient, and then climbs back in bed.
Dad asks after the kids and says that their resilience reminds him of when Da-jung was young—of how she'd still smile and laugh despite growing up without a mother. He points out that no one could know how they truly feel though, and tells his daughter to take good care of them.
Da-jung says she will and adds that she'll be giving a wonderful present to them soon. Oh I hope it's not what you're thinking, because I can think of a better present and that's you.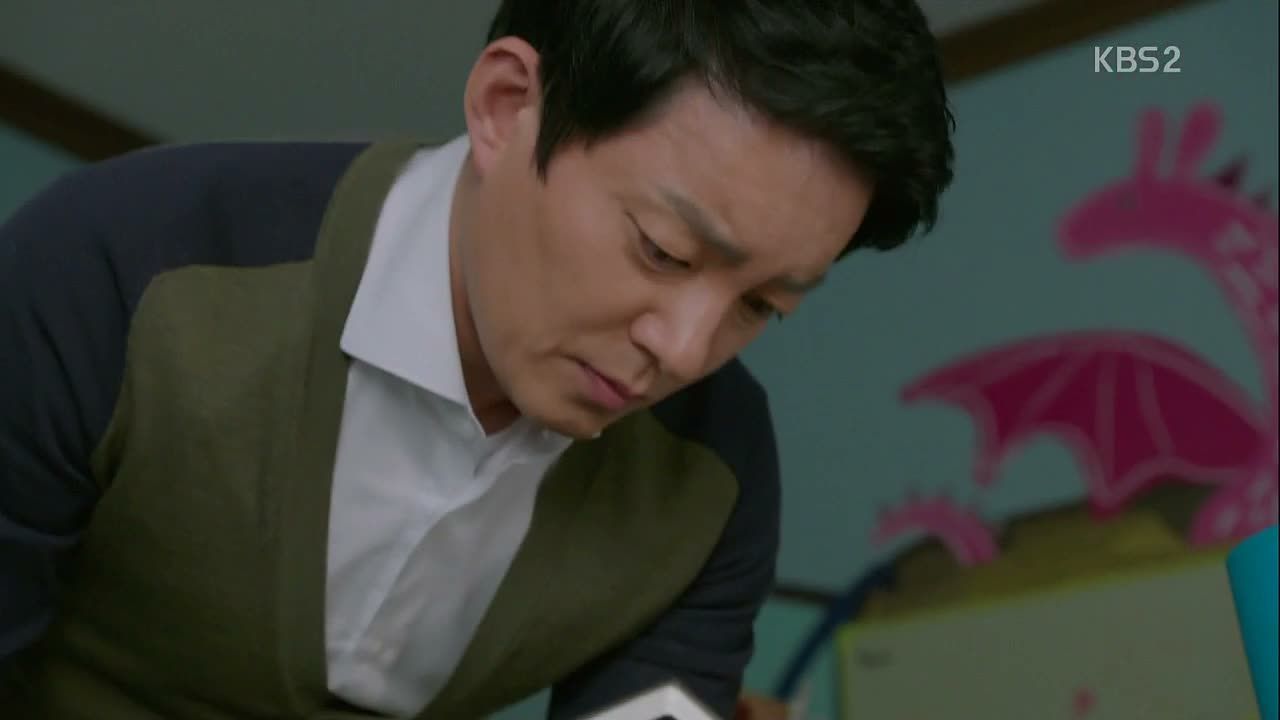 Yul is troubled over the president's thinly veiled warning, and then Na-ra pops in to ask to go out. He initially declines on account of being busy, but then changes his mind a moment later, much to her delight.
He swings by Man-se's room and stops to clean up the mess, which also contains Da-jung's journal. Ooh I knew that would come back to bite later. Don't read it! But just as he's about to open it, Man-se appears behind him.
In-ho escorts Da-jung to her meeting with Na-young and asks if this is something she must do. Da-jung says she does.
The women sit on a park bench, and it's a long minute before Na-young speaks first and tells her not to worry because she doesn't intend to return to her family. Da-jung says it's the opposite and admits that she initially hoped that seeing Na-young was just her imagination because, "I didn't want to leave Yul's side."
But she soon realized she couldn't harbor those thoughts when Na-young is very much alive, and asks that Na-young return to her rightful place. Na-young gets up at that, and Da-jung says that the children miss her very much. "So you have to go back for them."
Then Da-jung rejoins In-ho and slaps on a brave smile, insisting that she feels much better now. Her tears betray her words, however, and she later asks how long she has to keep this truth from Yul. Is it to his benefit to keep him in the dark?
In-ho answers that on a humanistic level, Yul and the children should know the truth. But as Yul's aide, he believes that saying nothing is the better option. She declines a ride back and goes for a broody walk.
Na-young walks back to the shelter, only to be met by a surprise visitor: Joon-ki, who can hardly believe what he's seeing. Hurt and angry, he grabs his sister and cries repeatedly, "How could you do this to me?!" as Na-young can only tearfully say how sorry she is.
Omg how cute—Yul picks out flowers to give to Da-jung, who in turn buys a watch for him. Then he presents her with a bouquet of… baby's breath? I think we need to have to talk about our flower choices, prime minister.
Da-jung loves it all the same, which is what counts at the end of the day. Yul explains that he picked it because they symbolize innocence and pure of heart and was reminded of her. Aw, okay then.
She's touched as Yul tells her that today is just the beginning of all the mundane things she wanted to do together, and they'll do everything on that list. Awwwwwww.
Then Da-jung presents him with the watch, saying that it falls under his wish to stop time, but she hopes that Yul's time keeps ticking forever. He says that sounds like a farewell, and though she brushes it aside to put it on, the worry remains on his face.
Da-jung moves the flowers to a vase and muses aloud that baby's breath also has the other meaning of eternal sadness. Then Da-jung just watches him work, and Yul jokes that he can't concentrate, but tells her to stay right there. HEE.
In the best casual tone she can muster, Da-jung asks if knowing the truth is always a good thing. There are times when the truth is unwanted and doesn't always bring happiness; when knowing would bring about anguish. What would Yul do in that situation?
Yul answers that he'd probably lean towards knowing the truth. He knows that there's an option of living in ignorance, but that would be deceiving oneself and others. He asks where this is coming from and Da-jung plays it off as if simply asking for his opinion.
She offers to tell him the legend of baby's breath and we hear her narrate in voiceover a story of how a woman's lover once died in the battlefield. As time passed, the same woman fell in love with someone else, but one day that supposedly dead lover returned alive, which is why baby's breath is also known as eternal sadness.
As Da-jung tells Yul (and us) this story, we see her wait at the university campus (her watch interestingly has two clocks) and turns back to see Yul approach. But as she finishes the tale, the camera fades out to see Da-jung and Yul arrive separately.
Yul walks into the auditorium and smiles to see the back of what he thinks is Da-jung's head… only to find himself face to face with Na-young instead. Ohhhhhhhhh crap. I think we're all going to need a minute.
And just outside, Da-jung tells herself that she did the right thing. No you didn't, you did NOT do the right thing for you! *stompity stomp*
Inside, Yul looks like he's seen a ghost, which… is true in a sense. Na-young can only stutter that she came her to meet someone else before running off, leaving a paralyzed Yul in her wake. Yul chases after her, but she's gone.
Joon-ki processes the shocking turn of events and bolts up when he's told that the prime minister will soon be removed from office. He says they have to stop the proceedings immediately, which yay, but you need to hop to it!
Meanwhile, Da-jung sets down the ring on Yul's desk and utters a goodbye, before retracing her steps and pick up the ring again. Are you going to take it with you?
Then she says bids farewell to the children with the explanation that she's going to stay with Dad for a little while. She wishes them well, and they take her words at face value, but pick up that something's off. Taking her suitcase, Da-jung leaves the estate, fighting tears.
Yul sits in the dark auditorium replaying the moment he saw Na-young in his head when Woo-ri calls to inform him that Da-jung has left.
Yul runs out of the auditorium and takes the wheel as Da-jung's last words about being separated soon, to run away together, that time would continue for him repeat in his head.
Da-jung pulls up to the hospital, but then decides she can't stay here either. And then Yul's car drives past as she walks away. Darn that classic drama trope! Ooh, but then Yul's car turns around to cut her off moments later. Yay for subverting that drama trope!
Yul gets out of the car and tells her, "Let's go." Da-jung replies that she isn't going back to the estate, and Yul takes her by the hand.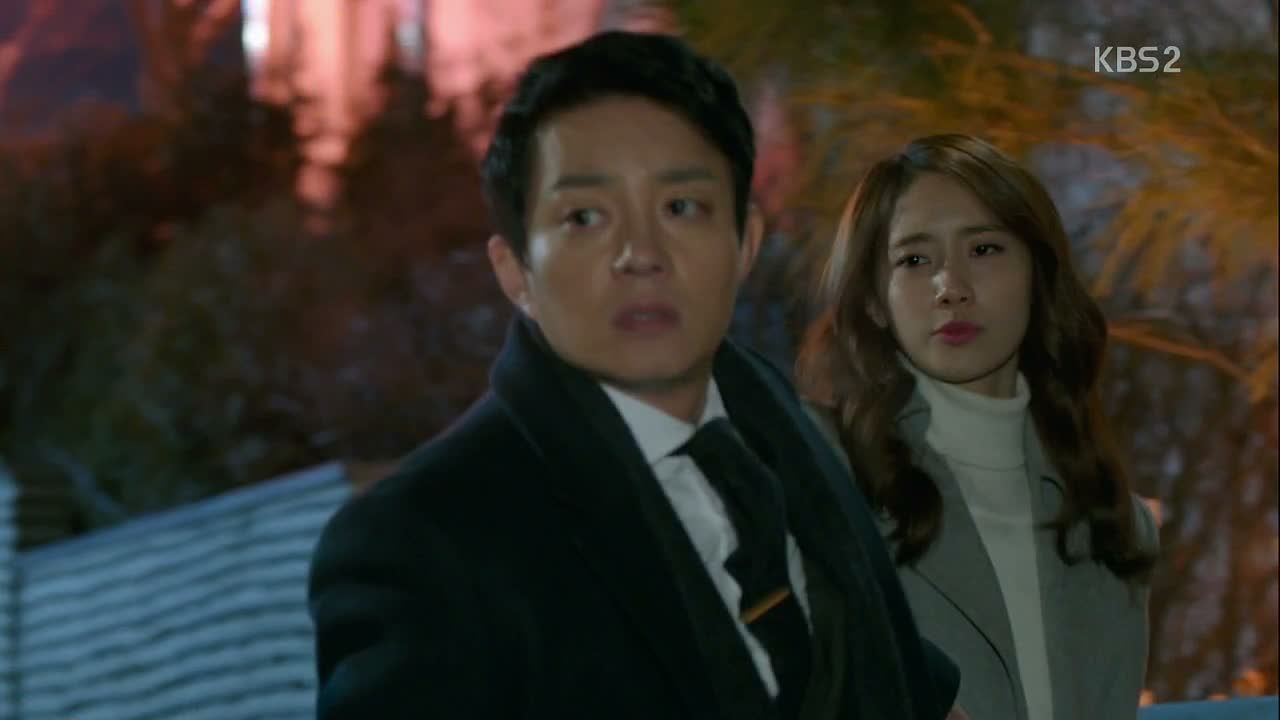 COMMENTS
And this is why I love Yul. He's a man of action and of his word; lies do not become him. His impulsiveness is what gets me here because it takes less than a fraction of a second for him to go after Da-jung and keep his promise that he won't let her go.
The adorable romance is what keep this show abreast of these stormy dramatic waves, and I had enjoyed watching the cohabitation hijinks and blossoming relationship so much that it hadn't even occurred to me that they missed out on all dating portion of the relationship until Da-jung had mentioned it. So I loved it when Yul answered that they could do all of those things she wanted from now on. Maybe it's just me who thinks that while those cute romantic gestures are fun in the honeymoon and butterflies in stomach stages, there's a deeper resonance when those occur in a committed relationship. That's to say, the words and actions feel more meaningful when you love each other at that level. How can one resist the confident voice telling you that you'll never be parted and says "As you wish?" to your requests?
Thus even in the face of the most shocking day of his life, Yul still chooses Da-jung and tells her that her place is home, with him and the children. Meeting your not-so-dead wife isn't an everyday occurrence though, so I'm sure we're in for a turbulent ride in the finale week. But I do think that Yul has already accepted Na-young's death and moved on his heart, and once the initial shock wears off, he wants the opportunity for closure for the both of them. And if they get that conversation (and something tells me they will), I imagine that talk will try to reach forgiveness, and focus less on the conflict everyone has been barking about this episode: that Na-young would return to her family. To that end, it's clear that that's not what Na-young wants (or she thinks she deserves) and I think that it'll be a long time before they reach reconciliation, if they're able to achieve that at all.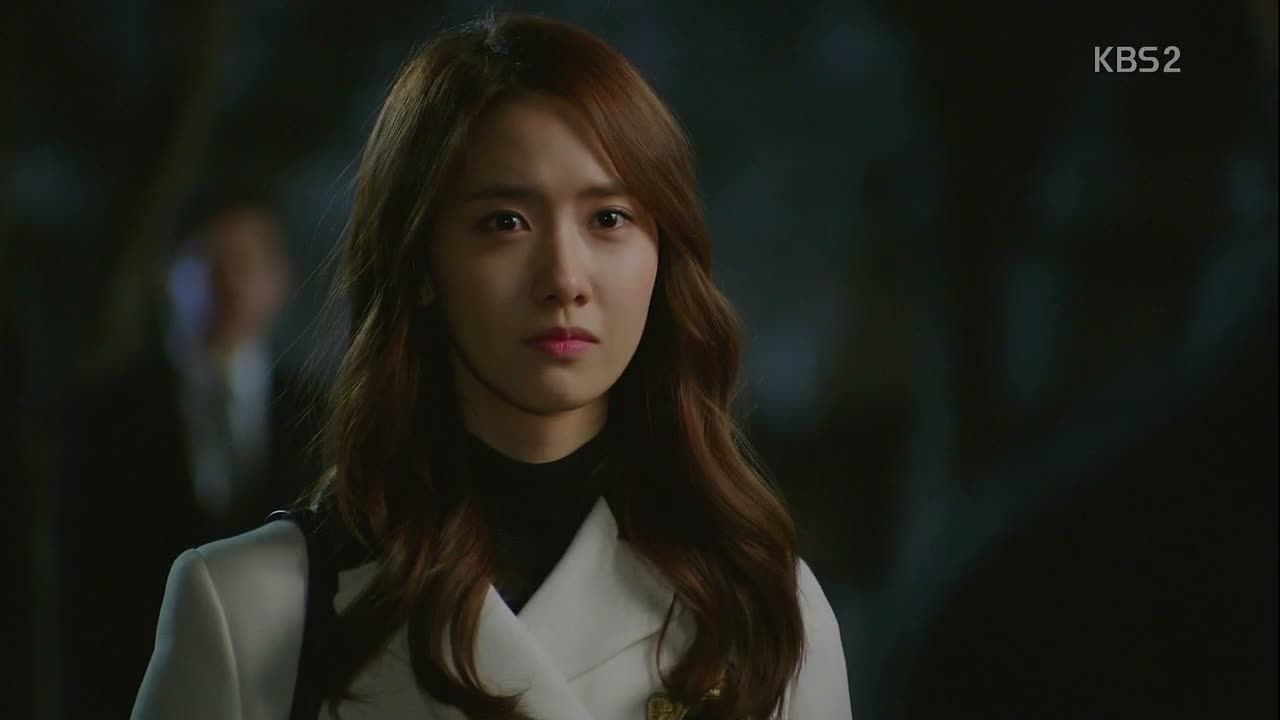 Which brings us to Da-jung, who I was sad to see take the noble idiot route and distance herself from Yul and the kids, even though I could understand her reasons for doing so. Who better to understand a child's longing to see their mother than someone who lost her own, and then struggle with the dilemma of denying that truth from those children? I had a lot of trouble processing Da-jung's decision to unveil the truth about Na-young, because it was a matter of principle for her and I knew that she wouldn't allow herself to live happily while withholding this information, so then she chose to sacrifice her own happiness. So on the one hand, if it had come any sooner, Da-jung would have handed over a burdening truth to a grieving family, and on the other hand, the Kwon family has already moved on and accepted her as a part of this new family unit.
I honestly can't imagine any other scenario for Yul to find out the truth because they all seem just as disastrous and shocking in my head. Da-jung has taken the time to mull over this decision and in her head, this is what's best and feels right for everyone in that family. Which then makes me feel like the selfish person for saying screw the moral factors and live happily ever after with Yul. I don't want to open up the can of worms of the argument of who is more deserving of happiness and/or love because I don't think those concepts work that way. And yet, Yul's decision to come to Da-jung and to take her home solidifies the idea that the person you love is a choice, and I'm certain that Yul will make the same choice he does today, tomorrow, and forever—eternal sadness be damned.
RELATED POSTS
Tags: Chae Jung-ahn, featured, Lee Beom-soo, Prime Minister and I, Yoon Shi-yoon, Yoon-ah