Prime Minister and I: Episode 17 (Final)
We've reached the final chapter for Prime Minister and I, and while there aren't any huge surprises in its last few pages, the show still puts us through the wringer before seeking to tie up its loose ends. I'd also tell you that you'll need a great deal of patience in this hour for this story to get moving along already, and by that time, it'll be the end or a new beginning.
But at least you can rest assured that our hero remains true to his admirable and honorable self, going beyond the call of duty when it comes to reconciliation and forgiveness. Because he's just simply wonderful that way.
Ratings-wise, Prime Minister and I finished off its last week with a 4.9% and 6.1%, respectively.
SONG OF THE DAY
K.Will – "첫 사랑은 죽었다" (First Love End) [ Download ]
Audio clip: Adobe Flash Player (version 9 or above) is required to play this audio clip. Download the latest version here. You also need to have JavaScript enabled in your browser.
FINAL EPISODE RECAP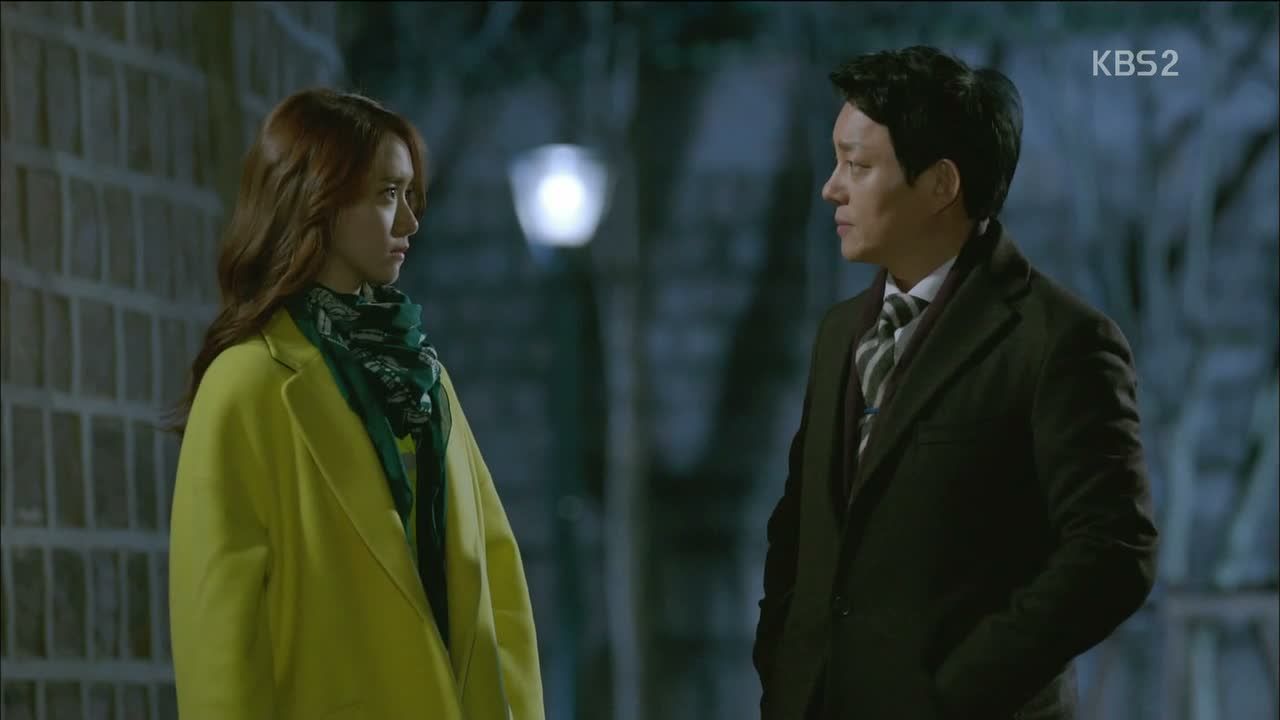 After Yul runs into Da-jung in the street and asks if she can live without him, the two take a walk to chat. He tells her that he had contemplated what his life would look like if he didn't see her anymore, acknowledging that they haven't known each other for that long, so perhaps the separation wouldn't be so hard.
But he had also realized that he became afraid and lost confidence at the thought of a life without her. In other words, "I missed you."
Elsewhere, Na-young drags her feet thinking back to her encounter with her children. Woo-ri had held back angry tears and firmly denied his sister's claim that the lady before them resembles their mother.
Their mother is dead, Woo-ri had reminded his siblings, then bitterly remarked that if their mother were alive, she definitely would have come back to them earlier. Na-young breaks down in sobs right then and there outside, but did you really think that your children would accept you right away with open arms?
Woo-ri continues to shoot down Na-ra's suspicions once they're home, doubting that she even remembers their mother. Na-ra protests that she does, to which oppa argues again that the woman they saw doesn't resemble Mom at all. And little Man-se pouts by himself that he can't remember Mom at all. Aw.
Da-jung and Yul end up at the hospital to pay a visit to her father, whom they find presumably still asleep. It dawns on them that something is terribly wrong when Dad doesn't stir at their attempts to wake him, and Da-jung runs out in a panic to fetch the doctor. Ackkk!
The doctor says Dad went into shock, but thankfully is in stable condition now. Yul insists on staying with Da-jung, adding that the kids are being taken care of. He assures her that everything will be fine.
Na-young recounts her son's stinging words to Joon-ki and his wife, only for Joon-ki to bark back that she should have been prepared for such a reception. He reminds his sister that she can't be shaken now if she wants to return to the way things were.
Then Na-young asks Madam Na what she should do if her son hates her, an idea Madam Na finds ridiculous, and then wonders if Woo-ri knows the whole truth including the affair.
Da-jung sees Yul off in the morning and genuinely thanks him. He says there's no need because Dad is like a father to him too and reminds her to take care of herself before heading out. Are… things okay between you two now? Is it too soon?
As for Dad, he's better than we've ever seen him in this show, but we all know that things tend to get slightly better before they get much worse, like a calm before the storm. His memory is intact today, but he knows that with his dementia and brain tumor, his days are numbered.
So he asks his daughter for his journal so he can write down his memories. Da-jung rifles through her bag for a pen and finds the present from the kids—a wing necklace. Cute. She's called away though, so Dad takes it upon himself to find it himself and discovers Da-jung's journal. Oh no—don't read it!
Curiosity gets the best of him, however, and he reels in shock at the last few entries. Then he confronts Da-jung about it when she returns, demanding an explanation about a contract marriage and Yul's first wife.
Another confrontation takes place elsewhere as Na-young accuses Yul for telling their son everything while dangling the carrot of letting her see their children in front of her eyes. Why else would Woo-ri be so cold to her? Oy vey, I'd love to be more sympathetic to your character if you weren't being written so poorly right now.
She refuses to believe that Yul didn't say anything, but he points out that they both know it's true, and she's afraid that Woo-ri won't take her back. Although Yul doesn't believe that time heals all things, time is what their son needs right now.
Na-young apologizes for overreacting but before she leaves, Yul says he has one important thing to tell her: "Thank you for being alive."
Da-jung faces the inevitable conversation with Dad on her own when Yul doesn't pick up. I'm a little relieved that Dad is in the clearest state of mind right now, though it also makes his disbelief harder to swallow.
Da-jung tells her father that she and Yul are truly in love, but Dad counters that it doesn't change the fact that the children's mother is still alive. Da-jung can only hold back tears as Dad asks what compelled her to pull off a sham marriage, and then he realizes, "Was it because of me? Because I'm terminal?"
Then Dad blames himself for everything, telling his daughter that it isn't her fault. Oh, Dad. He writes a letter to Da-jung in her diary later that night.
As Na-young and In-ho sit beside his brother's bedside, she says that she feels she's been greedy lately when the fact that she's alive and that she could dream to meet her children are miracles themselves. Now she's prepared to wait for the day Woo-ri will agree to see her and when Su-ho will awake.
Da-jung informs Yul over the phone that her father knows everything, and Yul replies that he's on his way to handle it. She returns to her father's room, only to be met with a sadder sight—Dad's memory has regressed back to her school days, and he's excited at the idea of playing in the snow with his daughter (it's not snowing).
Da-jung's eyes well up in tears in front of her father, but indulges his wish by taking him outside, and he looks up at the sky in awe of the invisible snow.
Apparently In-ho was able to overhear Da-jung's phone conversation as he wonders to himself how Da-jung's father found out the truth. But he has more urgent matters to attend to when Na-young rushes out with news that Su-ho recognizes her.
In-ho runs back inside to meet his brother's eyes looking alert and tearfully asks if his brother recognizes him. Su-ho blinks in response.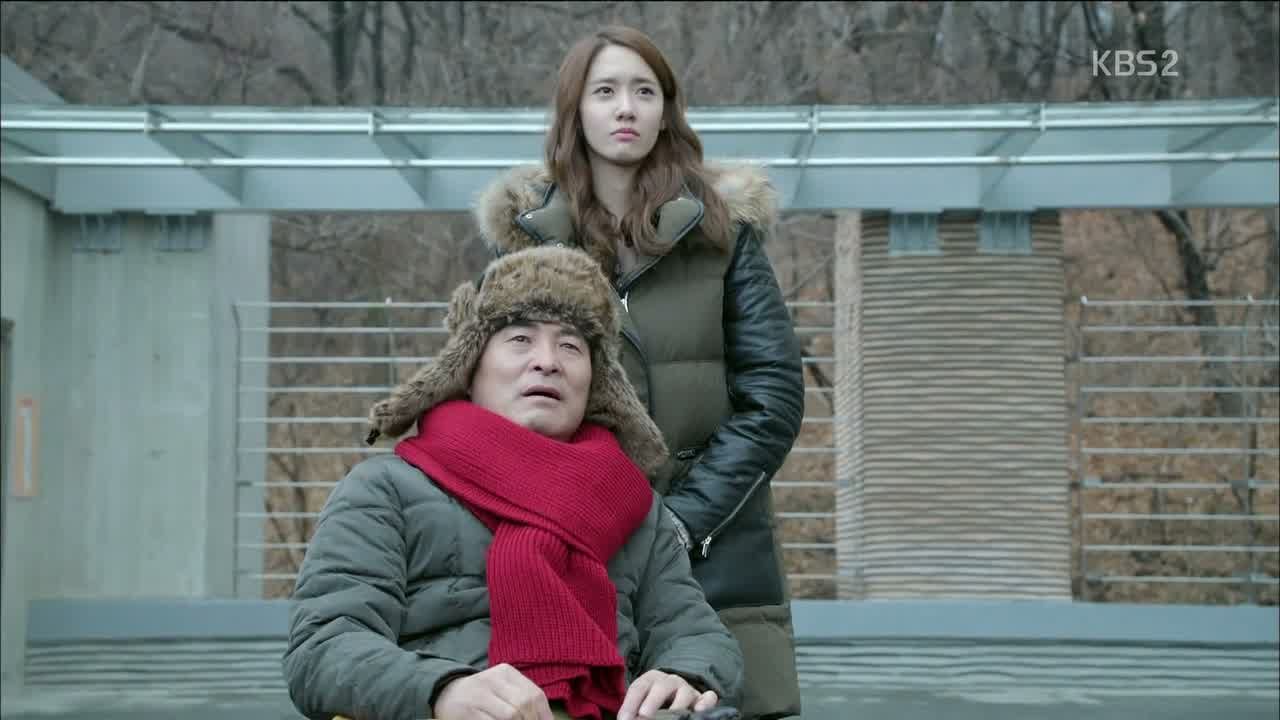 Dad fawns over Da-jung out on the roof, smiling at how his pretty daughter needs to get married to a good and considerate man. And on that happy and snowy day, he'll walk Da-jung down the aisle hand-in-hand.
Da-jung asks her father if he doesn't remember and sadly notes that they did all of those things on her wedding day. And as she recounts the wonderful memories of that day, Dad's head lolls and his hand drops. Oh no no no no, is he dead?
Da-jung turns to her father and when he doesn't respond, she cries over his lifeless body. This is how Yul finds her, arriving a minute too late.
Sometime later, Yul pays his respects to Dad, uttering the only words he can muster: "I'm sorry."
Downstairs, Da-jung assures the children that Dad's passing isn't the end, because he's still alive in their hearts. It's touching how broken up they are, and Na-ra tells her little brother that they'll never see Grandpa again, just like Mom.
Man-se asks big bro if that's true, and Woo-ri answers that though they can't see Grandpa, they can go to see Mom.
Da-jung does her best to keep it together and Yul tells her that it's okay for her to just cry. Fighting tears, she says it's okay if Dad didn't forgive her and was angry with her, but she can't forgive herself of the guilt for leaving matters unresolved with him.
As Da-jung silently packs up Dad's things at the hospital, she reads through his journal and breaks down sobbing when she sees pages filled with her own name. Gah, I'm not crying, my eyes are just a little sweaty today.
Yul is proud of Woo-ri for taking the brave step to meet his mother, having come to the realization that he wouldn't be able to if she dies (er, again. Too soon?). Na-young walks towards her son hesitantly, and then mother and son share a tearful embrace.
Joon-ki understands that it'll take some time before Na-young is reunited with the younger children. He takes back his words about Na-young being accepted back into the family, and asks if Yul would accept his apology for his wrongdoings.
Yul asks jokingly if Joon-ki would be able to if he thought about everything he did. There's hope for their friendship yet, but Yul admits that it'll be some time before they can return to the ways things once were. Before Joon-ki leaves, Yul gives one last piece of advice, telling Joon-ki not to let the person by his side grow lonely.
The Scandal News Team converse about recent events, wondering what will happen to Da-jung once her husband is unemployed. That's when Da-jung shows up at their door and tells them not to worry about her, then drops off the box with Dad's belongings.
That's because Da-jung plans on taking a trip in memory of her father, and she congratulates In-ho on the happy news that Su-ho is awake now. He considers it a miraculous present from her father, words that warm her heart.
She hasn't told Yul about her travels yet and she doesn't know how long it will be for yet. That's a little unsettling—don't be gone for years now!
After In-ho recaps Yul's schedule for his last day as prime minister, he asks if Yul knew about Da-jung's travel plans. He isn't surprised to hear Yul didn't know about it, and asks if Yul shouldn't try to stop her from leaving. What if she doesn't return?
Yul cuts him off, saying that he's reminded of the words that there'd come a day when they'd pay the price for their contract marriage. So even if Da-jung were to never return, Yul doesn't feel right about preventing her from leaving.
Later that evening, Yul returns to the estate to spend his final night there. He takes a leisurely stroll down memory lane as he walks through the courtyard, sits in the now empty study, and even breaks into a smile in the bedroom, thinking back to his promise never to let Da-jung's hand go.
As Yul surveys the rest of the estate, he hears a voice call out behind him—it's Da-jung. Not to far off, In-ho runs into Hye-joo, who has resigned from her position to carve out her own path. She's told that she won't be able to accompany Yul tonight because he has another guest.
At the dining table Da-jung interviews Yul on how he feels about his final night at the estate. Yul answers that it hasn't hit him yet, and she replies it hasn't for her either. He says he doesn't regret the time he's spent here because he learned so many things from Da-jung in that brief period of time.
At the mention of Da-jung's trip, Yul asks if she has to leave. Da-jung answers, "If our destinies cross again in the future, if we can have a true beginning, I'll take your hand then." She tells Yul to take care of himself until then and that she was happy about their time together before taking her leave.
Yul bids goodbye to the ministers and his staffers the following morning as he leaves the estate for the last time. He casts one final look back before he climbs into the car.
We flashforward to about a year later (but don't count on the show to tell you that right away) and Hye-joo is now a newly-elected member of the National Assembly and gets mobbed by the press.
Elsewhere, Joon-ki and Yul watch their children playing together with a smile. Yul is readying himself for an upcoming presidential election and asks for Joon-ki's help. Joon-ki firmly says he can't be seen standing up against the rich when his father-in-law is a chaebol… but he will help in secret.
Joon-ki takes a teasing stab at Yul, saying that Yul doesn't have anybody beside him to assume the role of First Wife. At least things have changed for the better between Joon-ki and his own wife because they now have a second child.
Yul declines a dinner invitation on account of having previous plans and picks up a children's book on a cartoon frog character. And what do you know, Da-jung is the book's author, now back in Korea after her trip around the world for her father's death anniversary. Uh oh, why am I getting Mi-rae's Choice flashbacks?
While the Scandal News team excuses themselves for an interview, Da-jung goes through the box of Dad's belongings. She's able to read her father's journal with a sad smile and finds his last letter to her in her own.
Tears fall from her eyes as she reads that Dad's greatest wish wasn't for her to get married, but to see her happy and smiling. "Da-jung, be happy with Yul, whom you love so much. Though your beginning wasn't love, but I trust that the end will be love."
Then Da-jung goes to visit her father's urn at a columbarium as we hear her narrate her achievements to Dad that she's now an author. She looks up… and sees a copy of her book already tucked inside the glass case, and then smiles in realization.
Aw, In-ho is still working for Yul, who's told that his appointment is running late, so they'll move up the next interview. Then In-ho walks away with a knowing smirk.
Yul checks the time on his watch, reminded of Da-jung's words of how she wishes time will continue for him. And who should be his next appointment but Da-jung herself, who calls him the familiar "prime minister" title before correcting herself.
Da-jung formally introduces herself and requests an interview with the presidential candidate for her upcoming book entitled—wait for it—Prime Minister and I. Wait a minute—this isn't happening again, is it? I thought I was done with the drama-to-book title meta references!
Yul asks who the protagonist is, and she says both characters are. When he asks how long the interview will take, she asks teasingly if he plans on only giving her ten minutes of his time.
He agrees to offer his services, though, he doesn't know how much help he'll be, and Da-jung extends her hand to officially introduce herself. Yul takes it and Da-jung says, "Then shall we begin?"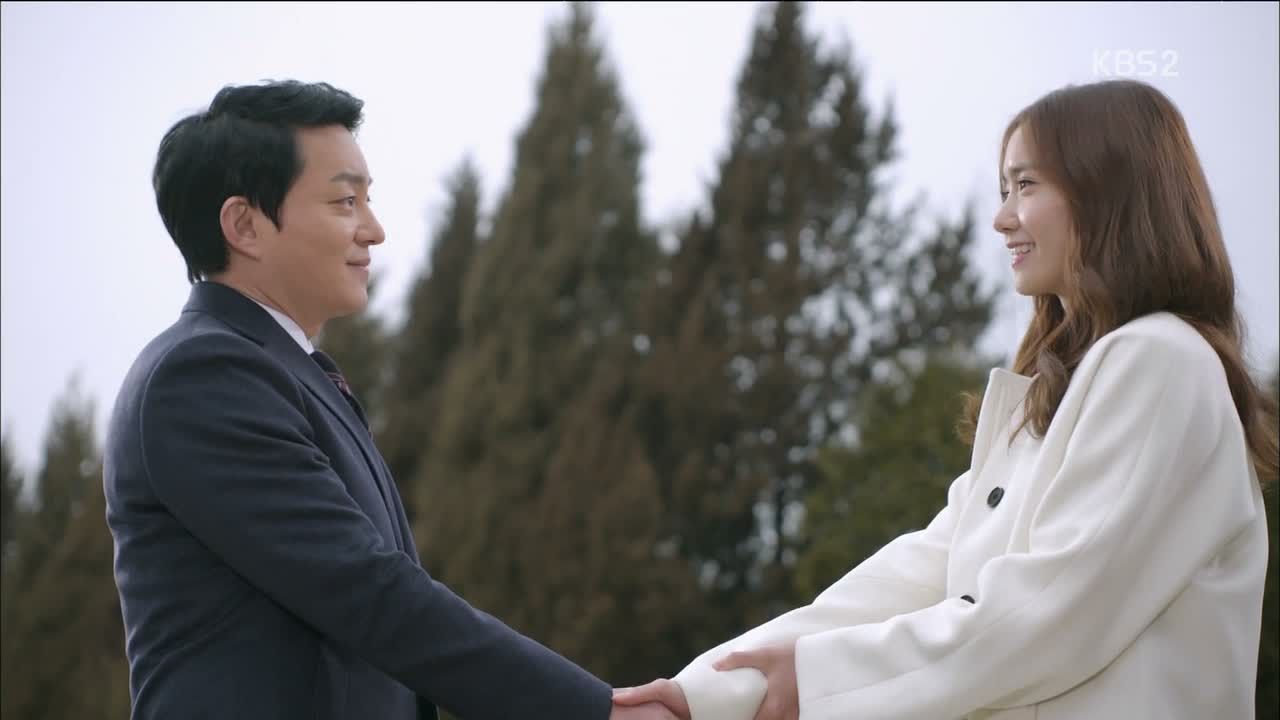 COMMENTS
A handshake. Really?! *breathes deeply* For a show teasing the audience with alluring and enticing skinship moments for most of its run, we sure got a tame third act and an even politer ending in that department. So I held onto the hope that if we must wade through forty-five minutes of angst in the finale, then at least the last fifteen minutes will be puking happy unicorns and rainbows for our main couple. Because what other purpose would you have for an extra hour besides fanservice for the viewers, right? Ha ha ha… ha.
I do realize though that it isn't the handshake itself that bothers me, because I see the narrative continuity of Yul and Da-jung's reunion, since taking each other's hand is a motif of the show, and ties into Da-jung's parting words that she would take Yul's hand if they could start anew later on. To that end, I would still classify this reunion as a happy ending in dramaland and a new beginning for this couple, but that still doesn't change how I personally feel let down to start at square one again after being a witness to this couple's journey and seeing just how far they've come; to have exhausted so much emotional energy for so many episodes, only to limp towards the finish line.
It really is a pity then that the show chose to place so much emphasis on the dramatic conflict of Na-young's reappearance and reconciliation. By placing a spotlight on Na-young, not only did the romance take a large step backwards (which is to be expected in the latter portion of a romantic comedy, provided it takes two steps forward later on), I also feel that it drew attention away from the children and family unit, whom I've grown to love and who adopted new family dynamics. Thus the familial focus of building something new was crumbled down so that reconciliation could take place.
That may be why I also felt a disconnect when Na-young was finally reunited with Woo-ri, because while I was so proud of Woo-ri for stepping up to the plate, I still felt it was all too soon. And then there's the fact that the other reunions took place offscreen and we jumped ahead to a happier future. Then I also felt a small bitterness of how Na-young presumably got her happy ending, and Yul had to do even more waiting. I'm glad that there's hope for Na-young yet in the future, and yet, couldn't we have been granted a happier ending for our main couple as well?
Then our heroine in Da-jung felt even more distanced than ever, of which I feel we can blame the writing for giving us yet another classic case of noble idiocy, separation, and tossing in an arbitrary trip 'round the world like every drama ever. I knew that Prime Minister and I didn't seek to carve out its own path in the rom-com genre, which is why I don't feel as disappointed in that regard, knowing that the show wasn't going to reinvent the wheel. While I could attribute Da-jung's reason for leaving this time was to cope her grief, I still can't help that the trip itself felt pretty lame in terms of character development in the end. And the less we talk about the author and book bit, the better, methinks.
Still, Yul is the saving grace of this show in both his rounded out character and romance with Da-jung. I'm so happy that we got to see Yul dream higher as a presidential candidate to make a difference and remained true to his principles. Furthermore, it was so nice to be able to see two decent people fall in love and cultivate a mature relationship, where both parties were thoughtful, considerate, appreciative, and respectful towards each other—such rare qualities in dramaland nowadays. We could see how much Yul and Da-jung cherished each other and didn't take the other's presence in their lives for granted.
That's why despite the sluggish latter third of the show that keeps this series from being pitch-perfect, I'm reminded of all the refreshingly funny, heartwarming, and contemplative moments in Yul and Da-jung and those three adorable kids. Goodness knows that we've never gotten a sexier politician than in Yul, and it might take one thousand and one nights (or more) for that appeal to wear off, if ever.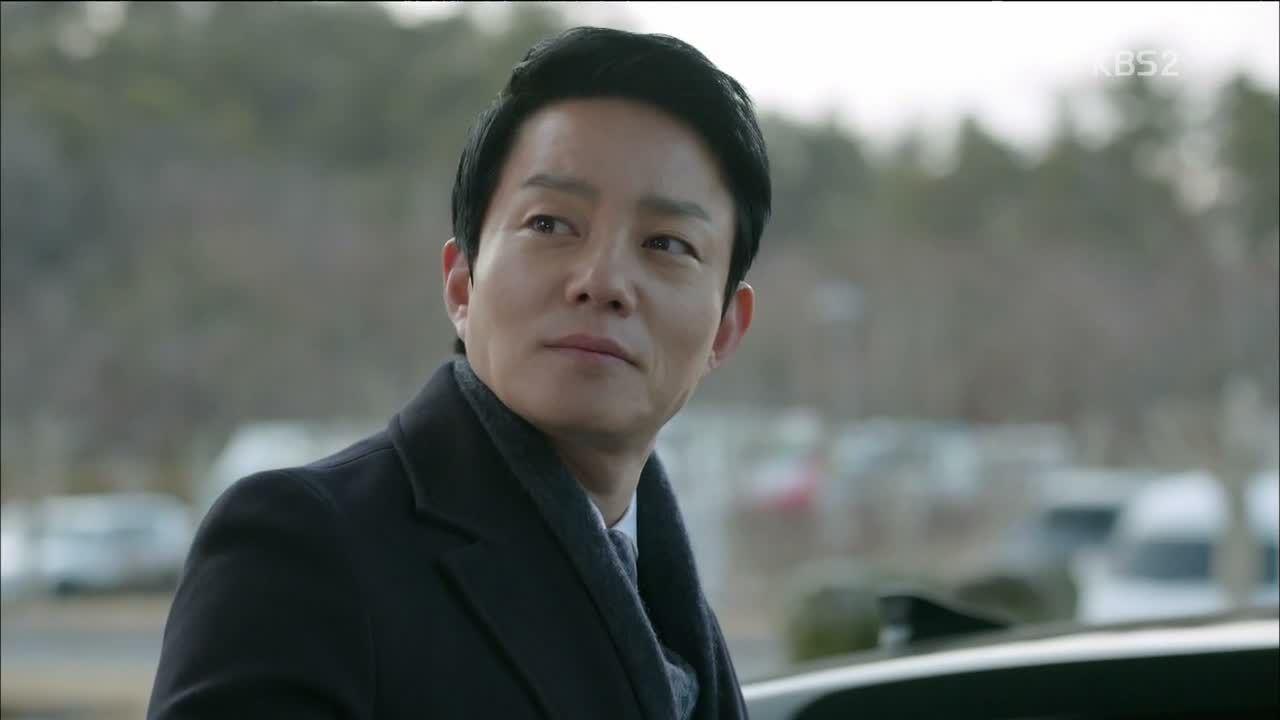 RELATED POSTS
Tags: Chae Jung-ahn, featured, Lee Beom-soo, Prime Minister and I, Yoon Shi-yoon, Yoon-ah