My Fair Lady: Episode 12
Was it just me, or were the last ten minutes of this episode the weirdest, choppiest, awkwardest sequence of scenes ever? They came across tacked-on and badly edited. Totally felt out of step with the rest of the episode, which marred an otherwise significant ending scene.
SONG OF THE DAY
Lee Soo-young – "추억 안녕" (Goodbye memory) [ Download ]
Audio clip: Adobe Flash Player (version 9 or above) is required to play this audio clip. Download the latest version here. You also need to have JavaScript enabled in your browser.

EPISODE 12 RECAP
Hae-na wakes up with a start to find herself in Dong-chan's room. She doesn't recall calling him last night in her drunken state, crying that it was scary in the hotel room alone.
She makes an attempt to save face with Dong-chan by saying that she ran away. However, he has already heard the truth from the housekeeper and knows she was kicked out.
Dong-chan is optimistic that the chairman will have cooled off by now, and grabs Hae-na to take her back home. She protests, still feeling the sting of her grandfather's rejection, but he insists, and drags her all the way home.
Hae-na puts up a fuss, but it's mostly for show. When she arrives, she makes it clear that she's only here because Dong-chan forced her. However, she waits expectantly for her grandfather's welcoming embrace… only to be turned away. Mr. Jang conveys the chairman's message that Hae-na is to be turned out (again), and even Dong-chan is stunned.
Still, Dong-chan prods Hae-na to keep trying to win her grandfather over, encouraging her that she can change his mind. She's feeling hurt and tired, so she snaps at him to leave her alone, and heads off without him. She warns him not to follow her and trudges down the street.
Dong-chan follows at a distance, watching as she stumbles aimlessly in her high heels and sits down on a bench. She maintains her haughty air, but he appeals to something she can't deny — her hunger.
Over lunch, Dong-chan gently chides Hae-na for her excessive drinking these days, and her habit of drunk-dialing him. Embarrassed, Hae-na recalls the almost-kiss in the bar the other night, and covers up by lying that she doesn't remember a thing. She adds that she used to have a drinking habit of kissing ("like with puppies or cats") and that she hopes she didn't make any kind of mistake with him. Put out to be lumped together with pets, Dong-chan answers that she didn't.
Dong-chan also wonders why she hasn't called Tae-yoon yet. He assumes she has fought with him and tells her to make up with him. She can stay with Tae-yoon, too, since they're going to marry anyway.
Operating on that assumption, Dong-chan gives Hae-na advice on how to make up with Tae-yoon — she should say she's sorry and tell him she loves him. Dong-chan doesn't notice her hesitation as he talks about love and how, "In hard times like this, you need the help of those you love."
Tae-yoon broods over his troubled relationship, causing Su-ho to wonder if he'd made some kind of mistake. Tae-yoon says no to the mistake, but he did say something he shouldn't have. Even if it's true, he shouldn't have been the one to ask Hae-na whether he was really the one she likes. However, he is ultimately undeterred, and vows, "I won't lose. I don't want to lose."
It's bad timing, then, that leads Tae-yoon to arrive just as Dong-chan is about to slip away. He had intended to leave before Tae-yoon arrived, but now he worries that Tae-yoon will get the wrong idea and be upset to see him.
Dong-chan's right on that score: Tae-yoon is wound up tight and angry. The distance between the couple in the above shot is ample proof of their status at the moment.
Although Hae-na explains that she didn't tell him she was kicked out because she was ashamed, he's most upset that she told Dong-chan first. He wonders bitterly, "Are you unable to do anything without his help?" He sighs in aggravation, "Why do you keep turning me into the bad guy?"
Confused and uncertain, all Hae-na can do is apologize. Having done that, she gets up and leaves. After a moment, Tae-yoon chases after Hae-na, but it's too late and he's lost sight of her.
Dong-chan is called to meet with Mr. Jang, who confides that there's another reason for kicking Hae-na out of the house. Grandpa Kang believes she needs to encounter the ways of the world to grow stronger, since she has lived such a sheltered life. However, he also believes she needs someone to help her — meaning Dong-chan. Mr. Jang reveals that Grandpa Kang wasn't able to get his heart surgery after all, and asks him to return to his position as Hae-na's attendant.
Because Dong-chan had left Hae-na with Tae-yoon, he's surprised when the latter calls him to ask worriedly if he's with her. Realizing that she's out there alone and unaccounted for, Dong-chan races off to search for her, wandering the streets anxiously.
Little does he know that Hae-na has returned to his (Eui-joo's) house, having nowhere else to turn. However, she chickens out and turns to leave — just as Dong-chan appears at the base of the hill and starts climbing the steep staircase. Embarrassed, Hae-na furtively seeks out a hiding place, crouching down behind a wall.
Dong-chan spots her and stops her from slipping away, and in his relief and worry, he ends up shouting — where the hell has she been?! Does she know how concerned he's been?! Attempting to salvage her pride, Hae-na lies that Tae-yoon has found her a new place to stay, and she was only dropping by to say goodbye.
Of course, having spoken to Tae-yoon earlier, Dong-chan knows the truth. He demands, "Why are you lying? Did you think i wouldn't know you left him on bad terms? Why are you so foolish?"
Unable to hold back her tears now, Hae-na admits, "I don't have any place to go, and Grandfather and Tae-yoon both treat me coldly. Why am I so pathetic? I couldn't think of anyone but you. That's why I came."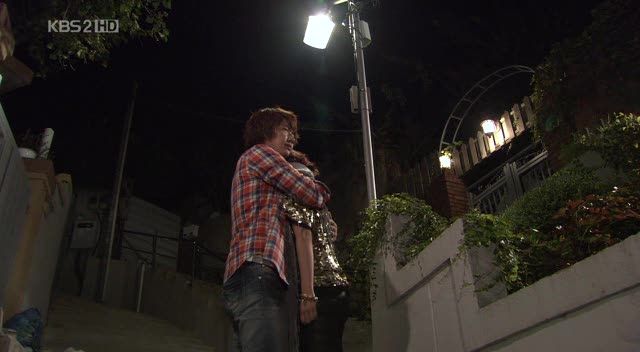 Dong-chan hugs her, and she sobs into his chest.
For the time being, that means Hae-na will be staying with them. That night, Dong-chan calls Mr. Jang and accepts the offer to resume duties as Hae-na's jibsa (again). For what it's worth, Mr. Jang feels that Grandpa Kang is being too hard on Hae-na, but Grandpa insists that this is the only way to make her learn.
Unsurprisingly, Eui-joo is not happy to be housing someone she dislikes so much. Still, she agrees to let this go, telling Dong-chan that she knows that if Hae-na left, he'd scour the city looking for her.
But Dong-chan doesn't mean to treat Hae-na as a princess; in the morning, he gives her a rude awakening (literally and figuratively) by telling her she will have to earn her keep. For instance, in order to pay for the cost of housing her, she must take on chores like cooking, cleaning, and laundry.
Back in the lap of luxury, Chul-gu rejoices at the latest news of Hae-na's fall from grace. The official word at the company is that Hae-na is away in the U.S. for work-related "training," but he has found out the truth about her ejection from her grandfather's house.
While the family cackles gleefully, Su-min stands up to his family, fed up: "You're too mean! Are you that happy to see her leave? Dad, I can't stand you! Mom, you too! Noona, you too!" And in the very cutest thing ever, Su-min sighs in resignation ("Hmph!") and walks off.
(This scene is really only worth it for a long-awaited glimpse of little Wang Seok-hyun!)
Eui-joo tells Tae-yoon with some satisfaction that Hae-na is staying with her. She admits that she originally opposed the situation, but has since changed her mind: "I want to get revenge."
Tae-yoon has a vastly different reaction from Eui-joo's amusement, as he finds her conversation tiresome. What does she want from him? Eui-joo chides him for his difficult personality, then proposes that they team up together. After all, their goals are in alignment.
Irritated, he turns her down flat, saying he's too busy to waste his time with things like that.
Part of Hae-na's induction into living with Dong-chan and Eui-joo is finding a job, which includes helping out at the flower shop. She does not do well there.
(For instance, when she breaks a pot, she lifts her chin defensively and says it's the fault of the tiny store, not her. It's another example of Hae-na's annoying habit of passing off her mistakes onto someone else and refusing to take responsibility. Yeah, Gramps, your real-world training is sure paying off.)
Now that Eui-joo has told him where Hae-na is, Tae-yoon arrives at the flower shop in a pissy mood. Fuming, he drags her away for a talk (more like a tirade) and demands to know why she's here with Dong-chan again, and why she keeps disregarding his wishes. Tae-yoon says, "I told you I don't like you worrying over him, or being with him, or thinking he's a good person. So why are you with him?!"
After he gets that out of his system, however, Tae-yoon calms down, his scowl softening. He feels regretful since he'd actually come to apologize, not to blow up at her.
At that, Tae-yoon hugs Hae-na and says he's sorry. Hae-na answers that he doesn't have to be, since she understands the source of his reaction.
Watching from a distance, Dong-chan assumes that they have made up, a bit sad at the scene.
He finds her later that night sitting glumly in an empty neighborhood playground, and asks if something's wrong. He thought she'd made up with Tae-yoon; why is she sitting here alone?
Hae-na says that she did make up with Tae-yoon, although she doesn't sound too excited about it. To cheer her up, Dong-chan attempts an impression of her grandfather, which succeeds in bringing a smile to her face. He continues that with a series of goofy gestures and childish antics, which make her laugh.
Next, Dong-chan tries to get Hae-na a job as a sales clerk in a clothing store, but this doesn't work out well, as Hae-na doesn't do well with authority. His (almost parental) insistence that Hae-na get a job kicks up a dust-up between them, and she feels he's being too hard on her. He soothes her wounded pride with lunch and explains that he only wants her to be able to support herself.
When the conversation veers into the topic of mothers, Dong-chan asks if she has any memories of hers. Because her mother died when she was young, Hae-na only has one memory, of when she was a young child crying because she was scared. Her mother had come to hug her: "I don't remember anything, but I remember that feeling. It was warm."
Dong-chan asks if she misses her mother, and she replies, "I don't know. I'm fine as long as my grandfather's around. If he lives for a long time, I have nothing to fear." (Which, of course, means that Grandpa's death is almost a sure thing in this drama. Not that we're surprised.)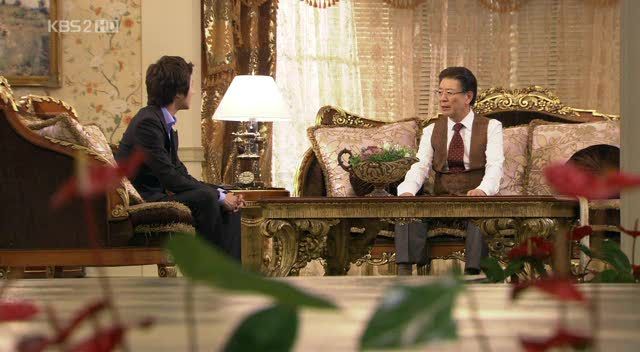 Speaking of whom, Tae-yoon pays Grandpa Kang a visit to inform him of his intentions to marry Hae-na. Grandpa approves of the idea of marrying Hae-na off soon (although he still wants her to get a taste of the real world). However, he feels that Tae-yoon's parents are not likely to approve of the match. Tae-yoon promises to gain their consent.
Hae-na happily receives a visit from the housekeeper, who is pleased to see Hae-na looking so good. Even though Hae-na pouts about all the horrible work she's forced to do, her good mood shines through, and the housekeeper figures this is because she's in love with Tae-yoon. She explains that she had always wished for someone to love Hae-na for herself, rather than as the Kang San heir, and is relieved that she has found it in Tae-yoon.
Hae-na doesn't contradict her assumptions, but it's clear from her expression that she doesn't quite agree with those sentiments.
If Eui-joo has a revenge on the agenda, it's either still being planned or very, very mild. For now, she enjoys bossing Hae-na around and making her do chores, like preparing dinner and doing the laundry.
Hae-na muses to Dong-chan that making dinner is not a skill she is likely to need, but he tells her that she should learn anyway. Hae-na explains that she hates doing things that she's not good at, and would rather not bother in the first place. Dong-chan counters, "Do you know when you're prettiest? It's when you can't do something well, but you clench your fists and throw yourself into the task, even if you do it all wrong."
Echoing the housekeeper's words (because this drama thinks we are dumb and cannot figure it out), Dong-chan tells Hae-na that he prefers seeing her stumble and falter over seeing her in her grandeur.
To drive in this theme even further, we see Hae-na sitting awkwardly in her finery when Tae-yoon brings her to meet his parents. Despite their misgivings about Hae-na, they find themselves liking her and treat her warmly, to Tae-yoon's relief. Hae-na accepts their compliments uncomfortably, not saying much.
However, dinner is cut short when Hae-na receives a phone call: somebody has been in an accident and is injured. From her reaction, we can guess who, although she doesn't explain who. Too upset to worry about being polite, Hae-na rises in a haze of panic and excuses herself, apologizing to Tae-yoon's parents as she rushes out.
Tae-yoon follows her outside to ask who has been hurt. When she doesn't answer, he guesses that it's Dong-chan. Distraught, Hae-na apologizes and hails a taxi. Along the way to the hospital, she remembers all the times they'd spent together in montage of their cute/romantic moments.
When she arrives, Hae-na races into the hospital, looking around frantically. She spots Dong-chan walking down the hall and asks whether he's okay, near tears.
Dong-chan is fine, having only suffered minor injuries, and is taken aback at the intensity of her reaction. Now that she sees that he's not gravely injured, Hae-na's embarrassed for overreacting, and turns to go.
Dong-chan follows, not fully comprehending the source of her panic, and wonders why she left her date with Tae-yoon. At that, Hae-na faces him with tears in her eyes and answers, "Because of you. I came because of you. I was worried, and I missed you."
Dong-chan starts to realize what she's saying just as Hae-na grabs his lapels and presses her mouth to his. He stands still in shock, unable to react.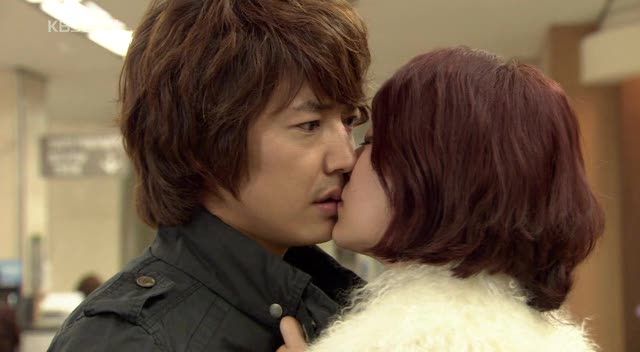 I will just say: LAMEST KISS EVER.
It's lamer than the stiff closed-lip-press of Delightful Girl Chun-hyang, the embarrassed (and embarrassing) child's play of Full House, the "oops-I-tripped-and-fell-on-your-mouth" coincidence of Hana Yori Dango. LAME LAME LAME.
But it would appear that Dong-chan agrees with me, because when Hae-na pulls away — perhaps disappointed in his lack of reaction — he grabs her back, and gives her another, more feeling kiss.

COMMENTS
The second kiss is much better than the first, which I know is the point. And the kiss scene feels like the expected cliffhanger-ish ending of a typical trendy drama episode. However, the context made the scene feel disembodied: The last ten minutes of this episode were SO BIZARRE.
It feels like those last ten minutes (starting from Tae-yoon "surprising" her with a meeting with his parents) were Frankensteined from another script, and the transitions were weird and jerky. What was the whole point of building up Tae-yoon's parent's opposition when they ended up having none? Why did they bother with Tae-yoon's short phone call to Hae-na, then the super-short car scene, and then the restaurant chit-chat? Worse yet, then they threw in ten seconds — completely out of nowhere — of Dong-chan getting into a car accident FOR NO GOOD REASON. He's driving, and then OOPS! I'm sorry car I didn't see you there! Good thing you were there to plot-contrive us to the hospital!
(Like I said before, the scenery and angles continue to get prettier while the plot grows odder. I think the director has given up.)
As for the issue of Hae-na's "tough love" lesson from Grandpa: Yes, it's needed. I think Grandpa has a good point about needing to force Hae-na into reality in order to grow up. I think he's being shortsighted and foolish for trying to groom her into taking over the corporation at the last minute, which is ridiculous, but on principle the lesson is not a bad one.
However, what's the deal with sending Dong-chan to her (again)? Yes, it must feel nice to have a trusted employee keeping an eye on Hae-na, but that totally negates his elaborate "lesson." The thing is, you can't even really blame Su-ah for thinking Hae-na is unworthy, because she is. Hae-na is an emotional weakling without Dong-chan — and while I suspect that this development was meant to show his importance to her, it's coming off as dependence and weakness, which I hate. Grandpa isn't teaching Hae-na to fend for herself, he's giving her a crutch.
In the beginning, Hae-na was a raving bitch but at least she wasn't dependent on someone and she didn't crumble under every emotional hurdle. Now, Dong-chan has to be there to pick up her pieces and build her back up again, which is really irritating. So all that said, I can't even root for Hae-na to take over the company. Gu Jun-pyo was also a spoiled brat, but at least he was shown to be smart and business-savvy. Hae-na is, by her own admission, ignorant — but worse, she's also uninterested.
You may say I'm looking too deeply into a silly drama, but (1) I hate the attitude that a light-hearted drama doesn't deserve intelligent treatment, because that just lowers the bar for ourselves. Make something as good as it can be, I say, and don't put up with failure merely because that's how the landscape is. (2) I think there are fundamental story problems that just don't work, and I don't even think one has to delve deeply to find them. They're right there on the surface.
Lastly, one thing about Eui-joo: Her approach to "revenge" is a little immature, and somewhat unworthy of her. I thought in the scene with Tae-yoon that although he's fussy and narrow-minded, at least he's more mature with his unwillingness to play games.
But then I thought of Eui-joo in the context of all those other hateful second women leads in other trendy dramas, and I appreciated her more. Moon Chae-won is making her "jealous other woman" role playful as opposed to deranged and possessive, so for that alone I'm thankful.

RELATED POSTS
Tags: Jung Il-woo, Moon Chae-won, My Fair Lady, Yoon Eun-hye, Yoon Sang-hyun