A Gentleman's Dignity: Episode 18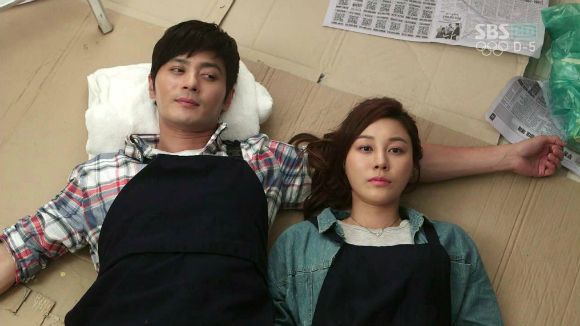 Waiting is excruciating. Period.
EPISODE 18 RECAP
F44 takes a drive in Yoon's car, which is rear-ended by a young man in his twenties. Do Jin notes that the kid's car probably belongs to his daddy and the others smirk in response before putting their hands around their necks. They feign pain as they step out of the car and the young man asks if anybody was hurt.
He pulls out a white business card to make a phone call but pauses when F44 gets on their own cellphones. Yoon calls a Supreme Court justice, Tae San speaks with a police chief, Jung Rok tattles on the young man to Min Sook (hah), and Do Jin asks for someone on the national Forensics team. Wha?
Their little phone show screeches to a halt when the young man dials the number to his insurance company and admits that he caused the car accident. The four men fill up with shame and quickly retreat back to Yoon's car. Heheh.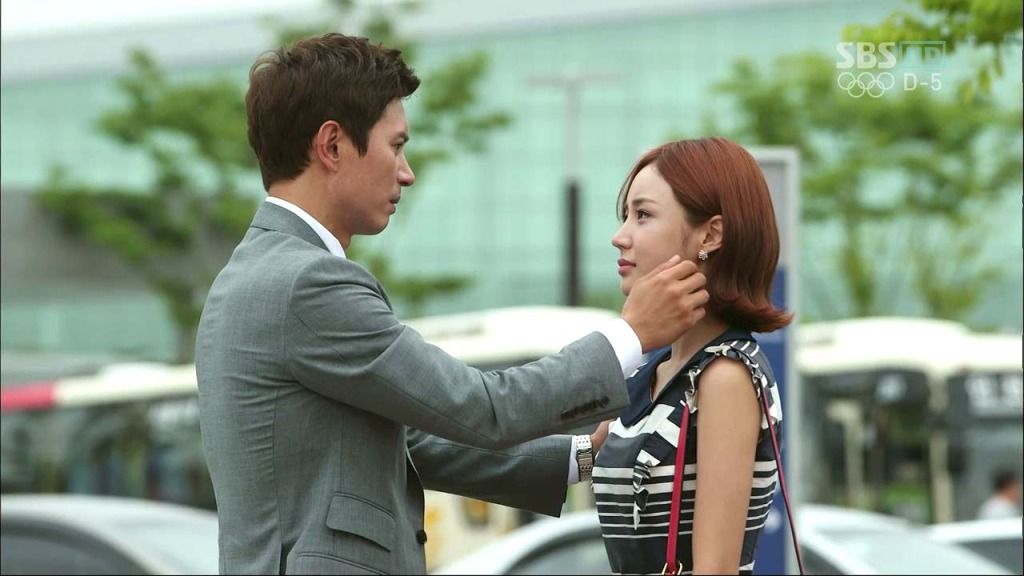 Yoon, as we know, stops Me Ahri from getting on the plane. Me Ahri looks up at Yoon and tells him that Tae San will be furious but Yoon pulls her into an embrace and admits that he loves her anyway. He apologizes for telling her so late but promises that she can trust in him to be with her fron now on.
"I won't hide my feelings any longer. From now on, just follow Oppa. I'll take care of everything. It'll be difficult, but I won't let go of your hand. I won't make you cry ever again." She tears up and Yoon holds her again.
Meanwhile, Min Sook picks up Jung Rok's car, only to find it covered in dirt and marks from the entrance to a specific hotel parking garage. She imagines Jung Rok driving into the hotel with his arm around a pretty young girl and begins to seethe with anger. Uh ohs.
Yoon and Me Ahri show up at the Im household and a shaken Tae San stares at them in disbelief. Yoon states that he's sorry but he thought that if he let Me Ahri go now, he'd lose her forever. Tae San asks how Yoon could do this to him over and over again; what is he supposed to do now?
Me Ahri bursts into tears (I swear, I'm going to reach in there and shake her) and Yoon pleads with Tae San to spare Me Ahri any harsh words. Oh ma gah. She's just jumped from one big protector to another. Yoon confesses that he felt the world would end if she left his side and that he regrets not being able to show off his feelings now.
He pledges that he'll treat Me Ahri well for the rest of his life. He adds, "Tae San, this is my first and last request from you. Please forgive me." Tae San turns to Me Ahri and asks "Is this what you have to do to become happy?"
She whines that he forgive her but Tae San shakes his head no. "I've forgiven you too many times. I regret that. I didn't know you two would end up like this. I promised to look after both of you but today, I've lost you two forever." He kicks Me Ahri out of the house while saying he is no longer her brother, for good measure.
Jung Rok sits across from Do Jin and Yi Soo as he lovingly rubs lotion on her hands. The three discuss whether or not Yoon went after Me Ahri and Do Jin bets that he did. Yi Soo asks why he believes so and he responds "Because I'm a guy that lost someone and found her again. I know the feeling of having lost everything."
Goosebumps cover Jung Rok and he shoots Do Jin the stink eye for being so grossly mushy, but Do Jin shrugs in response. Didn't Jung Rok want to do everything with Min Sook when they were dating? Didn't he hate when Min Sook did anything alone? "For some reason, I hate when this woman eats alone. How can she eat when I'm not feeding her?" Heh. Yi Soo lets out an embarrassed laugh and Jung Rok tries hard not to vomit.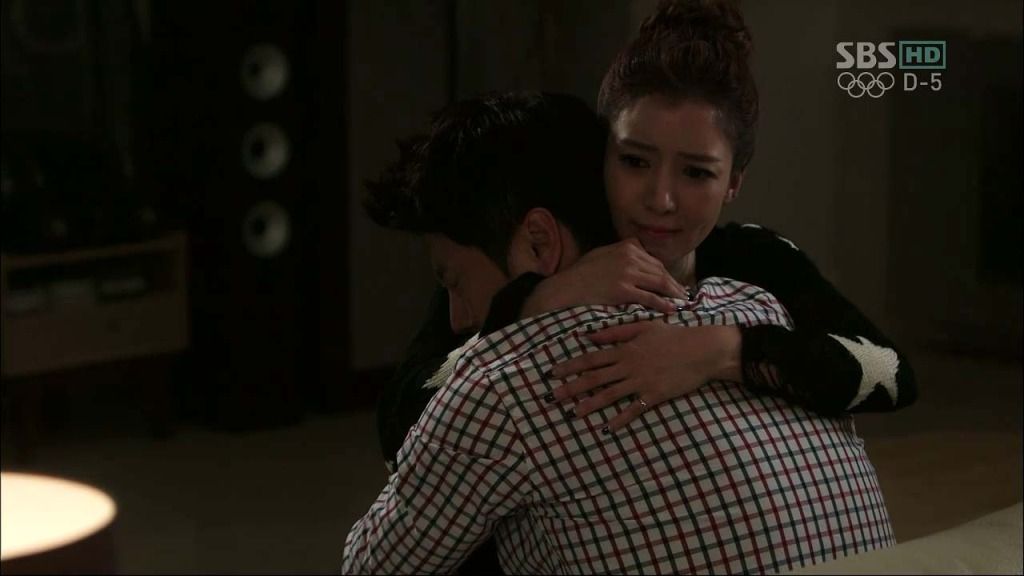 Yoon meets with Yi Soo and she agrees to take in Me Ahri for the time being. She assures him that Tae San will understand and forgive him eventually and also adds that she wants to thank him for helping her with her stepbrothers.
He looks up at her in surprise and she laughs that she's grateful for the support but they left without paying for the damages to the cafe. She jokingly asks if she should receive most of the money from Tae San and all Yoon can do is give an awkward laugh.
Se Ra rushes off to comfort Tae San after Me Ahri informs her that he kicked her out now that she and Yoon are together. She finds him alone in his darkened apartment and tells him that everything will be okay. She hugs him tightly and he silently cries into her shoulder.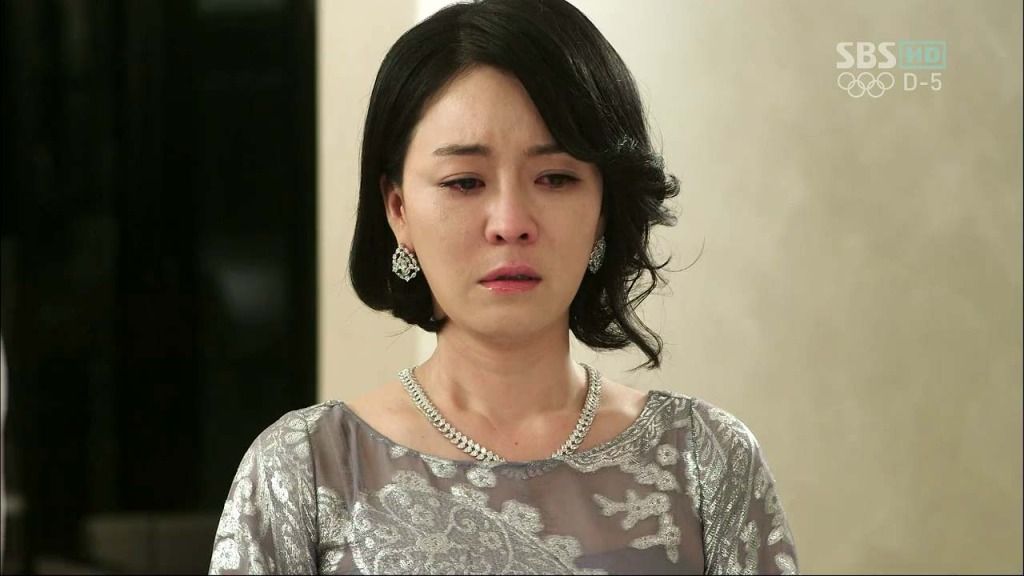 Jung Rok arrives home to meet a stormy-faced Min Sook who accuses him of going to a motel. He insists that he was doing a favor for Me Ahri by dropping off Tae San's clothes when he was on a business trip but only receives a chilling glare from his wife. She calls Me Ahri to confirm Jung Rok's story and is stunned to realize that he was telling the truth…again.
Tears trail down her face and she stands in shock at how paranoid she's become lately. Jung Rok becomes flustered at her tears but then brushes off Min Sook's remark when she says that she wants a divorce, giving her a quick hug before hopping into the shower. I know Jung Rok's not that intelligent but he has a really bad sense of women for a so-called playboy.
Do Jin spends some quality time with Colin and questions him about his school life. Does he have any friends? Colin names Kim Dong Hyub as a good friend but admits that Dong Hyub isn't a very good student. Do Jin's grin immediately slides off his face and he suggests that Colin make some other friends. Heheh. Colin asks if Jung Rok was good at studying and Do Jin quickly changes the subject. Kek.
He asks what the best part of the day is for Colin and Colin replies that he likes the minute before lunch and the minute before break time begins. Do Jin asks if he liked the minute before meeting his biological father but only receives a half-smile in response. Colin announces that he wants to go to bed and Do Jin quietly slips out after turning off the lights. D'aw. Can't you tuck him in, read him a book, and then kiss him goodnight?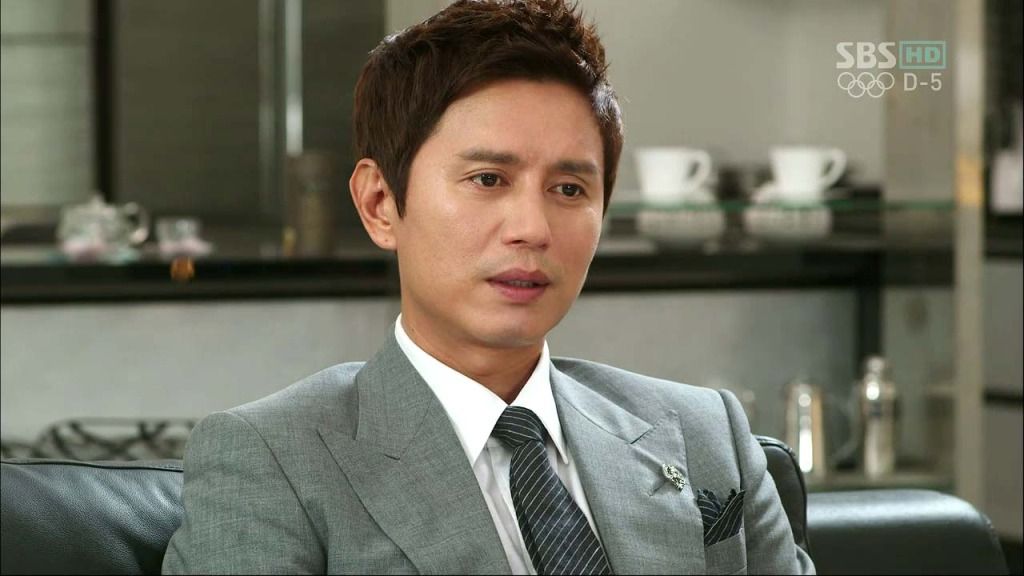 Yoon trudges into the apartment and plops down on the couch. Yoon then recalls a time when a young boy in Me Ahri's elementary school hurt her forehead. Tae San threw a fit and marched over to that boy's house to demand compensation for her injury. How dare the boy hit the future Miss Korea?!
Do Jin responds that he was there when Tae San blew his lid. Yoon sighs; Tae San went crazy over a small injury to Me Ahri's forehead. How will he react now that Yoon will be the biggest "injury" to Me Ahri's life? Psh. You're like the best thing that will ever happen to a girl that does nothing else but love you.
Yoon wonders if Tae San will ever forgive him and the only answer that Do Jin can give is that he doesn't know how he can help. Yoon responds that he and Jung Rok should support Tae San no matter what and heads to his room. He ponders over his wedding ring for a while before slowly removing it and placing it into its box.
Tae San arrives at the office and Do Jin remarks that it's obvious he hasn't slept at all. He also comments that Yoon requested for Do Jin to be on Tae San's side; isn't Yoon such a good friend? Kek. Tae San flashes him a look of "Imma punch your face" but Do Jin continues his teasing by asking if he should kick Yoon out and have Yi Soo do the same to Me Ahri. Hee. I love playful Do Jin.
They head to a team meeting but not before Do Jin notices a pack of cigarettes and a lighter on Tae San's desk. Tae San's mind wanders as an employee gives a presentation but pays just enough attention to offer some advice on further improvements on the project. Do Jin commends Tae San on his work ethic and declares that he'll buy lunch today. Tae San rejects him, saying that he already has a lunch date planned. Jealous Do Jin pouts in response.
Yoon and Tae San (whoa! totally unexpected) silently poke at their food during lunch and Tae San notes that Yoon has taken off his wedding ring. He slams down his utensils and launches into a rant about how he cannot accept Yoon and Me Ahri's romance. Yoon responds that he understands where Tae San is coming from but insists that he can't give up his feelings.
Tae San: What about Me Ahri's dreams? Her future? To be honest, I don't like that Me Ahri wants to design and create handbags but she said that it's her dream. I want her to learn and become more skillful to achieve her dream.
Yoon: I don't want Me Ahri to toss her dreams away either. Tae San…Me Ahri is also my dream. Whether she becomes a designer or anything else, I'm going to try my best to support my dream.
Tae San blinks away tears at Yoon's last comment and storms out of the restaurant. ::sob:: This conversation is so heart-breaking.
Yi Soo and Do Jin take an apartment tour and Do Jin grins when the real estate agent thinks the two are looking for a place as a married couple. Yi Soo bursts his bubble by informing the agent that she's actually looking for somewhere that she and her girlfriend can share; she and Se Ra have decided to live together again.
The agent urges the two to look around the apartment further and gives them some alone time. Yi Soo laughs that they're actually the age to be a remarried couple and Do Jin narrows his eyes; is she making fun of him because he has a son? She replies that she just meant they were past the age of first-time newlyweds. He must have some kind of inferiority complex…
Do Jin responds that he needs to pretend to be humble sometimes; if he's too "bling-bling," he'll seem like the hero of a TV drama. Ha. He continues that this apartment is the best because it's the closest to his home, while wrapping her into a back hug. D'aw.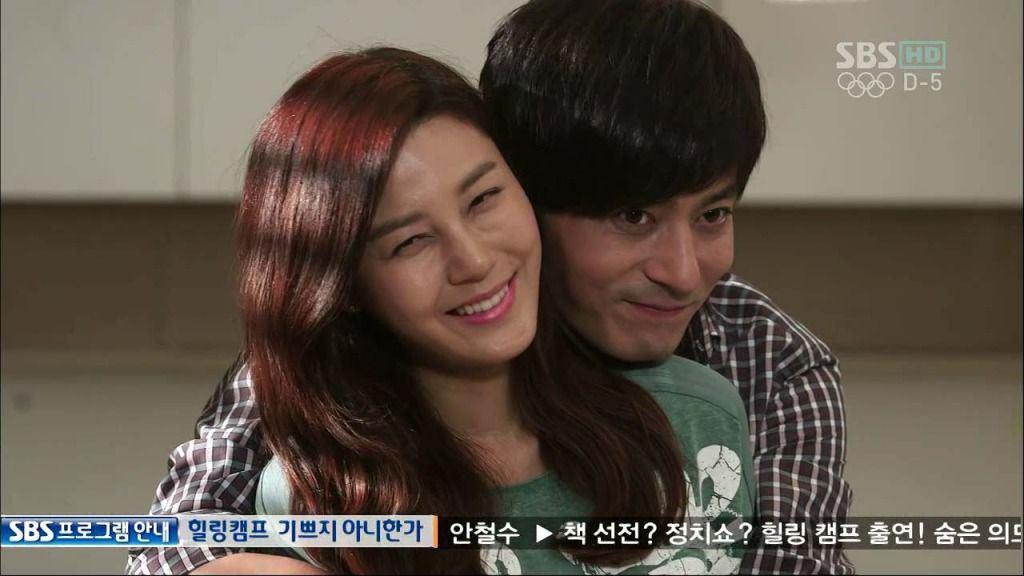 They quickly separate when the real estate agent approaches and Yi Soo cheerily declares that she'll take the apartment. Suddenly, a large bug crawls across the room and Yi Soo swoops down to kill it with a newspaper.
The two men stare at her and she then acts the part of a weak girly-girl by squealing and jumping away. Er. Is that supposed to be funny? Do Jin gives her a big thumbs up; Yi Soo oppa is the best. Haha. Okay. That's funny.
The next week, Do Jin and Yi Soo paint the apartment which gives them an excuse to fool around and act all cutesy with each other. They lay down on the ground to rest after painting one wall and Do Jin remarks that they finished quickly because of him.
He states that his back almost broke from piggybacking her, which would have been very unfortunate for Yi Soo. She whacks him in response and he claims that she's committing sexual harassment because the victim feels uncomfortable with her physical actions. HAHA. They give each other little kisses on the lips before lying back down to discuss Tae San and Me Ahri.
Yi Soo states that she thinks Me Ahri is very brave and Do Jin responds that Yi Soo is quite brave too. He promises to make her a beautiful house with a lot of windows where nobody will ever leave. She smiles, touched at his words, and then proceeds to ask about his parents and childhood. Do Jin answers that his parents live in Toronto and that he grew up in a pleasant household. His parents got along very well, which he knows now is a blessing.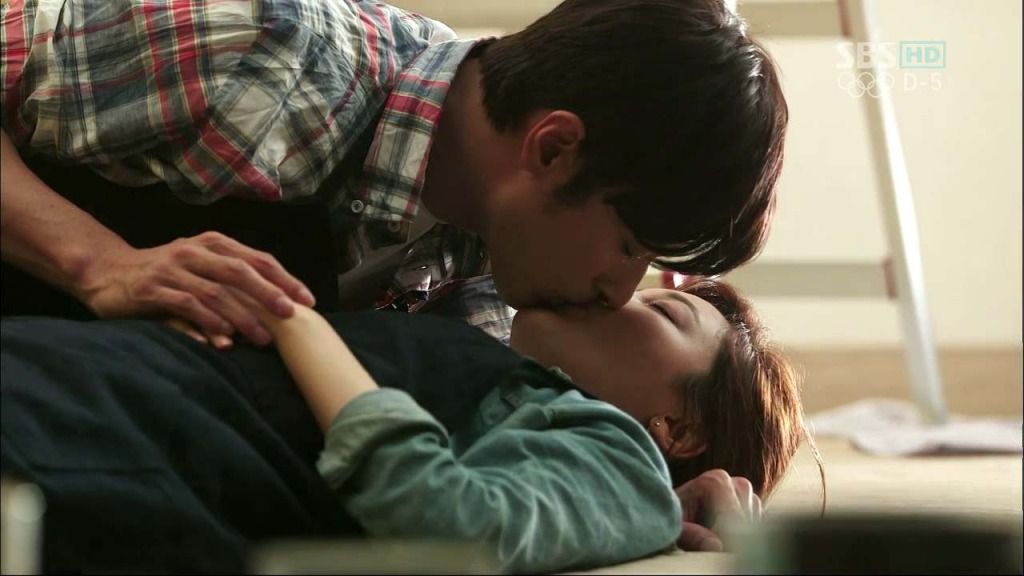 Yi Soo remarks that Do Jin's confidence and composure must stem from his loving family. She is also confident and composed, but only because she tries hard to seem that way. Do Jin is just naturally confident. She brings up her own childhood and her voice slowly fades away.
He gets up on his side to look at Yi Soo and holds her hand. He tells her that her happiness is what has been driving him so far and she giggles. They stare into each other's eyes before Do Jin leans down to kiss her deeply. After they break apart, he asks if he can try to keep his promise to make her happy again.
"You'll be happier tomorrow than today and even happier the day after tomorrow. I promise." She replies that she'll believe him once more and he assures her that he'll keep his word until he dies. They kiss again.
Tae San and Se Ra drink at his apartment and Se Ra informs him that Me Ahri is doing well. She asks if he spoke with Yoon and Tae San confirms that he did. They just said what they both wanted to say. Se Ra sighs that at least Me Ahri found her soulmate now; she had to wait 36 years for hers.
Tae San responds that he'd still be disappointed in Me Ahri even if she was 34. He changes the subject to her move-in date and tells her that he'll send Jung Rok to help them move in his stead. She embraces him in gratitude.
Jung Rok and Do Jin arrive at the girls' new apartment where Se Ra and Me Ahri are unpacking their belongings. Yi Soo steps out in a flowery dress when she hears Do Jin's voice, saying that this is how she always dresses. Hahaha.
Se Ra sends Jung Rok to pop bubble wrap (heh) while Yi Soo and Do Jin organize Yi soo's room. Do Jin tries to catch a glimpse under Yi Soo's dress but she firmly scolds him. He pouts; why is she wearing a dress then? "You can even catch bugs. Do you think flower-print suits you?" Kek. Yi Soo screams out "A bug!" and Do Jin jumps back in fear. She giggles and then forces him to finish putting her books on the shelf.
Later, the girls go out for a manicure and Se Ra catches Yi Soo smiling to herself. She gives Yi Soo a quick glare before Me Ahri asks when they'll eat; she's hungry. Se Ra turns up her mean girl mode and snidely replies that Me Ahri should at least try to look depressed. How can she think of food when her brother can't eat because of her?
Yi Soo jumps in and asks Me Ahri if she's spoken with Yoon lately. Me Ahri replies that they speak on the phone but she hasn't seen his face in a while. Se Ra sniffs and then roughly asks the manicurist when they can leave; "this girl" (meaning Me Ahri) says she's hungry. Aw.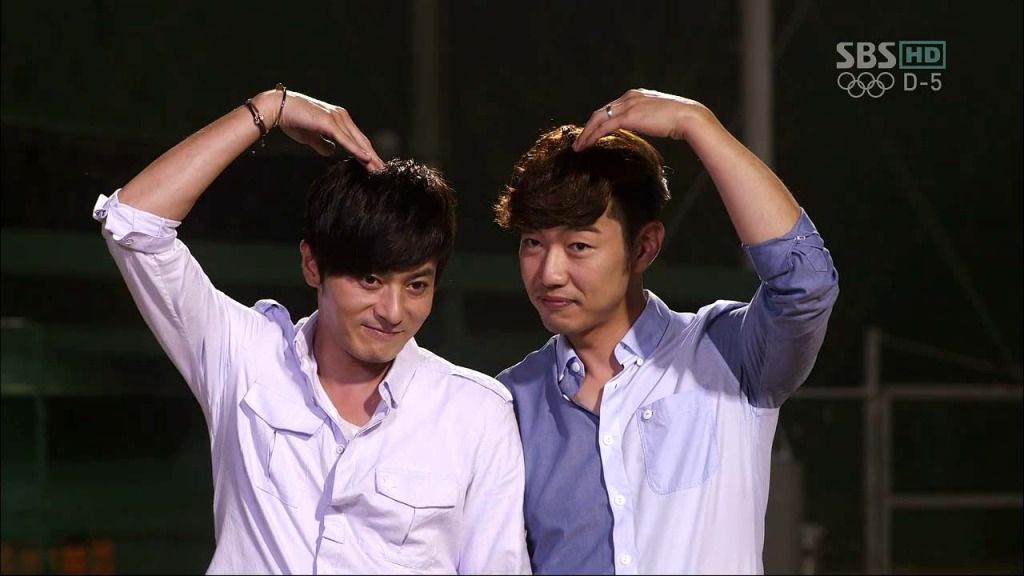 Tae San hits baseballs by himself for hours before Do Jin and Jung Rok show up to offer him some icy-hot patches and a trip to sauna. They inform him that Me Ahri is doing well and that the move-in went smoothly. They make a heart with their arms and assure Tae San that they're always on his side. Hee. They're so cute. Tae San laughs and then shouts at them to leave; they're distracting him.
Do Jin and Jung Rok make another trip to Yoon who is busy pitching balls. They give the same speech about how they're always on his side with another heart but Yoon rejects them; they probably did the same thing to Tae San. Heh. The two slink away and Yoon resumes pitching.
Yoon and Me Ahri meet to go on a date and Me Ahri finds it hard to look at Yoon properly. He asks her why she's acting so shy and she replies that she's so nervous. He sighs that he wants to see her face though. Aw. She then notices that he's carrying the bag she made him and glances up with huge hearts in her eyes. He flashes her a warm smile before grabbing her hand to take her to lunch. Why so cute?!
That night, Jung Rok chatters away to Min Sook to explain why he didn't pick up his phone as he preps his face for bed. He comes out of the bathroom and becomes quiet when he sees her face. She confesses that she can't trust him anymore.
Other people tell her that she has everything but she feels that she doesn't. Jung Rok was everything to her but now she can't believe a word he says. Min Sook looks down at her wedding ring and explains that the ring is how a husband and wife keep each other close because the vein in the left ring finger runs directly to the heart.
She informs him that she wants to take the ring off now. She tells him that she is suspicious of every phone call he makes and every woman that even looks at him. "I go from heaven to hell every single day."
Jung Rok immediately responds that he'll never take the ring off again but she tells him that she wants a divorce. "I think I'm so pitiful. I seem like a crazy woman for doubting you without reason. I'll ask sincerely. Let me go. Please divorce me while I'm still relatively normal."
She pulls off the ring and breaks into sobs. Jung Rok slides to the floor in shock and his own eyes fill with tears as he looks over at Min Sook.
Do Jin invites Yi Soo's colleagues out for dinner and acts the role of a perfect gentleman. The women fawn over his good looks and manners until one of the teachers mentions that her husband is very handsome too. People say he looks like the actor Jang Dong Gun. Pfttttt.
Do Jin compliments the woman by saying that she's very pretty herself and she cackles in glee. She turns to Yi Soo and tells her that she's met the perfect guy. The ladies have some more wine and Yi Soo thanks Do Jin with a smile.
After dinner, Do Jin and Yi Soo sit in Betty and she thanks him again. They stare at each other silently before Yi Soo requests that they listen to the radio. However, all the songs that play on different radio channels are…sensual. Heh.
The two finally burst out laughing when Big Bang's "Don't Go Home" blasts through the stereo and Yi Soo states that the songs on the radio really reflect a person's feelings. The atmosphere turns serious when Do Jin asks if he can make this night important enough to remember.
Do Jin: What will you do if I don't let you go home tonight? I don't want to let Seo Yi Soo go.
Comments:
ARGH. You would end it there and we most likely won't be able to see what Yi Soo's answer is until next weekend. I don't understand why SBS couldn't find a time slot to spare for the last two episodes ahead of time. Didn't they have like four years to figure out the scheduling for The Olympics? Maybe I'm just a really big baby. But come on! I want to know what happens. ::rage::
Well, let's talk about this episode, shall we? There were some great moments between all of our characters and it's hard to pick out the best one which is probably a good thing.
I've mentioned that I really wanted to see more development between Jung Rok and Min Sook and we finally take a step in changing their relationship. Whether that step is forward or backward is difficult to say and I'm not sure the divorce will even happen. It's unfortunate that Min Sook dropped the divorce bomb so late in the drama because any real "solution" to this marital problem will be either rushed or half-assed.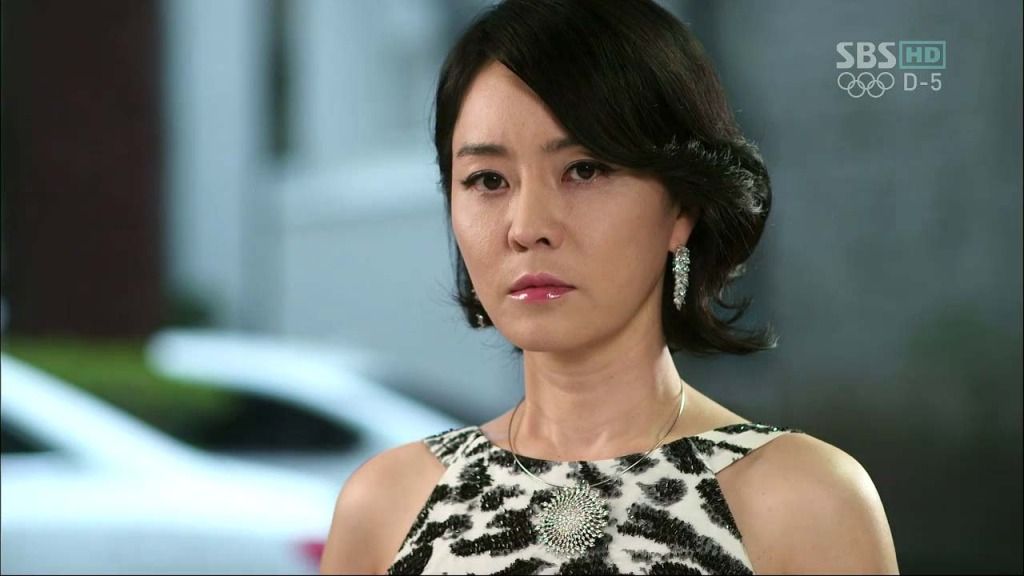 It's heartbreaking to see Min Sook, who is usually so calm, logical, and confident, completely break down and confess that she's coming apart because of her insecurity. I don't think Jung Rok has realized just how much he's hurt Min Sook because of his flirty tendencies and built-up lies. To be fair, she covered up her pain by spouting more venom and becoming more spiteful but I really want to smack some common sense into Jung Rok. He likes women but he really doesn't understand them.
Honestly, I'm still not convinced that Jung Rok really loves Min Sook. He's definitely stepped up his game lately and has been treating her nicely for the past couple of episodes but that doesn't necessarily means that he keeps her close to his heart. Is he staying with her because he's afraid of her? Maybe he likes her money and the material comfort she brings. How can we be sure he loves her?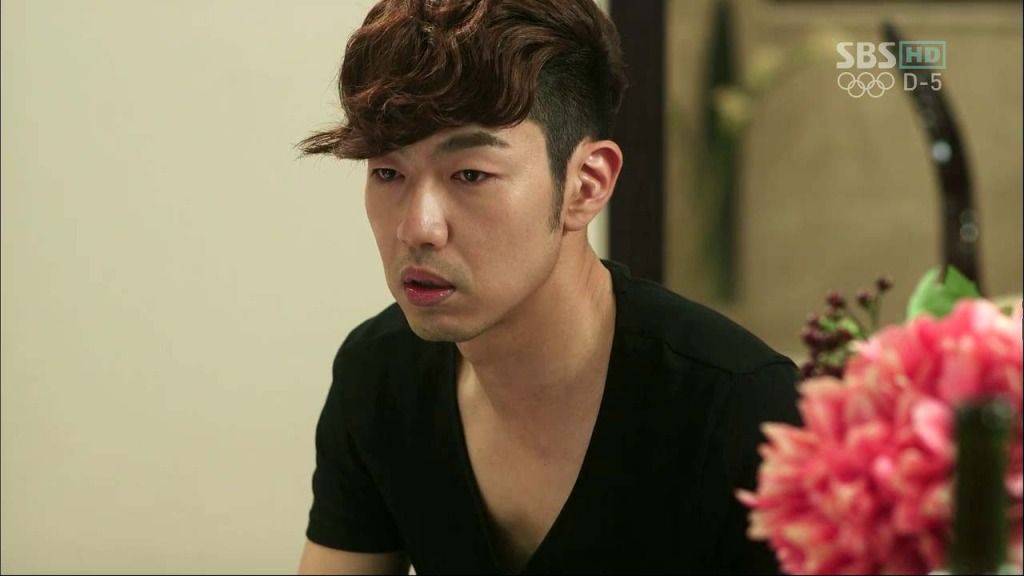 Jung Rok never answers when Do Jin asks Jung Rok if he ever did lovey dovey things with Min Sook. Most relationships start off with a honeymoon phase, which we saw/are seeing in three of our couples. We meet Min Sook and Jung Rok when they're way past that stage and it's only recently that they've had sweet little moments. Yet I also wonder why we never get a glimpse of their past together.
You might get sick of me singing the same tune but it saddens me to see these two characters go to waste. I know they're not the main couple but their marital problems serve as nuggets of gold to spur character development. I want to see Jung Rok fight for Min Sook, dang it! I went into the drama knowing that writer Kim isn't the best at shaping well-rounded characters but you always have that little bit of hope that "this time" will be different. Oy.
Anyways, it's natural for Min Sook to be consistently suspicious of Jung Rok and I applaud her for wanting to get out of a relationship that's been destructive to her self-esteem. Maybe time away from Min Sook will make Jung Rok realize that he wants her just as a woman, not as a person with a bottomless pit of wealth. I just hope Min Sook finds happiness, even if that's without Jung Rok.
I haven't spoken much about Se Ra and Tae San lately but it's lovely to watch them grow and change with each other. Throughout the drama, Se Ra has been painted as a selfish woman who only thinks about herself but this episode really marked where she made a conscientious effort in comforting Tae San and being by his side no matter what. She's doing things for other people, not herself.
She's also softening to Me Ahri and it's somehow more sweet when someone who's normally very prickly shows a spot of kindness. As Yi Soo points out, Se Ra likes to categorize everyone around her as either "ally" or "enemy." She's brutal to people she labels as enemies (remember how she treated Yi Soo during the crush fiasco?) but then gets overprotective of people she really cares about. She can be a formidable enemy but also a powerful friend.
This break in friendship between Tae San and Yoon is really going to hurt them both but at least they have Se Ra and Me Ahri by their sides. The rift will heal and they can go back to making fun of Do Jin and Jung Rok soon, right? RIGHT?!
One of the top scenes in the drama for me was when Yi Soo and Do Jin spoke about their pasts and future together. The way Yi Soo and Do Jin just lay on the floor looking up at the ceiling while spending some time learning about each other was so candid that watching them almost felt intrusive. Yi Soo's comment about natural versus made confidence was especially enlightening.
Do Jin has a sarcastic, confident swagger that immediately attracts many people to him and Yi Soo points out that he must have lived in a loving household. It's interesting that his natural-born confidence was shaken so hard when his business failed three times that he developed a mental illness while Yi Soo struggled to cultivate her own confidence throughout her life.
They have very different personalities and are strong in their own ways but the common denominator is that they're both insecure and full of false confidence at times. Yi Soo and Do Jin play around with the idea of whether or not they're good enough for the other person, which is really a core theme for all four romantic relationships.
Are Do Jin, who has a teenage son out of wedlock, and Yoon, who had a previous marriage, good enough for Yi Soo or Me Ahri? Is Me Ahri mature enough for Yoon? Is Min Sook pretty and young enough for a playboy like Jung Rok? Is Jung Rok ever going to be anything more than a trophy husband? Is Se Ra too self-centered for Tae San? Is Tae San too controlling for Se Ra?
These characters are extremely flawed, sometimes to the point of "Imma smack you hard" and "what's wrong with you?!" much like the people around us. I bitch and moan about the lack of character development but I also do understand that the writer likes to keep her characters static because that's how humans are; we don't change easily. However, that kind of mentality can also lead to lazy writing, which I hope isn't the case for the next two episodes. Let's cross our fingers and fast forward a week, eh?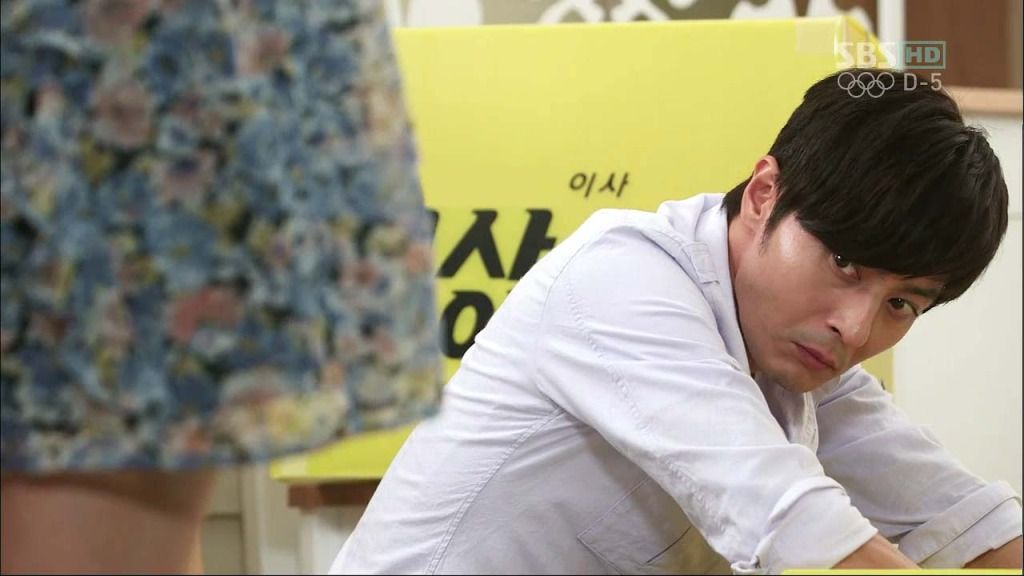 RELATED POSTS
Tags: A Gentleman's Dignity, featured, Jang Dong-gun, Kim Haneul, Kim Min-jong, Kim Su-ro, Lee Jong-hyuk