You From Another Star: Episode 19
Way to tug the heart and draw out the tears. While I would say the overall trajectory of this episode is rather expected, the drama drops a few surprises in our laps, namely in showing us just exactly how deep the love runs. Min-joon certainly takes the adage Actions speak louder than words to extremes, even if his reticence to speak the words balances it out by hitting the other extreme. (Actions are awesome, yes, but would a word or two once in a while kill ya?)
SONG OF THE DAY
Two Months (Tugewol) – "Talk To Me" [ Download ]
Audio clip: Adobe Flash Player (version 9 or above) is required to play this audio clip. Download the latest version here. You also need to have JavaScript enabled in your browser.

RECAP: NINETEENTH RECORD
In Joseon times, Min-joon receives a visitor: It's Ryu Seung-ryong, playing Heo Kyun! He's the famed writer of The Chronicles of Hong Gil-dong and Min-jono's friend (and also the one who gifted Min-joon with that vase, I'm now recalling, that Song-yi smashed while "cleaning.")
Heo Kyun explains that he is writing a novel about a hero who uses his powers to help the commoners, which is why he's here to see Min-joon. He has heard of Min-joon possessing powers and wishes to see it for himself in order to write of it.
Min-joon smiles and vanishes before his eyes, and Heo Kyun freaks out. Min-joon reappears behind him, and Heo Kyun gapes in astonishment, eager to know what kind of wizardry he practices.
Min-joon corrects him, saying that he doesn't practice wizardry, nor is he like his novel hero because he doesn't use his powers to help people—he tried that, and it only made him a monster in their eyes. Heo Kyun asks if he would reveal himself to save someone he loves, and Min-joon just says that alas, there's nobody he loves so wholly. Furthermore, since he will one day return home, he isn't foolish enough to give anybody his heart. Famous last words.
Song-yi sobs over Min-joon's journal, reading his prediction about dying, and then goes to Lawyer Jang. They both know she knows the truth but she still calls him "Father" (as in, Min-joon's), saying that Min-joon wrote that Lawyer Jang was like a father to him. She's still struggling to accept the whole alien concept and shares what she read, that he'll die if he doesn't return home.
Lawyer Jang explains that Min-joon has changed a lot already—he used to be impervious to hot and cold, and his powers are waning. She asks why he would decide to stay despite facing death, and Lawyer Jang answers simply that he loves her that much. He adds, "Much earlier than when you began to like him, he cared for you very much. And he cares for you much more than you imagine. He didn't want to hurt you so he tried hard not to let things come to this. I tried to stop him many times, but what could I do? He would lay down his life to be with you."
Min-joon responds to Hwi-kyung's call by arriving at his hotel door, and when it goes unanswered, he passes through it to find Hwi-kyung very drunk. He asks Min-joon what the nature of his powers are, which allow him to perform miraculous feats and win the heart that Hwi-kyung has been unable to win. "You have it all," he says, tears in his eyes. "I envy you."
Min-joon replies, "I envy you." Hwi-kyung laughs bitterly, then states that his blood relation tried to kill the woman he loves, and did kill his brother. Recalling that he brought his eldest brother the tainted juice, Hwi-kyung breaks down, "I… with my own hands… I gave that to him." Worse yet, if the truth comes out, his whole family will be ruined.
Min-joon says that he understands, but can't let the crime go. Furthermore, Jae-kyung probably has it in for Hwi-kyung now, and that puts Song-yi at risk too. Hwi-kyung says this is why he called Min-joon, and asks what he should do.
Min-joon returns home to a note from Song-yi saying that she's tired and will see him tomorrow. Next door, Song-yi thinks of Lawyer Jang's words about Min-joon's love for her and runs the faucet to muffle the sound of her crying.
Jae-kyung receives a call from a mysterious number, and the voice on the other end stops him short: It's the recording of his hyung, begging for his mercy all those years ago. Hwi-kyung reveals himself as the caller, and immediately Jae-kyung turns on his sweet-talking voice and offers to explain.
He arrives shortly thereafter at Hwi-kyung's hotel room, where Hwi-kyung is staggering and unfocused. Drunk, or faking? (Please oh please let this be a fakeout.)
Either way, Jae-kyung smirks and figures that his pesky ex must have supplied that recording. Hwi-kyung looks devastated as he asks how many people Jae-kyung has killed, including their brother and Yura.
Meanwhile, the ex-wife is beside herself with worry—she tells Se-mi that she may have told Hwi-kyung something she shouldn't have, and is now worried for his safety. That's enough to get Se-mi upset, and she tries to call.
Jae-kyung pats his brother's head gently, which by the way is far creepier than threatening him with dire words, and says that he bears no grudge against him. If Hwi-kyung cooperates, he won't even do anything to him. Gee, how generous.
Then Jae-kyung pulls out his dart gun and levels it at Hwi-kyung, demanding the recording. If Little Bro doesn't play nice, he'll become a tragic story of a chaebol who got drunk and committed suicide. Jae-kyung was shrewd enough (er, evil enough, I guess) to purchase the gun in Hwi-kyung's name, and is ready to play the part of a grieving hyung who rushed his brother to the hospital, too late to save him.
Just then the gun disappears from his grasp, and when he turns he finds it being leveled at his own face, in Min-joon's hand. (If you look closely, I'm pretty sure there's an eye-roll from Jae-kyung, as if to say, You again?!) Now Hwi-kyung faces his brother, sober and serious, and tells him to surrender himself. Jae-kyung laughs at the thought and warns Min-joon that he's making a big mistake, but Min-joon just takes him by the collar and vanishes with him.
They reappear in an elevator that takes them to the lobby, where Seok is waiting to make the arrest. Jae-kyung orders his lawyer called, but Seok informs him that the hotel room was outfitted with a camera. Jae-kyung smoothly starts covering his ass, saying he was just putting a little fear into his kid brother and meant nothing, arguing that there's no basis for the murder claims.
That's when Detective Park appears with Killer Secretary in custody (booyah!), nabbed for sabotaging the stunt wire. That's enough to shut Jae-kyung up for now, though he keeps a smile on his face as he's escorted out in handcuffs. A mob of reporters is on hand to hurl questions, and Jae-kyung praises Hwi-kyung for thinking to call the press.
Jae-kyung says he never meant to use the dart gun on Hwi-kyung… but had prepared something else as insurance. Augggghhh, now this I believe, and it's something our good guys hadn't anticipated. As Jae-kyung names a wine—Song-yi's favorite—we see her receiving a message from "Min-joon" with flowers and a date request for lunch. Song-yi makes it to the restaurant and waits, while a waiter surreptitiously swipes her cell phone. Wine is poured…
Min-joon shoves Jae-kyung against a wall and camera flashes erupt. Jae-kyung taunts him to use his skills to save Song-yi, laughing that there are too many people watching. Min-joon clenches his jaw but throws Jae-kyung into the crowd of reporters, then freezes time—just long enough to disappear.
Jae-kyung says smugly that Min-joon won't be able to save her anyway, at which Hwi-kyung launches himself at his brother and punches him in the face, shouting, "Are you even human? I'm going to kill you!"
Min-joon appears in the restaurant and crashes onto a table, and finds Song-yi sitting nearby. She's sluggish and her wineglass is empty, and moments later she keels over into Min-joon's arms. The other diners recognize her and start snapping photos, but a second later Min-joon and Song-yi are gone.
Min-joon carries her to the emergency room and starts barking orders at nurses, and when they don't move quickly enough he starts grabbing supplies. Heo Kyun's statements were prescient after all, because at this point Min-joon doesn't even care about hiding his powers, summoning equipment and blockading the bed with medical carts.
The news hits the internet fast, and Se-mi, Lawyer Jang, and Yoon-jae all read the headlines, which describe Song-yi's restaurant disappearing act and arrival in the emergency room. Not one to miss a meta joke opportunity, the drama makes sure to have Mom note that Song-yi sure is going to the hospital a lot. Ha.
By now reporters have found their way to the hospital too, but Min-joon is fixated completely on Song-yi as she stirs awake. She says that there are too many people, asking to go someplace quiet, and Min-joon agrees. He gathers her in his arms, and with cameras clicking away, he vanishes right before their eyes.
They reappear on a garden path lined with flowers, and Min-joon says with satisfaction that they made it—he's never gone this far before. He says nobody will be able to find them, since they're the only people here. Looking around, Song-yi asks if they're on his planet, and he nods. Wait, what?
Song-yi takes a few hesitant steps, then says excitedly that she can breathe and not levitate. Min-joon scoffs, "Do you even know how far an alien planet would be?" HA, he was pulling her leg. He asks what she'd do if they were on his planet, and she answers simply that she'd find a way to survive somehow. (For good measure, she adds that she'd be really popular on his planet with her looks.)
It turns out that they're at the very top of a mountainous island; there are buildings nearby, but Min-joon assures her that they're alone and Song-yi exults, shouting into the wind. She yells, "I'm Chun Song-yi! Try and catch me!" Holding Min-joon, she continues: "He's an alien! Try catching him too!"
He smiles hugely, and it's so sweet to see them looking so happy. The smile fades a bit as she says they're going to live together here, just the two of them. She prods him to say something too, and he gamely gives it a go: "We're going to live well, just the two of us!"
Song-yi suggests taking a photo together, so they snap a sel-ca on his phone. Going on a walk, she notices an interesting tree duo with intertwined branches and trunks, which he explains as two different species growing together as one. She envies them for being able to be together till death, and requests another photo in front of the trees.
She says that while they're here, they should pretend that time flows differently—that she's not a famous actress, and he's not an alien in hiding. "While we're here, let's not care about the outside world."
He agrees, and she tells him, "I love you. If you say you want to live on this star, I want to live here too. And if you say you have to go to another star, I want to follow you there—that's how much I love you."
Raising a hand to his face, she says, "Even though I'm anxious that you'll disappear right away, and even though I'd sell my soul for the time we could be together, if only we could stop time forever… and even though sometimes these feelings are too hard for me and I might wish I hadn't met you… still, even if I could turn time back, I would meet you again, and I would bicker with you, and I would fall for you, and I would love you."
Min-joon wipes her tears and says, "Sure."
She teases him about his very unromantic reply, but as she's outlining how he ought to be replying, Min-joon kisses her. (Annnnnnd two seconds later Song-yi's dragging his staggering body along again. Pwahahaha. That will never not be funny.)
Back in Seoul, the gossip reaches a fever pitch and Song-yi dominates the real-time internet queries. Ex-manager Bum gushes about how public opinion is swinging upward for Song-yi now that Jae-kyung has been named as the culprit in Yura's death. Piling on top of the sympathy for Song-yi being wrongfully suspected, there's the wild interest in her dating someone with superpowers, which only adds to her mystique.
CEO Ahn takes this all in without much reaction until he hears that the CF offers are pouring in from people who assume she's still their client. Suddenly he's all interest and concern, and says that he felt bad for her all along
Lawyer Jang watches the news reports about the disappearing couple, who not only have dozens of eyewitnesses but also CCTV footage to fuel speculation of Min-joon's alien/magic/superpower abilities. Lawyer Jang sighs and wonders, "Are you satisfied now? Are you happy?"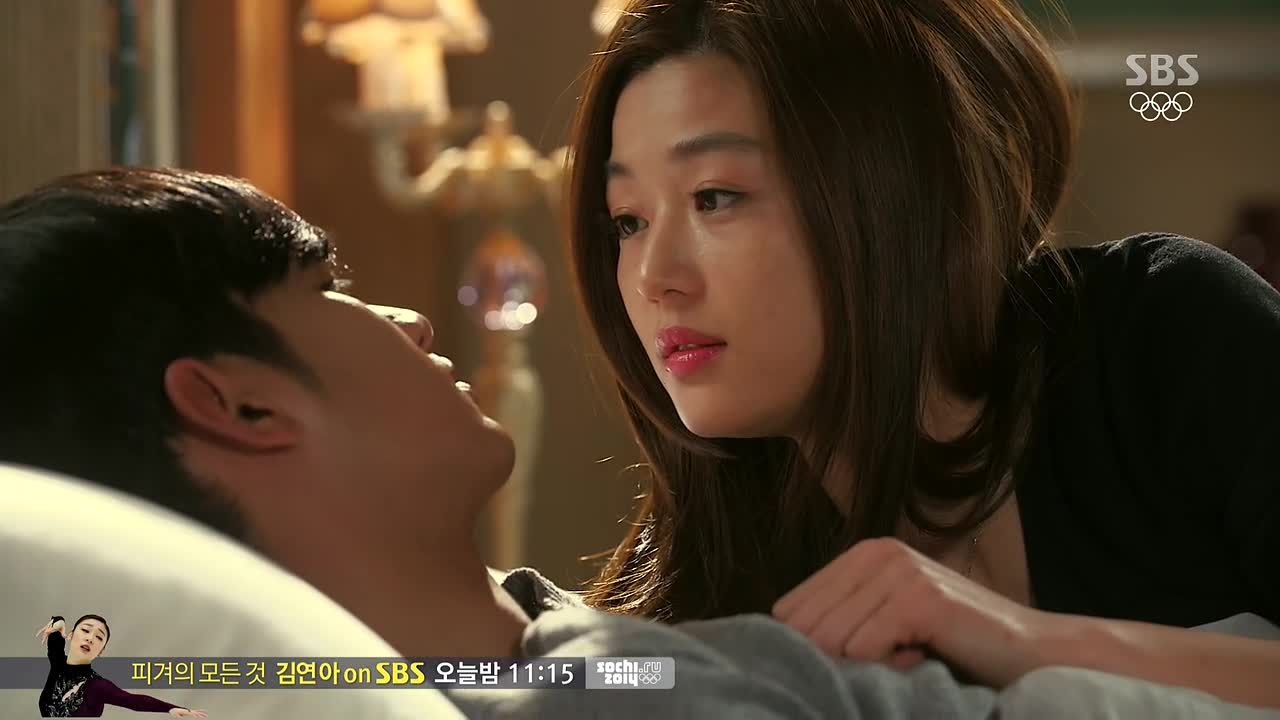 Min-joon and Song-yi hole up in what I'm going to assume is an empty guest house, napping together until Min-joon's kiss-induced fever subsides. She notices that his recovery was quicker today, and suggests another photo. Aw, each time she takes one it's like a tiny dagger in my heart—she's stocking up for the day he's not here.
While they eat together, Song-yi asks out of the blue, "How many children should we have?" He chokes on his food, but thinks it over: "Seven?" She thinks that's a lot, but he says back in ye olden days, that was common. She asks, "Then four daughters and three sons?" Min-joon replies, "Seven daughters." Awww. (Sons are too noisy, he says, but he'd be fine if they popped one out anyway.)
Song-yi spins a fantasy scenario of raising their family of nine, moving to their own house with a yard, maybe getting dogs. He smiles and agrees that that'd be nice. Though when Song-yi prods him to say I love you because he's never said so in words, he just tells her to eat up. Heh.
Jae-kyung sits in jail, stewing. Lucky for him, he has his powerful father on his side, who gets to work doing everything to get Jae-kyung off the hook. We can see where Jae-kyung got his Machiavellian tendencies, because Dad's first words to Hwi-kyung are to snap that pulling this stunt isn't going to earn him hyung's place in the company. In Dad's eyes, Jae-kyung is the only one capable of doing big work, and Hwi-kyung's just some feckless loser.
Hwi-kyung tells his father that he doesn't want any of that, and all he wants is to ask Dad not to cover up for Jae-kyung, who has committed countless crimes, including attempting to kill Song-yi today. Dad bellows, "Talk sense! Why would your brother do something like that when he has everything?!"
At that, Hwi-kyung pours his father a glass of the wine he has carried in, explaining that this is what Jae-kyung gave to Song-yi today. "I will drink it," he says. "When I do, then please believe me." He calls his brother a monster who would do whatever it takes to achieve his aims, and grabs the wine to drink.
At that, Dad leaps up and snatches the glass away, throwing it to the ground. Hmm, so he's not really in the dark about Jae-kyung's evil, is he? But then he says that if Jae-kyung did in fact do something to Song-yi, she probably did something to deserve it. Groaaaan. Facepalm. Headdesk.
And then, Eldest Hyung's voice sounds via the recorder, pleading, "Save me." Hwi-kyung kneels before his father and apologizes, then plays the full recording. Dad listens as Jae-kyung describes the effects of his drug, and how Jae-kyung had been thinking of this for a long time. The truth finally (finally) lands for Dad.
Song-yi's family gathers in concern over her disappearance, unable to get a hold of her by phone. Mom is by far the most upset, assuming Min-joon's up to no good, but Yoon-jae and Dad both speak up in his defense.
Min-joon and Song-yi walk along the beach at night, where she looks up at the sky and wonders where his planet is. They settle down in front of a bonfire, and she suggests coming here every summer, with their seven children and dogs. He agrees readily, and she says they'll both have to work hard to support such a huge family. She asks for him to promise, and he does.
All this future talk has such a sad tinge, particularly when Song-yi asks him to sing a song for her—"One that will make me think of you in the future. One that will make you think of me. One that we can treasure in our memories for a long, long time."
He starts singing ("Promise" by Im Byung-soo):
The stars are especially bright tonight
When this time is over,
words of leaving you make me sad
The more this night passes
ah, our happy time,
our promises whisper in my ear
and make me sad
It's not your fault
I feel like crying
I dreamt a blue dream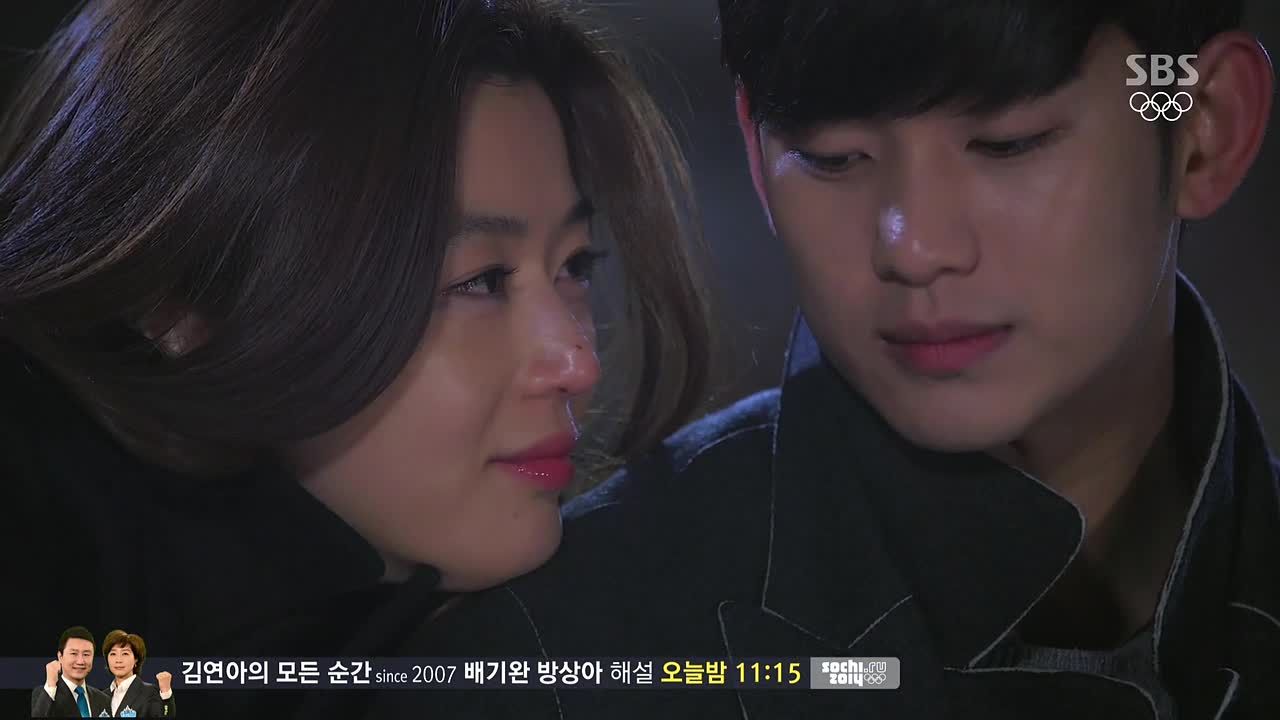 She thanks him for the song, and then he gets down on his knee to face her. He says, "I can't tell you everything you want to hear, but I want to be together with you in the future that you describe." He takes out the ring, and at her request he slides it on her finger.
She tells him that she always wanted to receive "an immature proposal" like this. "I'm perfectly happy," she says, crying.
Then she calls his name, saying, "My beloved Do Min-joon. It's time for us to wake up from this dream. For my sake, exist somewhere. For me, don't die. Exist somewhere. What I'm saying is, go. To where you were."

EPILOGUE
Heo Kyun wraps up his visit with Min-joon, thanking him for his time and saying that it was an invaluable help to his writing. He requests permission to say one last thing: that while he has no powers of premonition, he believes that Min-joon will meet a woman and fall in love with her. And for her, he will be able to throw everything away.
Min-joon listens skeptically, but Heo Kyun explains that it's to those who disdain love or disbelieve it who are hit hardest by it.

COMMENTS
Aw, we all knew this day was coming, right? The trajectory of this episode fell along expected lines, with one surprise: Wowsa, Min-joon, you really went all-out there with the alien reveal, huh? I loved how frantic he got, that he would bare himself to the world without second thought. It wasn't even a calculated risk, him measuring his identity against Song-yi's life—it was an in-the-moment decision he made when he found that his identity no longer meant anything to him if the trade-off were Song-yi's safety.
Plus, I have to be grateful that the show presented this impending separation in this lovely bittersweet way, rather than going for full-on noble idiocy. Min-joon did indulge in a bit of that, but I love how Song-yi reacts to things (and just love her as a character, period) in taking her moment to feel sad, then tackling the problem head-on. For instance, I love her response to the question of what she'd do if she found herself on his planet: Well, she'd find a way to survive. (I'm not comparing that response to Min-joon's since he's dealing with a reality and she a hypothetical, but it speaks to her character in an admirable way.)
This kind of reaction to the dilemma is actually sensible enough that I'd argue that it doesn't qualify for noble idiocy—that's when you find out something, then go out of your way to hide it, act unilaterally (often "for their own good"), and lead both of you to misery. This, on the other hand, is poignant and thought out, a measured response to a heart-rending dilemma. Exist somewhere. That's all she needs. *tear*
I'm glad that Jae-kyung's been locked up and revealed for who he is, because I look forward to next week's episodes as wrap-ups to the characters we love and don't want to spend any extra time on inevitable plot stuff. The recent turns have given Hwi-kyung a lovely chance to shine as a good, decent person, and while he remains lovelorn for Song-yi, at least he had a purpose in this story that went beyond mere second lead pawn.
Now, the question is: Whose will is going to prevail? Will Min-joon leave to oblige Song-yi's wishes, or will he insist on staying, because as Heo Kyun said, he's going to be willing to give up everything he has for his love? I don't doubt that Song-yi loves Min-joon—she shows him with every action, and says it openly and often—but a part of me really felt that tug on the heart when Lawyer Jang laid out for her just how much Min-joon loves her. It's true that he's not an expressive guy, but I don't doubt that he feels his love with incredible force. While love is no "Whose is bigger?" game, I do feel like his love is more all-encompassing than hers, more dire and fraught. So even if she asks him to leave, I don't know if he'll be able to do that.
What am I saying? He's not leaving, duh. No way, no how. La la la la la, I can't hear you.
RELATED POSTS
Tags: featured, Jeon Ji-hyun, Kim Soo-hyun, You From Another Star